The high-octane Baylor Bears are 17-0 and ranked #2 in the nation. They've been steamrolling opponents with 15 victories decided by 10 or more points. DraftKings posted a prop bet on whether or not Baylor will finish the regular season undefeated.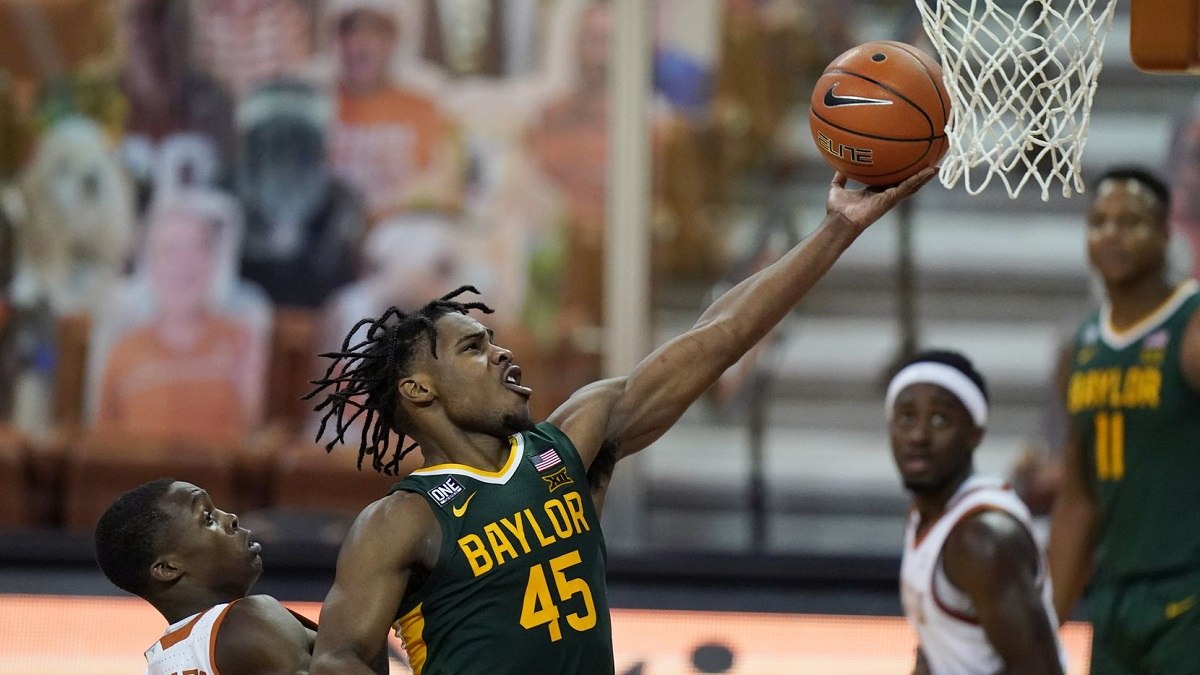 Baylor went 9-0 in Big 12 conference play, and 17-0 overall. Baylor's small-ball, high-volume offense generates 87 points per game this season, which makes them the fifth-highest scoring team in NCAA Division I. They cracked the century mark four times in 17 games this season. Baylor scored fewer than 70 points only twice this season, yet won both games. Their two closest games were against Kansas (ranked #9 at the time) and Texas Tech (ranked #15), yet the Bears only beat their conference foes by just eight points each.
The Bears are in the middle of a five-game stretch of canceled games due to COVID-19 health protocols. Those included a home/away series against #14 West Virginia, and a highly-anticipated game against #7 Texas Tech.
---
WILL BAYLOR GO UNDEFEATED?
---
Baylor is also the favorite to win the national championship at +290 odds on DraftKings. The Bears are a tick above Gonzaga at +310 odds.
Baylor is the favorite to win the Big 12 Conference at -250 odds. The closest competitors within the conference are Texas at +575, and Texas Tech at +900.
According to KenPom's college basketball ratings, Baylor is ranked #2 with Gonzaga at #1. Torvik also ranked Baylor #2 behind the Zags.
Baylor Gets Hot Again
Last season, Baylor rattled off a 23-game winning streak after they lost their second game of the season. Baylor lost to unranked Washington by three points in the Armed Forces Classic in Alaska.
Baylor fell to #24 in the rankings before they embarked on their epic winning streak. By mid-January, Baylor wrestled away the #1 ranking in the AP Top 25 Poll from Gonzaga.
Baylor suffered a late-season implosion and crashed back down to Earth. They dropped three out of their final five games in the Big 12 to finish the season 15-3. Both the Big 12 conference tournament and March Madness were canceled, and they never played another game in the 2019-20 season. Baylor finished the season ranked #5 overall in the AP Top 25 Poll, and held the #4 ranking in the Coaches Poll.
This season, head coach Scott Drew is operating another guard-heavy offense. Drew has one of the best backcourts in the country with Jared Butler and MaCio Teague.
"Jared and MaCio just do a terrific job playing team basketball, sharing with each other, creating for each other," said Drew.
Butler, a junior guard, leads the Bears in scoring while averaging 17 points and 5.2 assists per game. He's shooting 49.3% from the floor, including a sharp 44.6% from 3-point range.
Teague, a senior guard, is the heart and soul of the Bears. He averages 14.7 ppg while shooting 44.5% from downtown.
Davion Mitchell, another junior guard, averages 13.6 ppg, but he's the team's best sharpshooter, knocking down 49.4% of his 3-pointers.
On Deck … Maybe
Baylor beat #6 Texas 83-69 on Feb. 2 to remain undefeated, but haven't played since then.
"Everyone's bummed out, for sure," said Drew.
"It's just much more disjointed of a season because of some of the disruptions," said Texas head coach Shaka Smart. "Every time you don't get to play a game, it takes away from that opportunity."
If the season finishes without any more postponements or cancellations, there will be three more games on Baylor's slate if they want to complete an undefeated regular season before they head to the Big 12 conference championship.
The Bears host #23 Oklahoma State (12-6) and last-place Iowa State (2-12), before they finish out the season with a road game at Kansas (13-7). The slumping Jayhawks recently tumbled out of the AP Top 25 Poll.