After "quite intentionally" flying under the radar in its first two years of existence, upstart PrizePicks is trying to grow its influence in the DFS world by offering a different format and focusing on unique contests compared to its peers.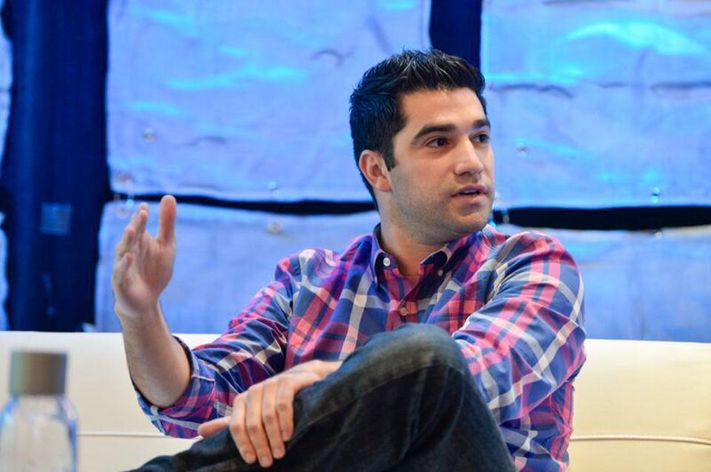 The Origins of PrizePicks
Adam Wexler, CEO of Atlanta-based parent company Performance Predictions, played season-long fantasy leagues for decades before becoming involved in the DFS market. Having long worked as a technology entrepreneur, Wexler first delved into the technical side of the market by creating software to help managers of season-long leagues – such as himself – organize their teams and rosters.
He was set to hit it big with SidePrize, a product that allowed fantasy owners to make one-on-one bets with each other while holding the money in escrow, until the insider information scandal struck the industry in 2015 and threw the DFS market into turmoil.
Wexler told OnlineGambling that when the US Supreme Court announced plans to take up the New Jersey sports betting case (which eventually led to SCOTUS overturning the Professional and Amateur Sports Protection Act and allowed sports betting to be legalized across the country), his company already had designs on a single-player fantasy sports product rather than the peer-to-peer product popularized by industry leaders like FanDuel and DraftKings.
"Knowing that all of a sudden this spotlight that had been shining really bright on fantasy for a couple of years was about to move over to a sister category of sports betting, it was going to allow the dust to settle with fantasy sports," Wexler said.
How the Betting System Works
In the traditional DFS model, players create rosters of teams while staying under a salary cap, and the highest-scoring teams based on a fantasy scoring system make the money. In some cases, players can win $1 million or more, but attempting to take down a large-field tournament in DFS can feel like buying a lottery ticket.
PrizePicks simplifies the model into a series of over/under bets. Users select players and choose to bet whether the player will score greater or fewer fantasy points on a given day than the posted line. Users also choose how many players to involve in the wager, and can select players from multiple sports.
"Our goal with the PrizePicks is to have you in and out of the app in less than 60 seconds, and now you've got some skin in the game for your sports viewing experience on a nightly basis," Wexler said.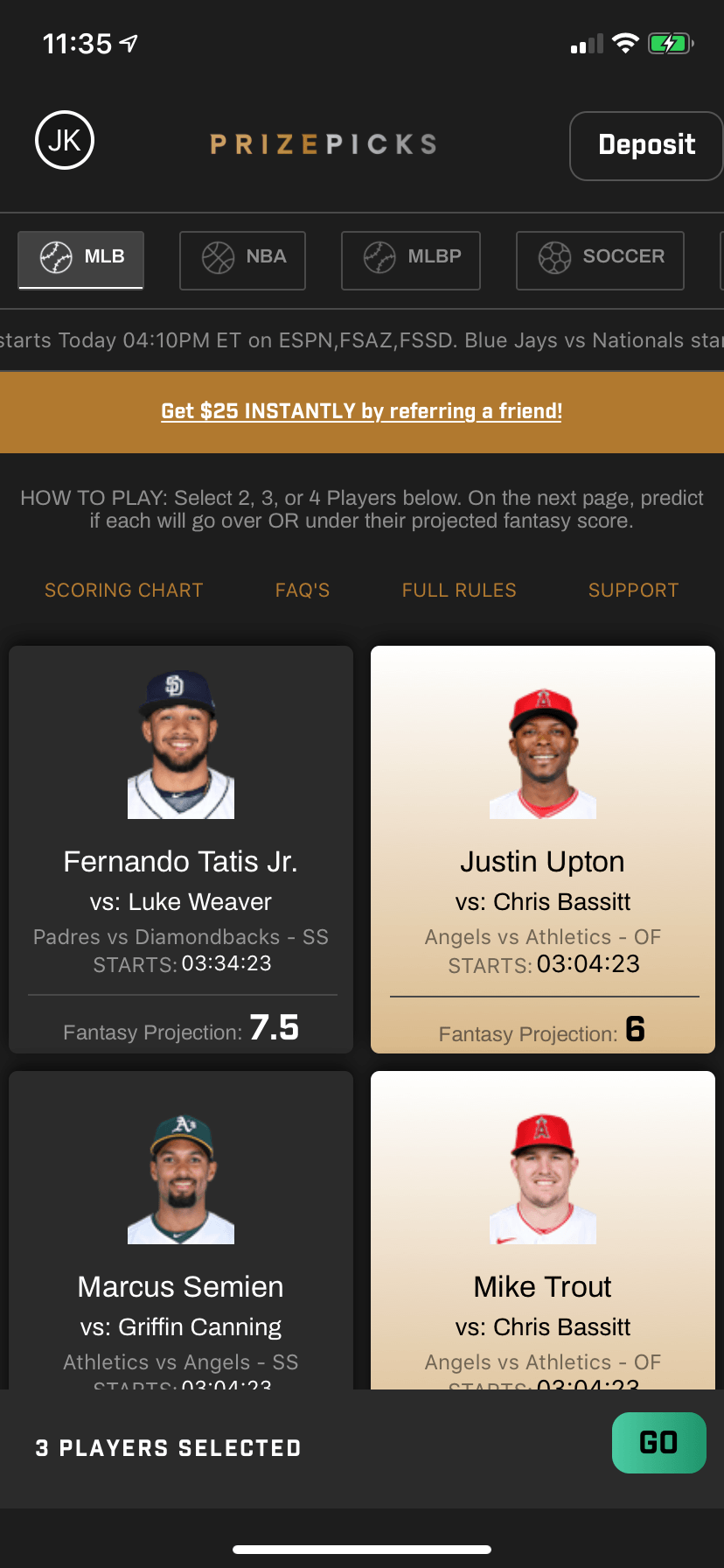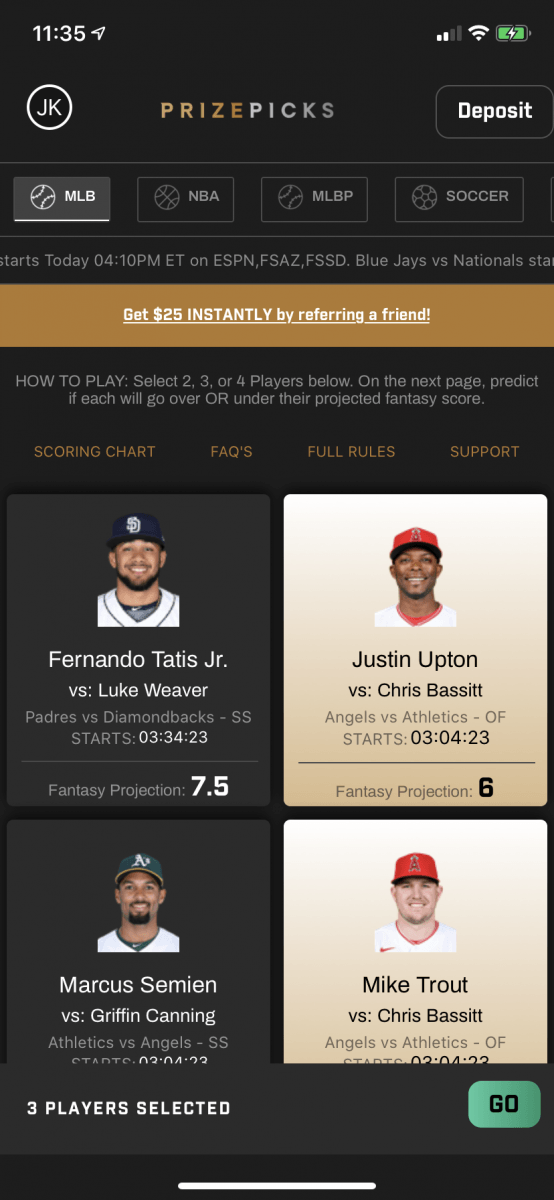 Calling the traditional DFS model "cumbersome," Wexler said for players to be consistent winners on FanDuel or DraftKings, they must conduct copious research so PrizePicks "wanted to dumb it down."
"We wanted to make it super accessible and something that just about anybody could adopt – even your mother," he said.
Wexler describes PrizePicks as the closest legal alternative to online sports betting in those states that allow DFS, but haven't legalized sports betting yet in this post-PASPA world, noting Alabama, Florida and Georgia as a few examples.
"We've built the next best thing. In terms of a single-player fantasy game, what's easier than over/under predictions?" Wexler asked. "It was as simple as that."
"It's our broader ambition to build the most premium sports betting brand in the South," he added. That's what we're all about."
Making a Way During the Pandemic
The entire DFS industry suffered heavily from the suspension of live sports as the COVID-19 pandemic spread across the globe, especially when professional leagues stopped play in the US in March. As many rivals did, PrizePicks turned to esports at first, since that industry was able to quickly pivot to virtual matches. PrizePicks then looked into sports such as darts and table tennis before partnering with the American Cornhole League, as OnlineGambling previously reported.
"I think it was a perfect match for both organizations because they were probably too small for some of the biggest operators to worry about and yet they were just the right size that we could say, 'Let's go in on something together,'" Wexler said.
PrizePicks also expanded its presence in golf by signing a deal to be the official DFS partner of the Outlaw Tour, a mini-tour based in Arizona that never suspended play.
"They saw an opportunity, as did we, with trying to elevate our tour to a wider audience. We had known through our live streaming with Twitch that our audience predominately was daily fantasy heavy," Bear Heiser, a spokesperson for the Outlaw Tour, told Forbes. "Oftentimes people were asking the commentators or were talking about what they were watching within the framework of gambling or fantasy sports."
PrizePicks is conducting what Wexler calls a "pandemic-resistant" customer acquisition strategy by targeting players who love esports, golf, NASCAR, and other non-contact sports, while still planning on courting lovers of DFS football this fall. Given the suspension of multiple Major League Baseball games just a few days into the shortened season due to positive COVID-19 cases, fall sports aren't a certainty.
"We're going to do certain things to make sure we have the pandemic-resistant customer base and then we will also have an eye towards the fall when it's our prime acquisition season typically," Wexler said.
Earlier this month, the company announced an $850,000 bridge funding raise led by Parlay Capital Holdings and joined by a number of angel investors, including poker pro Phil Hellmuth.
"I absolutely love the core business model of PrizePicks and the team behind the game," Hellmuth said. "I've been around this industry for decades, and I've never been more impressed with an emerging operator's fundamentals and potential for growth."
PrizePicks now offers its product in 26 states and Canada, and is looking to expand that footprint as it heads into football season.
"We like the pace that we're growing," Wexler said.