The Maryland Jockey Club announced Tuesday it will allow 10,000 fans into the 2021 Preakness Stakes when that second jewel of the Triple Crowns runs on Saturday, May 15 at Pimlico Race Course.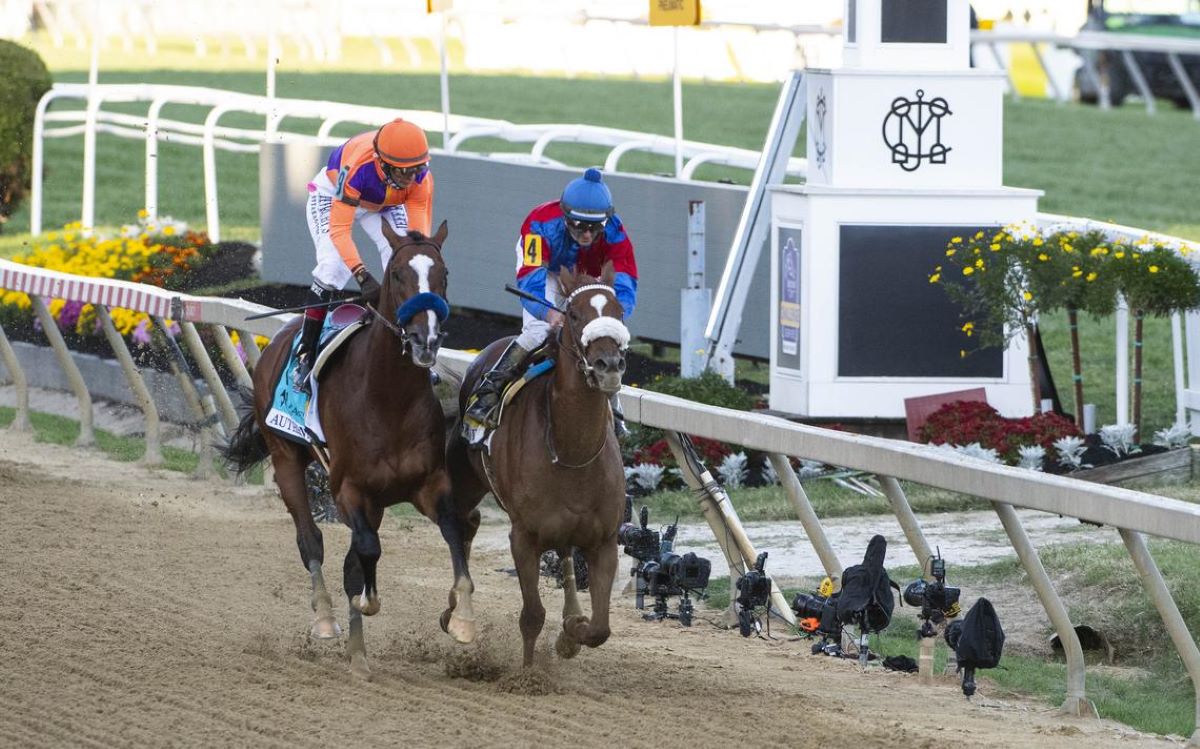 This decision came after The Stronach Group officials met with Baltimore-area and Maryland state health officials, who approved the limited crowd. TSG owns Pimlico.
That carries through to Black-Eyed Susan Day on Friday, May 14, when that race headlines the opening day of Preakness weekend.
Normally, Pimlico welcomes nearly 110,000 fans for the Preakness. This year's 10,000 limit is barely 9% of a typical Preakness crowd.
Pimlico officials announced that tickets will go on sale on Monday, April 5 at preakness.com, by emailing tix@preakness.com, or by calling the Preakness 146 box office at 1-877-206-8042: Monday-Saturday between 10 am-5 pm ET.
Ticket options exist for 2020 buyers denied access
Individual tickets will range from $150 to $500. Suites are also available, including the 1/ST Turn Suites, the Turfside Terrace, and the Corporate Village Suites. Those offer open-air cabanas and lounge seating on the home stretch.
Because of COVID-mandated health protocols and social distancing requirements, ticket options differ from years past. Ticket purchasers denied access for last year's Preakness due to COVID can opt for seating in the nearest equivalent area. Those changes open for business this Friday.
Other changes involve InfieldFest, the Preakness' annual musical festival. It will feature what officials call a "socially distant live component – Preakness Live." This will run concurrently with the NBC telecast and will be live-streamed. Officials will announce ticket information in the coming weeks.
Get vaccinated, get into Pimlico quicker
Pimlico attendees will be subject to the now-customary COVID protocols and guidelines. These include temperature scans on arrival, a special entry for vaccinated guests, enforced social distancing and line markers, numerous hand-sanitizer stations, and mandatory masks.
"While fan attendance will be limited to COVID-19 protocols, the excitement of the Preakness is not limited," Belinda Stronach, the chairman and CEO of 1/ST Racing, said in a statement. "The 1/ST team has worked tirelessly and in cooperation with Baltimore City and the State of Maryland to thoughtfully and safely prepare for an exciting and memorable day of world-class Thoroughbred horse racing and entertainment."
Preakness weekend, running on May 14 and 15, features 16 stakes worth $3.25 million in purses. Ten of those stakes and $2.25 million of those purses come on Preakness Day, May 15. The 146th Preakness, of course, headlines that day. After running as the final jewel in the Triple Crown during 2020, it moves back to its customary spot as the second jewel of the Triple Crown.