Tributes from all over the racing world poured in Tuesday, remembering Prince Khalid bin Abdullah, who died Tuesday of undisclosed causes. The Saudi prince and nine-time Eclipse Award winner as owner and breeder was 83.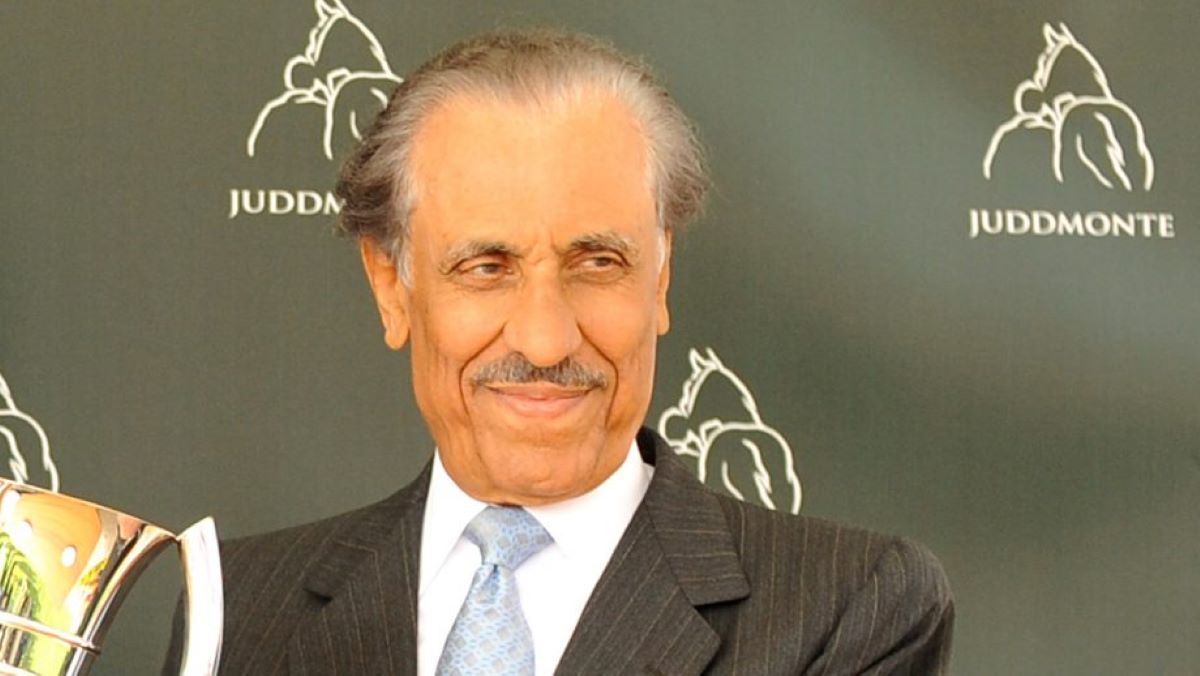 A member of the Saudi Royal Family, Prince Khalid owned Juddmonte Farms, which announced the death in a statement.
"The whole of Juddmonte feels a huge sense of loss," Juddmonte CEO Douglas Erskine Crum said in a statement. "Prince Khalid will always be remembered as a quiet, dignified, benevolent family man, whose horses spoke for him. He leaves a legacy that will stand the test of time. His contribution to the development of the Thoroughbred will have long-lasting effects."
Prince Khalid's contributions to horseracing span more than four decades, dating to 1977, when he bought his first horse. They brought the Prince five Eclipse Awards as outstanding breeder and four more as outstanding owner. Prince Khalid's European operations brought in another three champion flat owner titles in Great Britain and five more in France.
Prince Khalid Built a Top-Down Powerhouse
Those operations included more than 500 stakes winners throughout the world. Of those 500, the Prince bred more than 440. His operation produced 118 Grade/Group 1 winners and of those 118, Juddmonte bred 102.
Those names include some of the most iconic horses of the last quarter-century. There's his only Triple Crown race winner: 2003 Belmont Stakes champion Empire Maker. There's two-time European Horse of the Year Frankel, who won all 14 of his races, including the British 2,000 Guineas, the British Champions Stakes and two races at Royal Ascot. Now, Frankel is one of the most successful sires in the world.
Where it all started for Frankel. His debut win – and Sir Henry Cecil's reaction afterwards.

Imagine owning a racehorse as great as him.

The late, great Prince Khalid Abdullah did not have to. Rest in peace. pic.twitter.com/8ILvlGh9Hg

— Racing TV (@RacingTV) January 12, 2021
There's Enable, the standout filly who retired last fall after winning the Arc de Triomphe twice, along with the King George VI and Queen Elizabeth Stakes at Royal Ascot three times and the Breeders' Cup Turf once.
Juddmonte's Arrogate Made His Presence Felt
And there's the incomparable Arrogate, perhaps the American poster child for Prince Khalid's American operation. He won seven races between June 2016 and March 2017. That included four Grade 1s: the Travers, Breeders' Cup Classic, Pegasus World Cup and the Dubai World Cup, along with more than $17.4 million in just 11 races. That represents the largest racing earnings of any horse in history.
"The contributions of Prince Khalid bin Abdullah to the Thoroughbred breeding and racing industry over the past 40 years will be felt for generations to come," National Thoroughbred Racing Association President and CEO Alex Waldrup said in a statement. "From Empire Maker to Frankel to Enable, his operation produced many of this sport's all-time greats who carried his famous green, pink and white silks to victory in the world's most prestigious races."
His Highness Prince Khalid Abdullah, one of the most prolific owner-breeders in racing history, has passed away.

For over four decades, Prince Khalid developed from his Newmarket @JuddmonteFarms HQ a racing dynasty that would leave a lasting legacy on the thoroughbred breed. pic.twitter.com/p2gFsF61ez

— GBRI (@GBRI_UK) January 12, 2021
Prince Khalid won seven Breeders' Cup races, tied for second with Godolphin for the second-most by an owner. His $17,135,820 in event earnings leads all owners. The Prince's victories came in the Classic (Arrogate), the Turf (Enable), the Mile (Expert Eye), the Filly and Mare Sprint (Ventura) and a trifecta in the Filly and Mare Turf (Banks Hill, Intercontinental and Midday).
Known Fact Put Prince Khalid on the Racing Map
"Though he was a major presence on the international stage, we at Keeneland treasure the long friendship we enjoyed with Prince Khalid," Keeneland President and CEO Shannon Arvin said in a statement. "His Juddmonte Farms is a prominent consignor and buyer at Keeneland sales, where he bought Known Fact, one of his earliest classic winners, at the 1978 July Selected Yearling Sale, and purchased his champion and Breeders' Cup Classic winner Arrogate at the 2014 September Yearling Sale."
Prince Khalid bought Known Fact for $225,000. Two years later, Known Fact won the English 2,000 Guineas, not only giving Prince Khalid his first classic winner, but the first 2,000 Guineas title for an Arab owner. Horses, fillies and mares wearing Juddmonte's distinctive green, pink and white silks captured Europe's signature race – the Arc – a record-tying six times.
Juddmonte also won high-profile races in Hong Kong, Canada and the U.A.E. The operation's Champs Elysees captured Canada's 2009 Horse of the Year.
Prince Khalid was the definition of class and sportsmanship. It was one of the greatest honors of my life to be asked to train horses for him…the phone call every trainer has dreamed of getting. He raised the bar to unthinkable heights…always putting the horse first. RIP 💔 https://t.co/eVpdKF0LRo

— Chad C. Brown (@TheRealChadCBr1) January 12, 2021
"Prince Khalid was the definition of class and sportsmanship," trainer Chad Brown said on Twitter. "It was one of the greatest honors of my life to be asked to train horses for him… the phone call every trainer has dreamed of getting. He raised the bar to unthinkable heights."
Shadwell Farm offers it's condolences to the family of Prince Khalid Abdullah. A superior sportsman

— Shadwell Farm (@ShadwellFarm) January 12, 2021