The two highest-rated players in the field will meet up in the Pogchamps finals as both Voyboy and Hutch overcame fierce resistance to advance to the championship bracket final.
Hutch came from behind to beat NymN in a tiebreaker, while Voyboy got past Boxbox after two competitive games.
NymN Scores Huge Upset, Hutch Recovers
While NymN impressed many during his Pogchamps run, the general consensus was that Hutch would overwhelm him in the semifinals. But NymN showed that he belonged in the late stages of the tournament, winning the first game of the match after marching his king up the board in a surprising display of endgame technique.
👏 @nymnion is a BEAST. He just played a beautiful endgame and @hutchinson resigns! 👏 #PogChamps pic.twitter.com/Wdm4opXjWZ

— Chess.com (@chesscom) June 18, 2020
That left NymN undefeated in Pogchamps, while Hutch suffered his first loss and needed a win to stay in the tournament. With his back against the wall, Hutch took advantage of an early blunder to win a pawn, then coolly converted his advantage into a winning position. NymN fought on, but resigned quickly after dropping another piece.
With the match tied 1-1, the players moved to a three-minute blitz tiebreaker to decide who would advance to the final. Hutch confidently took the white pieces and launched a blistering kingside attack that led to a checkmate in just 26 moves. The 2-1 victory sent Hutch through to the finals.
♖ What a tiebreak game! 👏👏👏@hutchinson (White) creates a devastating attack on @nymnion's king and checkmates him! @hutchinson is moving on to the #PogChamp Finals! ♖ pic.twitter.com/sjK7er5ZAf

— Chess.com (@chesscom) June 18, 2020
Voyboy Lives Up to Status as Pogchamps Favorite
The other semifinal saw Voyboy – the highest-rated player in Pogchamps – taking on Boxbox, who played some of the best chess in the entire event.
Their first game proved to be a wild affair. Voyboy won a bishop inside the first 10 moves, but Boxbox nearly trapped his queen, eventually inducing Voyboy to give up his most valuable piece for two rooks and a knight. Voyboy still held the advantage, but after both sides gave up knights to stop opposing pawns from promoting, the endgame looked about equal.
Both players had three kingside pawns, with Voyboy's two rooks facing off against Boxbox's queen. Unfortunately for Boxbox, he walked his king into a tricky pawn checkmate, losing a game he could have gotten at least a half-point out of.

In the second game, Boxbox set up a strong but sharp position with white and looked to have chances to equalize the match. Boxbox even won the exchange early, raising hopes of another tiebreaker. But an erroneous pawn push allowed Voyboy to capture Boxbox's queen, and the game was soon over, with Voyboy claiming a 2-0 match win.
Championship, Consolation Bracket Finals on Friday
Thursday also saw the first consolation bracket semifinal, as MoistCr1tikal took down SlikeR in a tiebreaker. SlikeR won the first game with the black pieces, but MoistCr1tikal battled back from a piece down in Game 2 to find a mating net and send the match to a third game. While both players blundered while playing quickly in the blitz tiebreaker, it was MoistCr1tikal who won in 40 moves.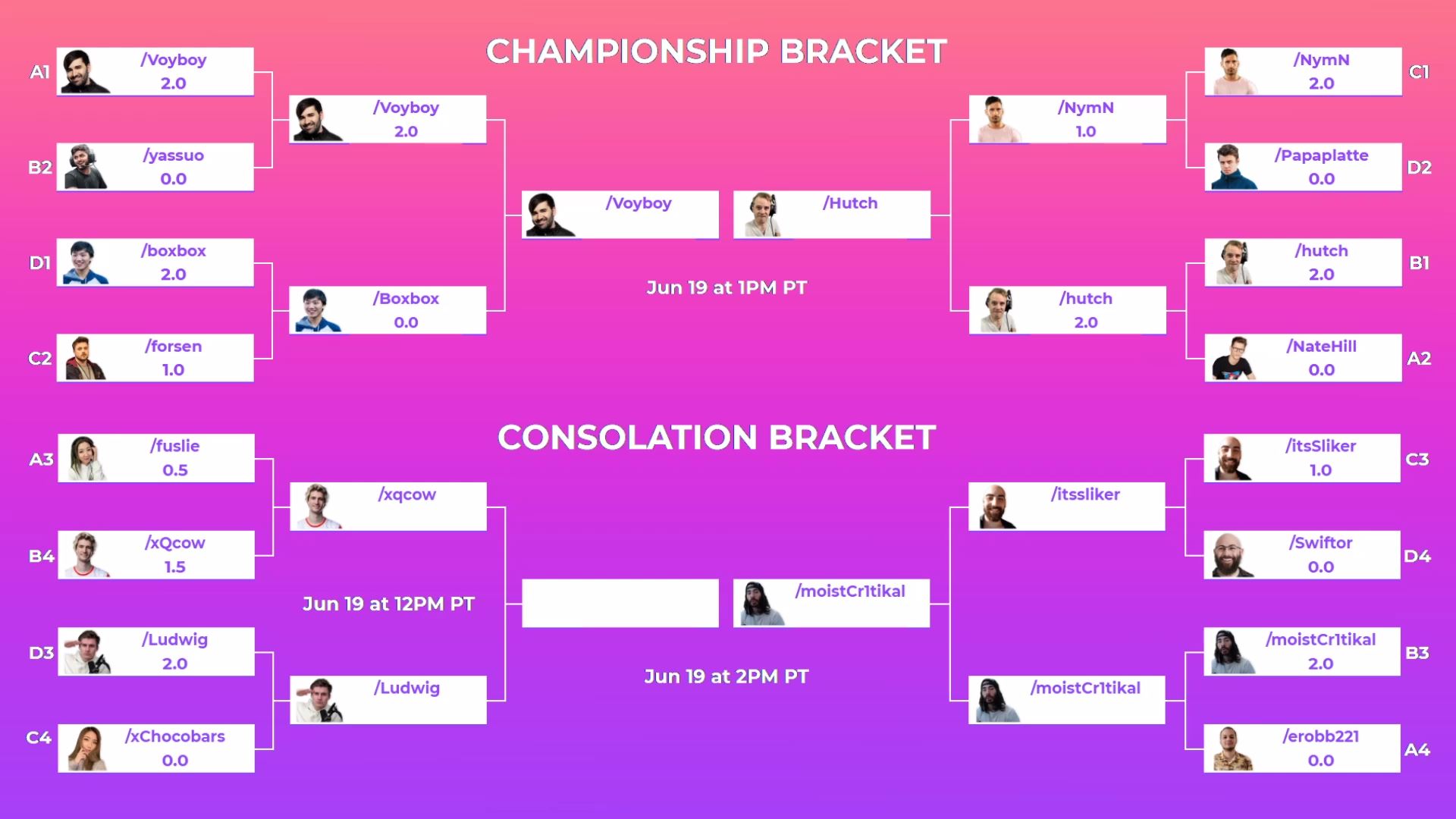 MoistCr1tikal now awaits the winner of the other consolation semifinal between xQc and Ludwig, which will kick off Friday's Pogchamps action at noon PT. That will be followed by the championship match between Voyboy and Hutch, with the consolation bracket final rounding out the tournament. The winner of the championship bracket will win $10,000, while the consolation winner will take home $4,000.