The Pogchamps online chess tournament has reached the semifinal round, with four players remaining in both the championship and consolation brackets.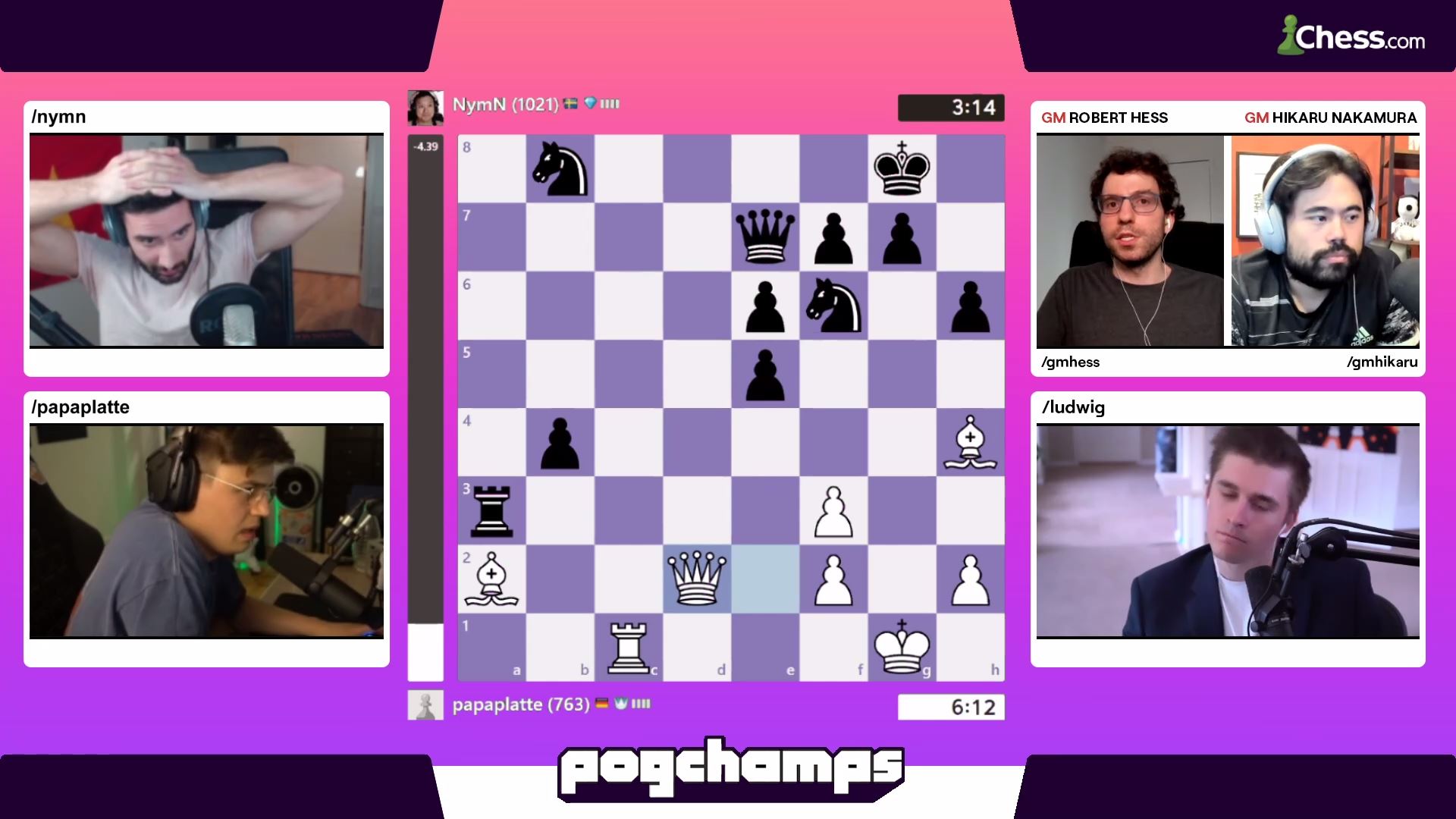 Wednesday saw the final quarterfinal matches played, with NymN taking on Papaplatte while Fuslie faced off against xQc.
NymN Looks Solid in Pogchamps Quarterfinal Win
NymN came into his quarterfinal matchup with Papaplatte as the clear favorite, holding a 250-point rating advantage heading into the contest. That gap showed early on, as NymN won a piece in the opening of the first game, and only increased his edge the rest of the way. Papaplatte ultimately lost on time, but only after finding himself in a hapless position.
In the second game, Papaplatte employed the sharp Smith-Morra Gambit in an attempt to create complications. While he couldn't keep his initiative, the offbeat opening got him into a playable position where NymN wasn't able to finish off the game quickly.
Even after NymN reached a position where he was up three pawns, Papaplatte retained some hope of getting something from the game. This was in part due to NymN's unusual kingside pawn formation — one Grandmaster Robert Hess struggled to find a name for.
♙ @GM_Hess can't decide what this pawn structure looks like. Any suggestions for what this should be called? ♙ #PogChamps pic.twitter.com/QQPhJ9ZA9e

— Chess.com (@chesscom) June 17, 2020
Ultimately, NymN's material advantage was just too large, and he won the second game to advance through to the Pogchamps championship quarterfinals with a 2-0 victory.
Stalemate Can't Stop xQc From Going Through
In Wednesday's other match, Fuslie took on xQc in what looked to be the most balanced clash of the Pogchamps consolation quarterfinals.
In the first game, xQc found an early fork to win a piece, then pushed his advantage to reach a winning endgame. After promoting his final pawn to a queen, xQc only needed to checkmate Fuslie – a simple task for an experienced player.
That's not the case for newer players, who can easily find pitfalls in the king and queen vs. king ending. xQc shocked Hess and guest commentator Ludwig – filling in for WFM Alexandra Botez – by stalemating Fuslie at the last moment.
HAHAHAHA this chess tourney has been amazing and even though i stalemated and then lost today I still had fun!!! ♥️ thanks for having me @chesscom 🥺 https://t.co/6ekLLiSd6y

— fuslie (@fuslie) June 18, 2020
The draw left the scores level heading into the second game. This time, xQc slowly built an advantage before Fuslie hung her queen on her 15th move, effectively ending the game. While xQc found himself in some worrying time trouble later in the match, he hung on to build an overwhelming position, and actually flagged Fuslie to take the match 1.5-0.5.
Semifinal Action Heats Up on Thursday
With all the quarterfinal matches completed, here's a look at the updated Pogchamps bracket: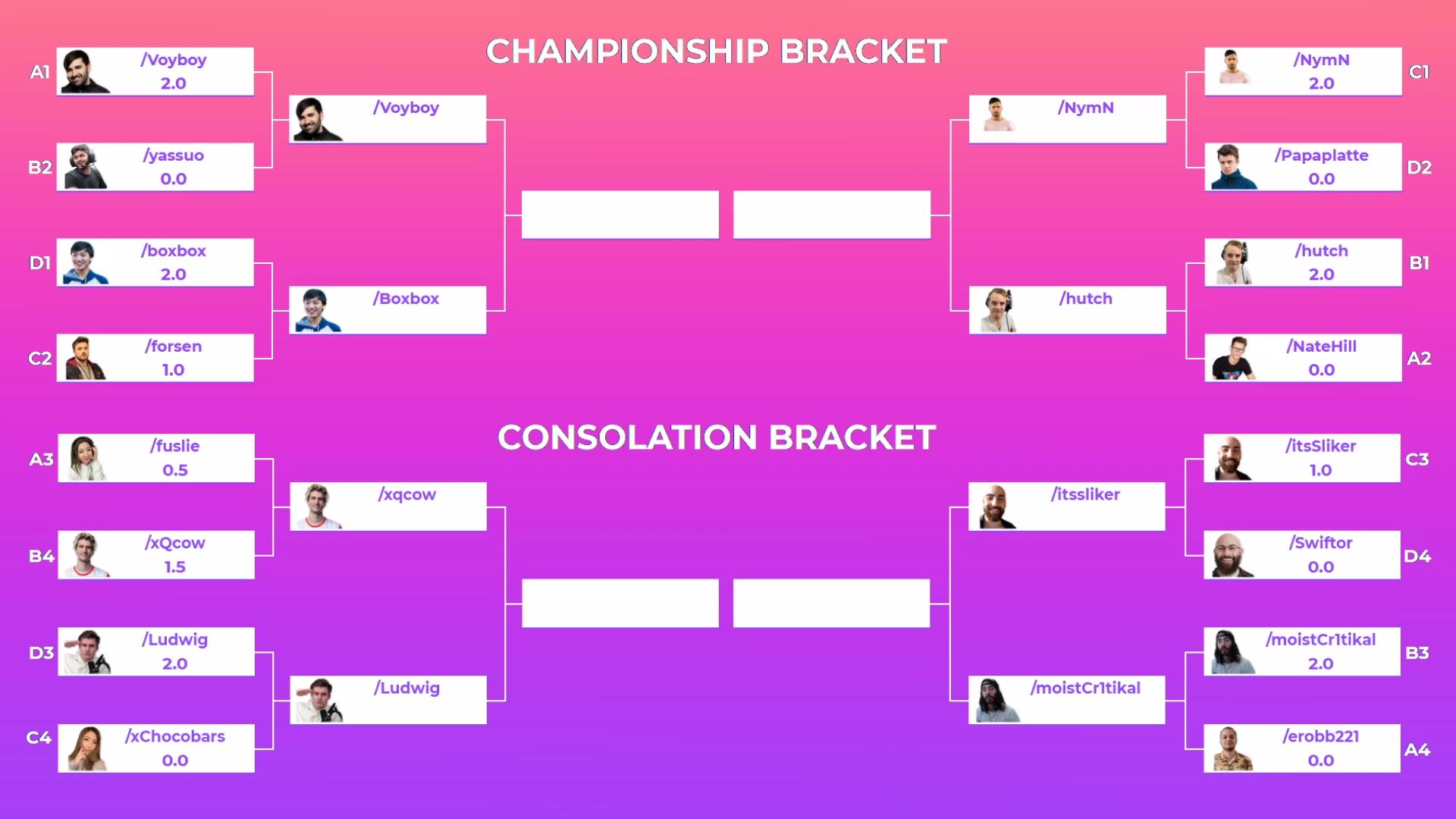 According to the Pogchamps schedule, all of the semifinalists will be in action on Thursday. The day begins with a championship battle between Hutch – who has emerged as one of the tournament favorites – and NymN, who stands as the dark horse among the final four.
Later in the day, Boxbox will battle Voyboy in what could be the highest quality match in the tournament so far, as both players have relatively high ratings and are unlikely to make major blunders. Voyboy enters as the favorite, but Boxbox is more than capable of coming out on top.
The consolation bracket semifinals could be even more unpredictable. MoistCr1tical takes on SlikeR, while Ludwig gets a shot as xQc. Both matches look to be close enough for any result to be possible, and the outcomes could come down to who avoids making a critical blunder.