Gripex survived a blitz tiebreaker and Hafu overcame her most difficult challenge of the tournament yet to set up a highly anticipated Pogchamps 2 final on Sunday.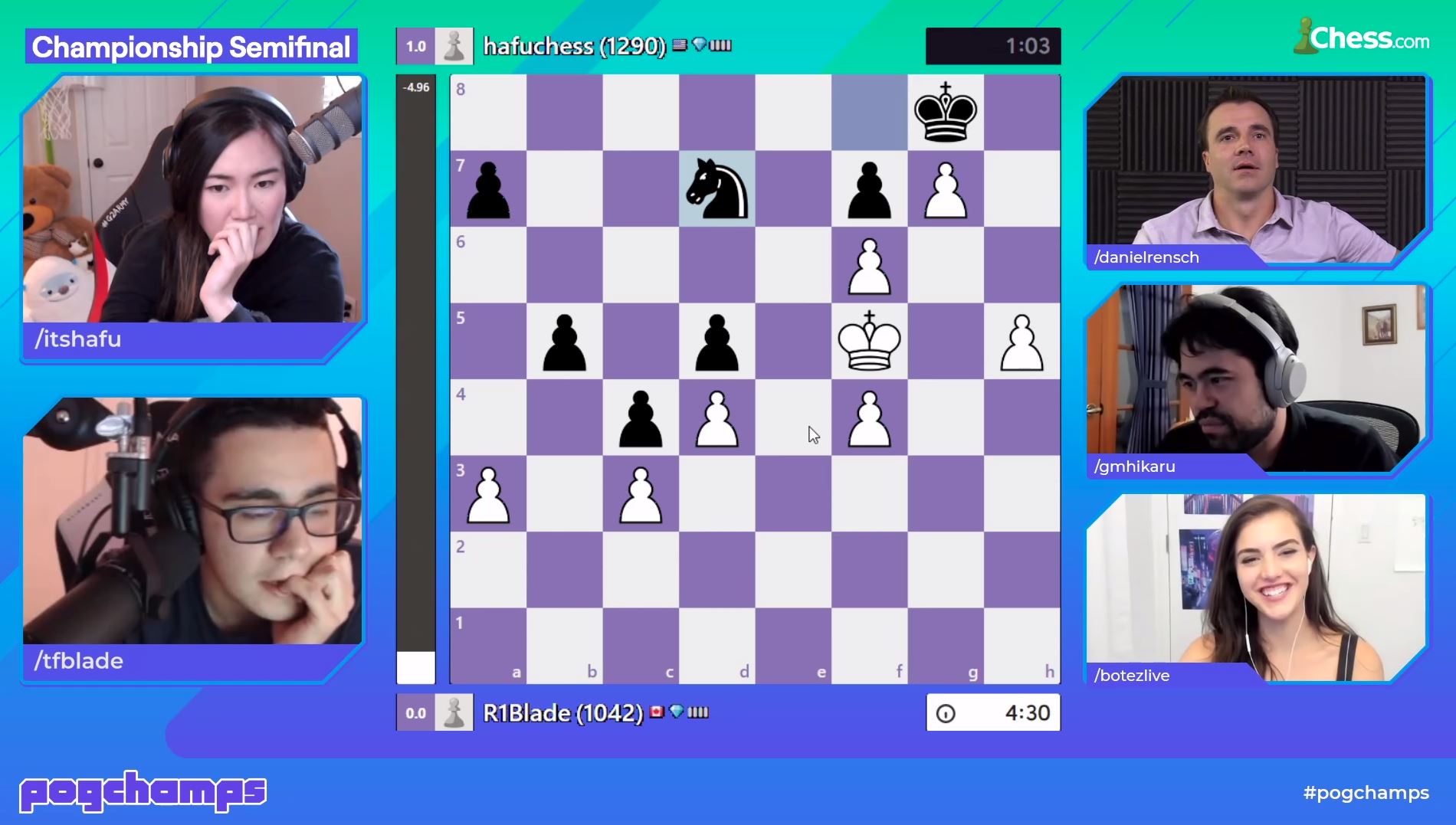 The two finalists won their spots on an action-packed Saturday that featured four matches, including both the championship and consolation semifinals.
Gripex Overcomes Game 2 Error to Win in Blitz
The first semifinal pitted Gripex against Dogdog, who was bidding to keep alive the possibility of a finals clash with his fiancée, Hafu. Dogdog found himself up an exchange in the endgame, but walked into a knight fork that lost his queen. Gripex took full advantage, finding a checkmate to take a 1-0 lead.
Dogdog had White in the second game, and the two entered into a Queen's Gambit Declined in which neither player gave an inch well into the middlegame. Gripex hung a bishop, but retained a dangerous passed pawn, and Dogdog faltered in defense, evening up the material again. A draw seemed likely, but Gripex made a tactical error that allowed Dogdog to promote a queen and win the game, tying the match at 1-1.
♜ @dogdog takes advantage of an endgame blunder by @GripexJ and pulls out the win in game 2.

We're going to overtime! ♜

#Pogchamps pic.twitter.com/OLr3gbNmDb

— Chess.com (@chesscom) September 5, 2020
"I was like, 'now I've got his rook, I can push my pawn,'" Gripex said of his error. "Then I realized, 'Oh, I can't catch his [pawn]!'"
In the blitz tiebreaker, Dogdog once again found himself in time trouble, a problem that plagued him throughout Pogchamps 2. While the two once again reached a fairly equal endgame, Dogdog was under a minute and didn't calculate his exchanges accurately. Gripex created a decisive passed pawn, beating Dogdog on the board while also being up nearly a minute on the clock to take the match by a 2-1 margin.
Hafu Continues Pogchamps 2 Dominance
Hafu faced off against TFBlade in the second Pogchamps championship semifinal. Blade proved he knew his stuff on the Black side of the French Defense in Game 1, reaching a slightly better position in the middlegame. But one slight mistake gave Hafu the advantage back, then further blunders put the game out of reach, and Blade resigned down more than two rooks in the endgame.
But Blade kept his head in the match, launching a dangerous kingside attack with White in Game 2. He sacrificed a bishop to open up Hafu's king, and while the tactic wasn't winning, both sides still had chances well into a complicated endgame where Blade was down a piece but had two extra pawns and a four to one majority on the kingside. But an attempt to queen a pawn came up just short, and Hafu ultimately turned the tables to win and take a 2-0 match victory.
"One thing that I've focused a lot on was my defensive game, because a lot of people tend to throw their pieces at my king," Hafu said afterwards. "Every time it happens, I feel a little bit better, I feel like I'm finding the outs and not freaking out as much as I used to."
Hafu will now take on Gripex in what appears to be an evenly matched Pogchamps final. Both players have guaranteed themselves at least $6,000 in prize money, with the winner taking home the $10,000 top prize.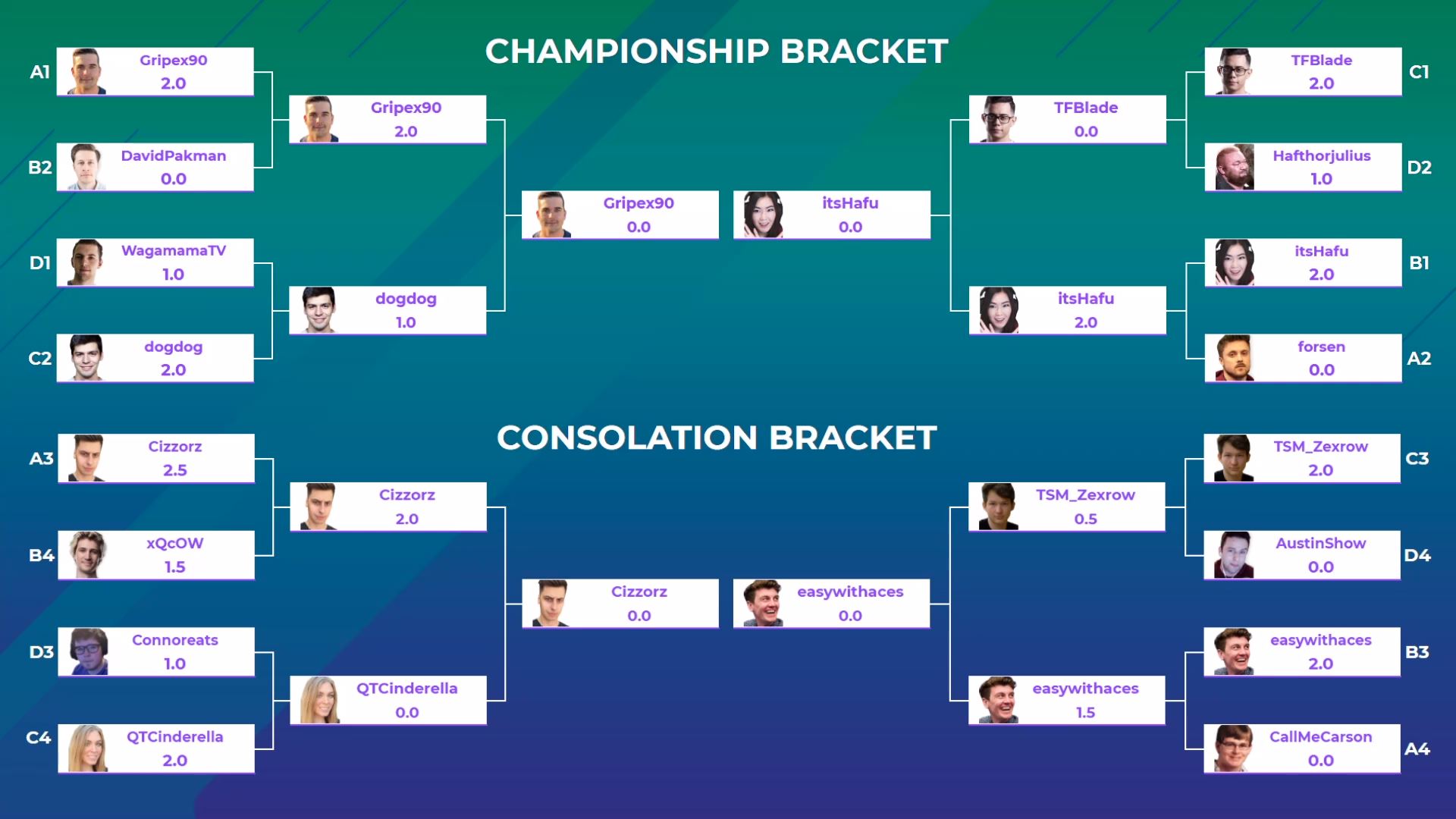 Before that match, Cizzorz will battle Easywithaces for the Pogchamps 2 consolation bracket title. Easywithaces locked up his spot with a 1.5-0.5 win over Zexrow, while Cizzorz defeated QTCinderella 2-0 thanks to a critical blunder late in their second game.
The consolation bracket winner earns $3,500, while the runner up takes home $2,500.