The AFC North is suddenly intriguing, and Thursday's Pittsburgh-Cleveland game could be downright interesting. The Browns are favored by three points, but Pittsburgh is a tempting moneyline wager at +135.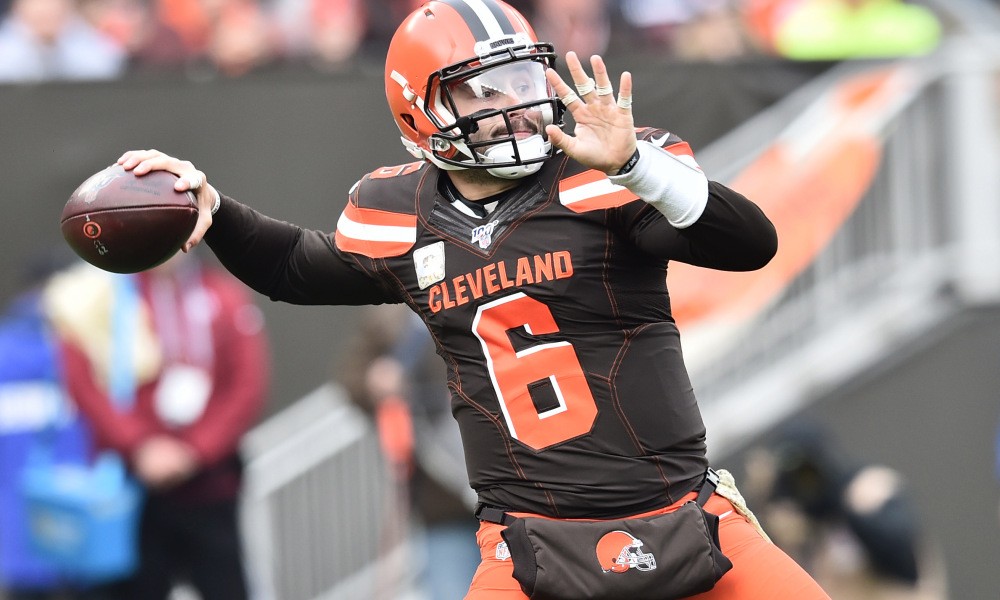 The Steelers have won five of their last six games, after losing their first three. At 5-4, Pittsburgh is suddenly back in the wild-card picture. They are 5-3-1 against the spread.
In his Monday press conference, Steelers Head Coach, Mike Tomlin told reporters this game is a must-win for both teams, adding the division rivalry is always intense.
"We're excited about being a part of this rivalry," Tomlin said. "We understand the environment that we're going into. We understand how important this game is to them, and to us. It's just AFC North football. Got a lot of respect for those guys, they have a lot of talent in all areas."
Quarterbacks Will be the Key
Both squads feature second-year quarterbacks, and how they play should determine who wins the Pittsburgh-Cleveland game. Cleveland's Baker Mayfield has been the Browns starter since he was selected No. 1 overall in 2018.
Pittsburgh's Mason Rudolph got his chance under center when Ben Roethlisberger went down for the year with an elbow injury. The Steelers' third-round pick doesn't have the flash that Mayfield has, but Cleveland coach Freddie Kitchens told reporters he is still a very capable quarterback.
"I think he does an excellent job of protecting the football, first and foremost," Kitchens said.
Tomlin Voices Concern Over Skill Positions
While Tomlin knows Mayfield will be difficult to stop, he is more concerned about the other skill positions. He told reporters that the return of Kareem Hunt from an eight-game suspension will present new issues for him to think about.
"With the recent availability of Hunt, the backfield tandem of him and Nick Chubb is going to be a big challenge, and I think you were talking about their offense, we better start there," Tomlin explained. "Chubbs almost has 1,000 yards on the season. If you don't slow him down, there's no need to talk about the wide receiver tandem and the things that you need do to minimize their impact on a game. All you have to do is watch the Baltimore tape to have an understanding of that."
Still, Cleveland's wide receivers are another potential headache for Tomlin. He called Jarvis Landry and Odell Beckham Jr. the toughest pair they have faced all season.
"Landry and Beckham, from a talent standpoint, there's no tandem that approaches those guys," Tomlin said. "They're impactful, both guys are the type of guys that merit the attention that we gave to Cooper Kupp last week. But shoot, if you can't do that for both guys and work to minimize Nick Chubb and the run game and so forth. We've got pick our poison for sure, tough decisions to make not only just globally but also in game and situationally in terms of the way we do things to minimize their many weapons."
Pressure on Cleveland's Defense
While Tomlin has his hands full with the Browns' running backs and wide receivers, Kitchens won't have an easy evening with Pittsburgh's offense.
"They are an excellent football team," Kitchens said. "With what they have been able to do after the start is very impressive – losing their quarterback, never wavering, continuing to just play the games and they have won four straight."