The Philadelphia Eagles are showing interest in signing veteran running back Carlos Hyde. A former Ohio State running back, Hyde's played with five different NFL teams since 2014, and is coming off his best season as a pro.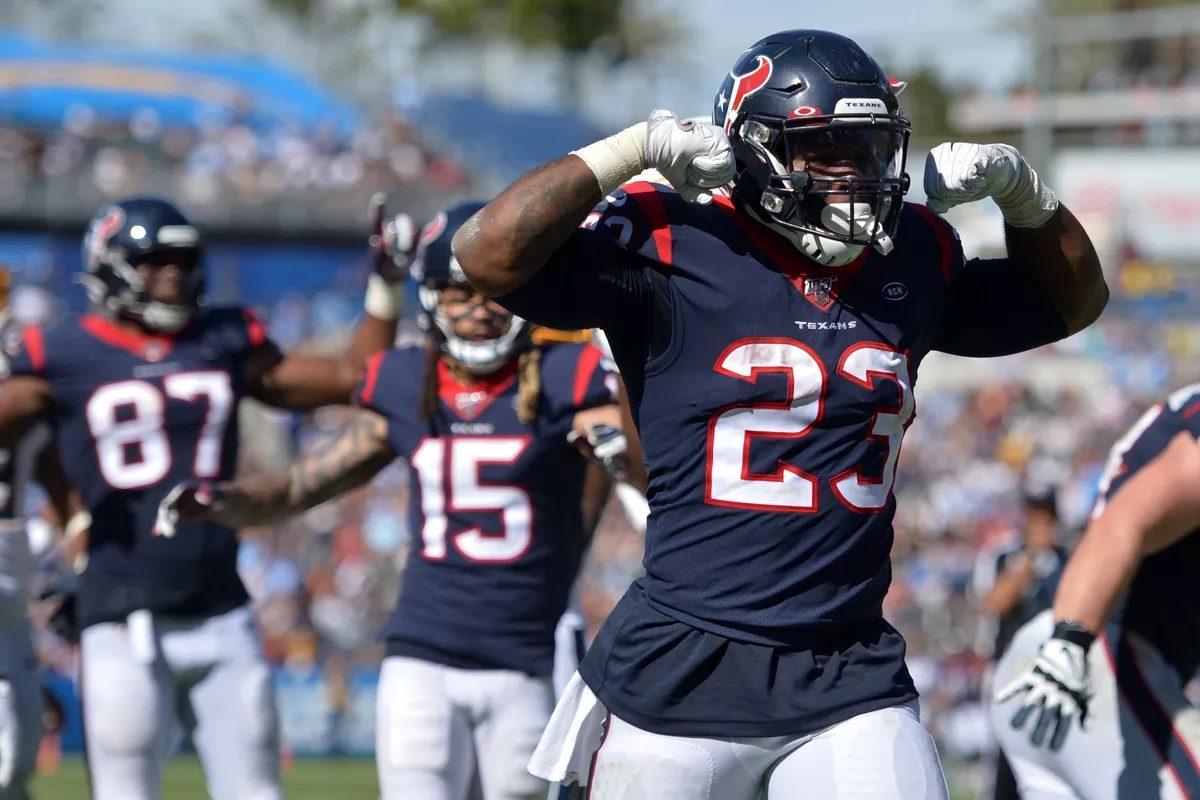 After a brief stint with the Kansas City Chiefs in the 2019 preseason, the Chiefs traded Hyde to the Houston Texans when they lost starting running back Lamar Miller to a torn ACL.
"I'm told Hyde is a guy the Eagles are targeting," said Adam Caplan on the Inside the Birds podcast.
Hyde turns 29 at the start of the season and, unlike a lot of other running backs in their late 20s, he doesn't have a lot of mileage on his body. He started out as Frank Gore's backup with the San Francisco 49ers and has never taken a huge pounding during his six-year tenure in the league.
Hyde played a backup role during his freshman and sophomore seasons at Ohio State. He started his last two seasons and scored 31 rushing touchdowns and four TD receptions. In 2013, during his senior season in Columbus, Hyde rushed for 1,521 yards and an average of 7.3 yards per carry with 15 rushing touchdowns.
The San Francisco 49ers selected Hyde with a second-round pick (#57 overall) in the 2014 NFL Draft. After four seasons with the Niners, Hyde played for both the Cleveland Browns and Jacksonville Jaguars in 2018.
Replacing Frank Gore
Playing behind Gore, Hyde only appeared in 14 games in his rookie season in 2014. He had 83 rushing attempts all season.
The Niners hoped Hyde would replace Gore after he departed in free agency. Hyde won the starting job in 2015, beating out Reggie Bush. He got off to a strong start, but fractured his foot. He played in only seven games and averaged 4.1 yards per carry.
In 2016, Hyde started 13 games. He averaged 4.6 yards per carry and scored nine combined touchdowns.
In 2017, Hyde only averaged 3.9 yards per carry, but scored a career-high eight rushing touchdowns. He also expanded his role as a three-down back. He caught 59 receptions for 350 yards.
After signing a three-year contract with the Cleveland Browns, they shipped him out mid-season in a trade with the Jacksonville Jaguars. Hyde lost his starting job and became Leonard Fournette's backup. The Jags released Hyde at the end of the season.
In 2019, Hyde signed a deal with the Kansas City Chiefs. He didn't play a game and Andy Reid traded him to the Houston Texans before the season started. Lamar Miller tore his ACL and the Texans were desperate for a starting running back.
Hyde started 14 games with the Texans. He passed the 1,000-rushing mark for the first time in his career and finished with 1,070 yards (4.4 average yards per carry). Hyde also appeared in the postseason for the first time.
RBs in Philly: Sanders, Warren, Killins
The Philadelphia Eagles need help at the running back position and Hyde seems like a good fit.
Last season, Jordan Howard and Miles Sanders were the main RBs in Philly. Howard, last season's starter, signed a two-year deal with the Miami Dolphins worth almost $10 million. Howard started four games for the Eagles and appeared in 10. He averaged 4.4 yards per carry in 2019 and scored seven total touchdowns.
Sanders, the Eagles' mini-version of Saquon Barkley, got off to a slow start but finished strong in his rookie season. The Eagles would love to have a tandem backfield with Sanders and a veteran like Hyde.
They can sign Hyde now without worrying about giving up a compensation pick.
The Eagles didn't draft a running back this year, but they did sign two undrafted rookies, Michael Warren (Cincinnati) and speed-demon Adrian Killins (UCF).
After the 2020 NFL Draft, general manager Howie Roseman said the Eagles are still "looking at free agents" to fill the holes in their roster.