Manchester City's Pep Guardiola went viral with his club-party video on Monday night.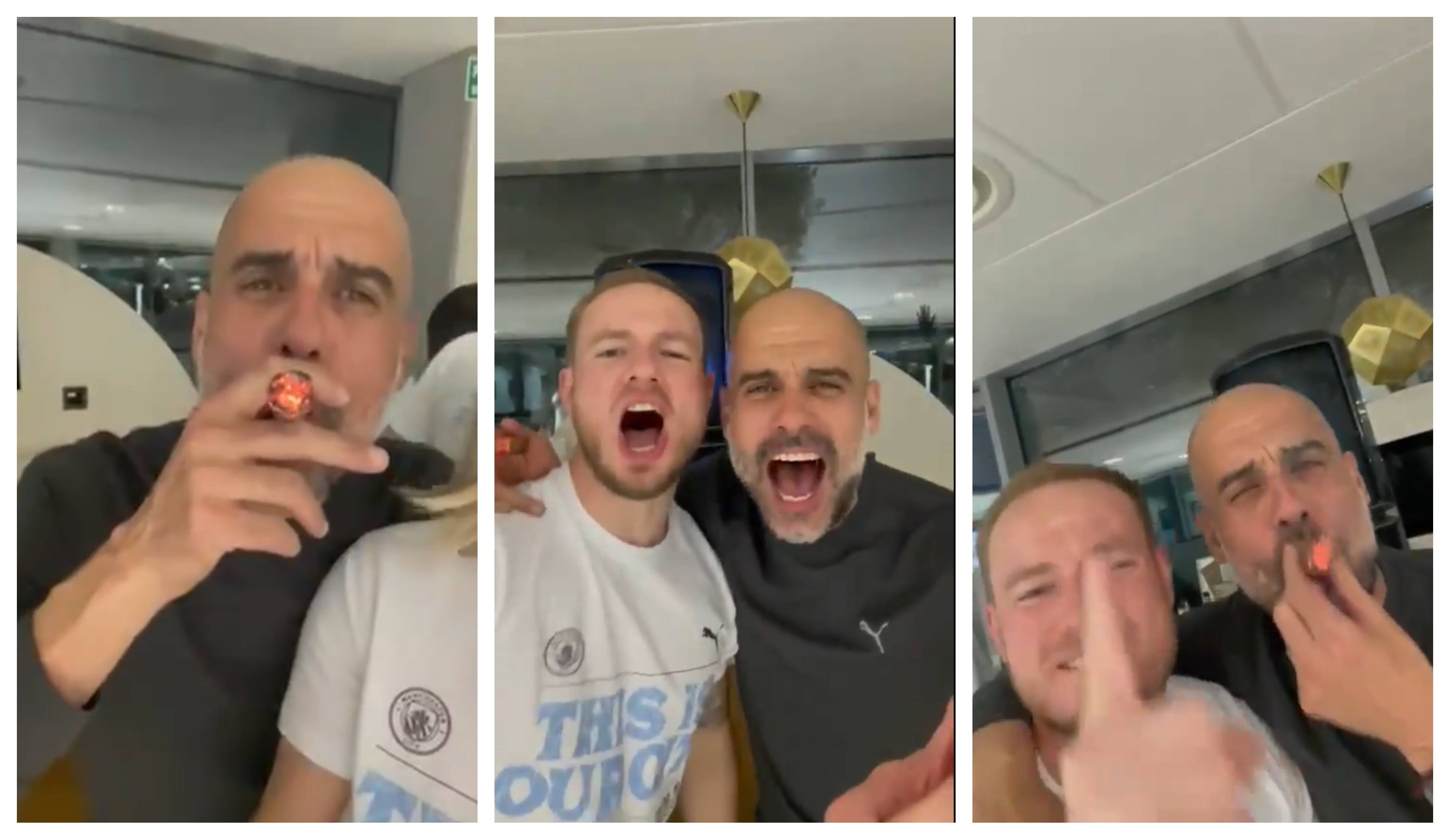 Guardiola, the tactical genius whose style influenced world football over the past 15 years, has never let himself be caught like this on camera before. In a video posted on Twitter by a City employee, Guardiola is seen smoking a large cigar, then singing the hit, Don't Look Back in Anger by the band Oasis in front of the camera. Guardiola laughs and asks for the video to be sent to Noel Gallagher, the co-lead vocalist of the band and a big Man City fan.
The boss. Cool as fuck 😎 pic.twitter.com/lFM5GLiZvN

— Raff (@BeersnBlues) May 17, 2021
Guardiola, his staff, players, and other club employees held an in-house party after winning the Premier League title. City enjoyed a fantastic season under Guardiola, winning the League Cup and the Premier League thus far. Their work could be completed by a historical Champions League trophy win on May 29. City will play the final against Chelsea in Porto. UEFA moved the game from Istanbul because of COVID-19 restrictions after Turkey was placed on the UK's "red list." Fans will be able to attend the showdown at the Dragao Stadium, with 12,000 tickets being divided equally between the two teams.
History to be written: City has never played a Champions League final before
The 50-year-old Guardiola was signed by the multi-millionaire sheiks who own City with the obvious aim of reaching Champions League glory. In the "Pep Era," Manchester has played in the quarter-finals on three occasions, also being knocked out once in the round of 16.
Before coming to England, Guardiola played three Champions League finals over three consecutive seasons at Bayern. He hasn't won the most important club-level trophy on the continent since 2011 when he was in charge of Barcelona.
The final in Porto will be a statement game for him as well. The third all-English final in the Champions League's history has an obvious favorite this season. City is at -189 to lift the trophy, while Chelsea sits at +182. Man City against Chelsea promises to be a highly entertaining game. Both teams scoring in the game is at +100. City leading at halftime is at +160, while Chelsea going to the cabin with the advantage stands at +350.
The bookies' top option for a goal in the final is Sergio Aguero. Man City's star will play his last game at the club if Guardiola chooses to use him. The 32-year old Argentinean is out of contract this summer. Aguero is at +200 to score, with Brazilian forward Gabriel Jesus at +255 and German midfielder Gundogan at +270. Chelsea's favorite to punch on in is French striker Olivier Giroud at +300.