Julian Edelman from the New England Patriots became the seventh wide receiver to win the Most Valuable Player award at the Super Bowl when he was named MVP of Super Bowl LIII.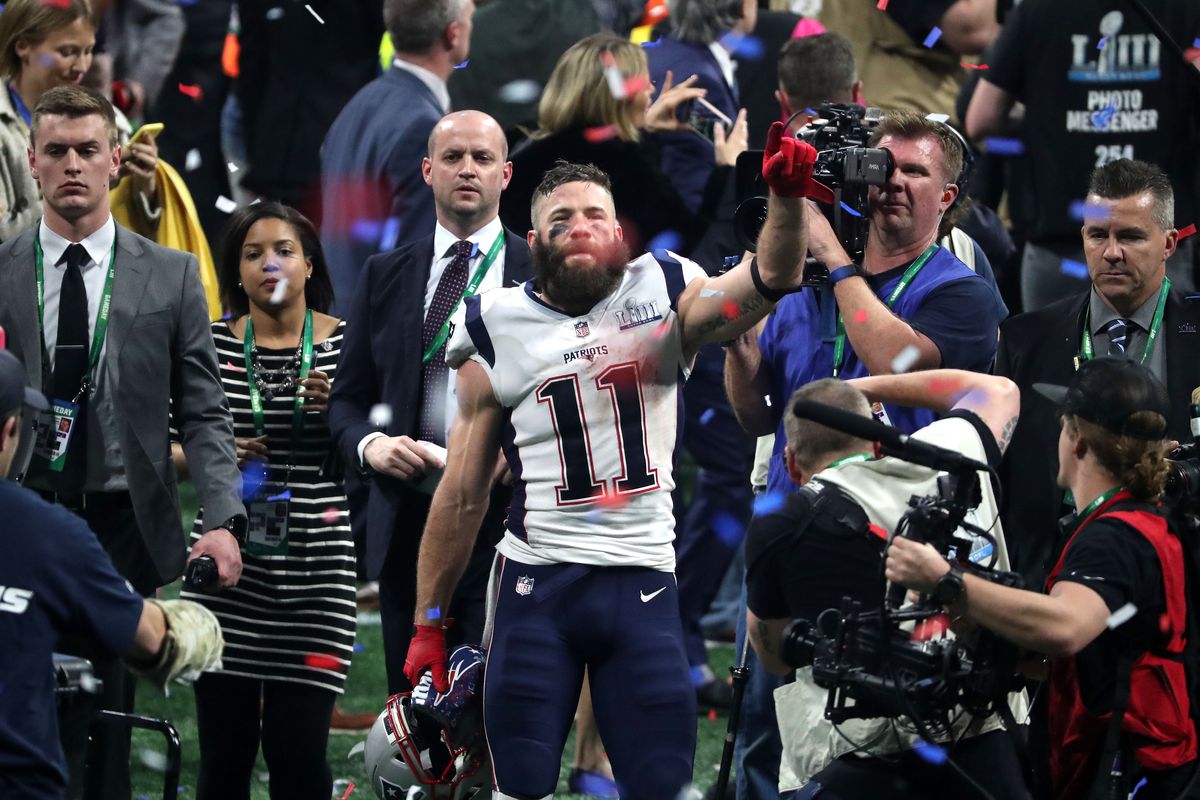 The New England Patriots defeated the Los Angeles Rams 13-3 in the lowest-scoring Super Bowl in its 53-year history. Edelman did not score a touchdown, but he caught 10 passes for 141 yards. Quarterback Tom Brady completed 21 of 35 pass attempts and almost half of them went to Edelman.
Making Super Bowl History
Edelman became only the fourth offensive player in NFL history to win the MVP of the Super Bowl without recording a touchdown. He joins Joe Namath (NY Jets), Fred Biletnikoff (Oakland Raiders), and Deion Branch (New England Patriots) as the only players to achieve that feat.
Only seven wideouts in the history of the Super Bowl won the MVP. It last happened ten years earlier when Santonio Holmes won the MVP in Super Bowl 43 for the Pittsburgh Steelers.
WRs Super Bowl MVP
Julian Edelman (Super Bowl 53)
Santonio Holmes (Super Bowl 43)
Hines Ward (Super Bowl 40)
Deion Branch (Super Bowl 39)
Jerry Rice (Super Bowl 23)
Fred Biletnikoff (Super Bowl 11)
Lynn Swann (Super Bowl 10)
The Westgate SuperBook in Las Vegas closed their prop bets with Edelman at 25/1 odds to win the Super Bowl MVP.
Big Dog
Although rookie running back Sony Michel rushed for 94 yards and scored the game's only touchdown, Edelman put on a sensational performance. For the majority of the game, the LA Rams defense could not stop him.
Even CBS announcer Tony Romo could not stop suggesting that the Rams needed to double team Edelman in order to slow him down. Brady seemed to throw at will to Edelman. Ten of his 21 completed passes went to Edelman.
Edelman racked up 141 yards, or 14.1 yards per catch. His biggest reception as a 27-yarder, but the slot receiver caught a significant amount of passes over the middle of the field. Edelman also added eight rushing yards. He also fielded two punts for a total of two yards.
"Julian is tough kid and he's a great competitor," said head coach Bill Belichick. "He made a couple of big third-down conversions for us."
Edelman, 5-foot-10, played quarterback in college, but he did not attempt a pass in the Super Bowl. Belichick did not run any trick plays with Edelman.
Edelman led the Pats in receiving. Tight End Rob Gronkowski caught six passes for 87 yards, including a 29-yard reception that set up the game-winning touchdown by Michel.
Count 'em! SIX rings! 💍💍💍💍💍💍

Tom Brady's best throws from #SBLIII! pic.twitter.com/VE4rfX0F7P

— NFL (@NFL) February 4, 2019
From PEDs to MVP
Edelman, 32, missed the entire 2017 season with a knee injury when he blew out his ACL in a preseason game. Edelman sat out the first four games of the 2018 season serving a four-game suspension after testing positive for performance-enhancing drugs. The actual drug was never made public, but Edelman did not play a game until a Thursday Night Football game in Week 5.
In 12 games this season, Edelman caught 74 receptions for 850 yards and six touchdowns. In three postseason games, he caught zero touchdowns but contributed 35 receptions and 388 receiving yards.
Edelman has been an underdog for most of his professional career. The New England Patriots drafted Edelman presumably as a WR in the seventh round of the 2009 NFL Draft. He received a phone call from Bill Belichick on draft day that he will never forget.
"We really don't know what you are going to play," said Belichick. "But we know you can play football."
At Kent State, Edelman started at quarterback and competed against LA Rams head coach Sean McVay, who played WR for Miami (Ohio). During his rookie season in New England, Edelman started out on special teams as a kick returner. He dabbled in defense before he fully converted to wide receiver.