The top two teams in the Patriot League, the Colgate Raiders (25-8) and the Boston University Terriers (20-13), will meet in the conference tournament championship game to determine which team secures the Patriot League's automatic bid to March Madness.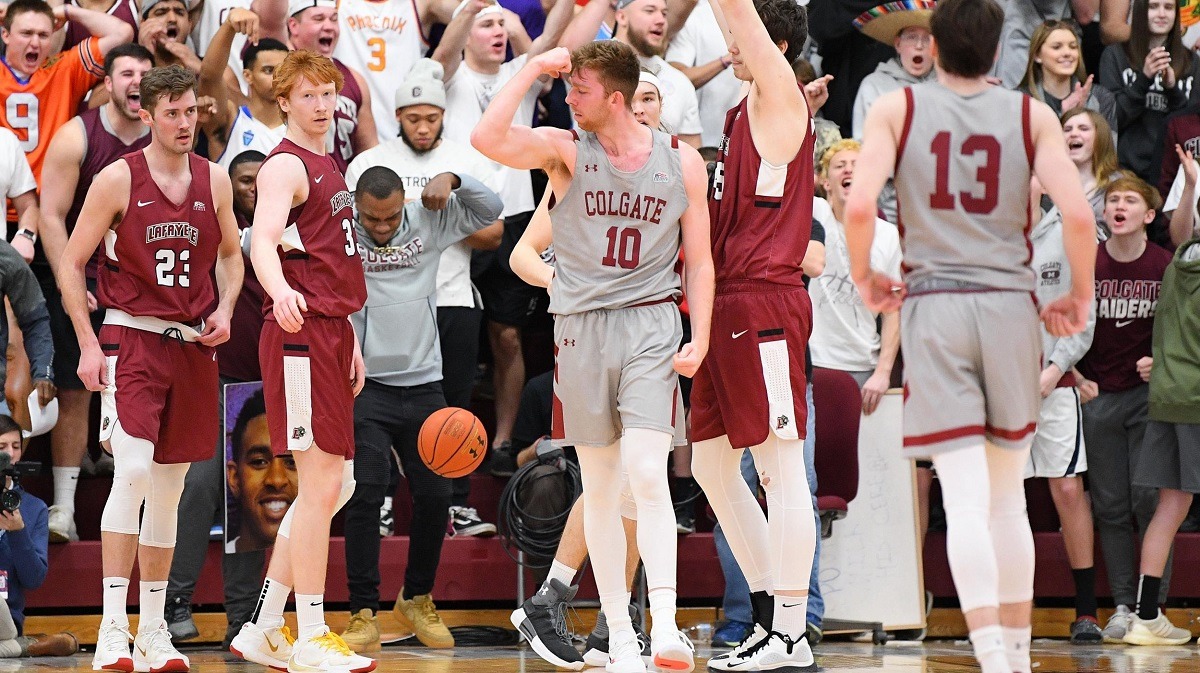 Colgate finished the regular season in first place with a 14-4 record and secured the #1 seed in the Patriot tournament. They will host Boston University (BU) in the championship game at Cotterell Court in Hamilton, New York because the Patriot League doesn't play their tournament on a neutral court.
Colgate is a consensus -7 favorite over BU, whom they defeated twice during the regular season.
Patriot League Standings
Colgate 14-4 (25-8)
Boston U 12-6 (20-13)
American 12-6 (16-14)
Lafayette 10-8 (19-12)
Army 10-8 (15-15)
Navy 8-10 (14-16)
Bucknell 8-10 (14-20)
BU finished in a tie for second place with American University, but BU held the tiebreaker and earned the #2 seed in the Patriot tournament. In the Patriot League quarterfinals, BU defeated Navy 69-63. In the semifinals, BU edged out Bucknell 64-61, a team they had already beaten twice this season.
Colgate defeated Lehigh 83-70 in the quarterfinals and crushed Lafayette in the semifinals to advance to the championship game. Lafayette swept Colgate this season, including a 2-point heartbreaker in January. Even though Lafayette had their number in the regular season, Colgate enacted revenge with a victory in the semifinals.
According to ESPN's Bracketology, the winner of the Patriot League will end up with a #14 seed in March Madness.
Colgate Back-to-Back?
Matt Langel is seeking back-to-back trips to March Madness as head coach at Colgate. Last season, the Raiders (24-11 in 2019) earned the #15 seed and were knocked out in the first round by #2 Tennessee.
Colgate has advanced to March Madness only three times in their history. They went in back-to-back years in 1995 and 1996 with Adonal Foyle on the team. Foyle, arguably the greatest hoops player in the school's history, would go on to play in the NBA for 13 seasons, including a stint with the Golden State Warriors.
A trio of upperclassman lead Colgate with Jordan Burns, Rapolas Ivanauskas, and Will Ryman. Burns, a 6-foot-1 junior guard, leads Colgate with 15.7 points and 4.5 assists per game. Ivanauskas, a 6-foot-10 senior big man, averages 13.1 points and 7.5 rebounds for Colgate.
Ryman, 6-foot-9 senior forward, averages 12.8 points and 8.9 rebounds per game. The streaky Ryman, Colgate's third-best scorer, dropped 25 points against Holy Cross and then exploded for a season-high 27 points against Loyola-MD.
In their first meeting against BU, Rayman led all scorers with 21 points (a season-high at the time) in the win. In the second meeting, Ryman had a terrible shooting performance with a 2-for-10 clip. He scored only 8 points in Colgate's 16-point victory. Burns led Colgate with 15 points and six steals in the second win over BU.
In the semifinals against Lafayette, Burns scored 17 points, while Ryman added 16 points and 11 rebounds.
KenPom ranked Colgate #118 overall.
BU Itching for First Trip Since 2011
In his ninth season, Joe Jones is still looking for his first invite to March Madness as head coach of BU. After his second season with the Terriers, BU switched conferences and migrated from the America East to the Patriot League in 2013-14.
In 1959, BU went to the Elite Eight. The Terriers went 2-1 in the postseason that season during one of the earliest incarnations of March Madness. They lost in the Elite Eight to the legendary Jerry West and West Virginia.
Since 1990, BU made four trips to March Madness and was knocked out in the first round each time. The last time BU advanced to March Madness occurred in 2011. They were awarded the #16 seed after winning the America East conference tournament.
Max Mahoney, a 6-foot-8 senior forward, leads BU with 15.4 points and 8.2 rebounds per game. Mahoney snagged 10 double-doubles this season. He is also a highly-efficient shooter with a 57.7% field-goal percentage. Mahoney exploded for 38 points and 13 rebounds in an overtime loss to Binghamton in November.
The loss to Binghamton ended up a pivotal point to the season. BU started out 3-7 and lost four games in a row with the crushing overtime defeat. Since then, BU went 17-6.
BU lost to Colgate twice this season by a combined 25 points. If the Terriers want a trip to March Madness, they must figure out a way to finally knock out Colgate.
KenPom ranked BU #167 overall.