The highly anticipated battle between the Los Angeles Dodgers and the San Diego Padres for the NL West title has finally come to fruition, as both teams have put together long winning streaks to compile the two best records in the majors.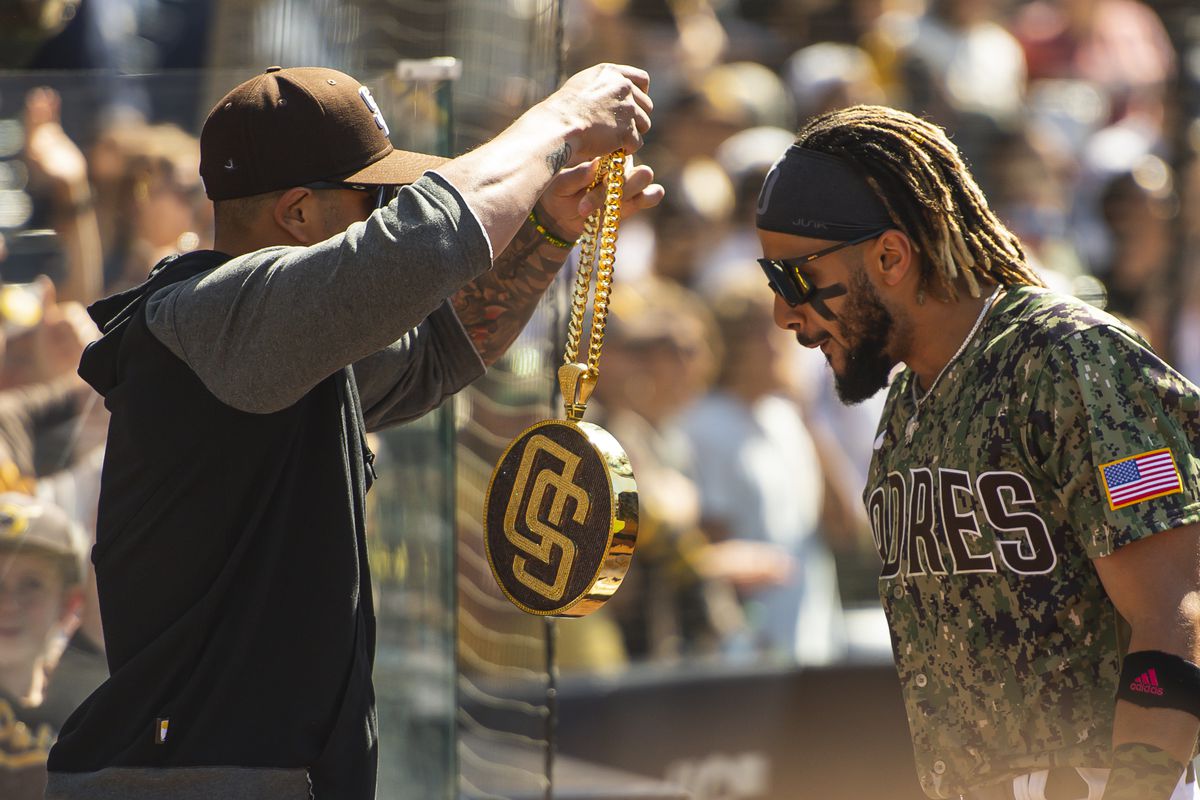 San Diego has won its last nine games, while Los Angeles is riding a seven-game winning streak.
Tatis returns as San Diego rolls
The Padres now hold a league-best 30-17 record, yet they are just one game ahead of the Dodgers atop the NL West standings, with the San Francisco Giants only two games back.
Fernando Tatis Jr. returned to the Padres lineup this week and has been red-hot ever since. On Sunday, he helped complete a sweep of the visiting Seattle Mariners by going 3-for-3 with two home runs, including a seventh-inning grand slam. That completed only the second 9-0 homestand in San Diego history.
Tatis is hitting .309 with 13 homers and 26 RBIs in just 30 games this year, while also stealing a league-leading 10 bases. The 22-year-old shortstop noted that he's just one cog in a machine that's running at full steam.
"The big thing is, it's not one guy," Tatis said over the weekend. "I just hopped on the train of how the team was playing."
The team is also playing with swagger. Manny Machado commissioned a gaudy chain bearing the San Diego logo, which players started passing between each other this past weekend.
"They are — I'm certainly not — a very swaggy group. That's what the chain is about."
— Jayce Tingler pic.twitter.com/Z0IX9Jmc8o

— Kevin Acee (@sdutKevinAcee) May 23, 2021
"It's the play of the game or the [player who hits a] home run," Austin Nola said after Machado gave him the chain during a postgame interview on Saturday. "That was the first time I've seen it. I thought if you hit a home run, you get to wear the chain in the dugout. I guess we were waiting for somebody to hit a home run and nobody hit a home run tonight."
Dodgers fight back after sluggish stretch
The Dodgers aren't ceding any ground in the NL West race. A seven-game winning streak has LA at 29-18 and just one game behind San Diego. Critically, the Dodgers just completed a sweep of the Giants, who had taken early control of the division. Now, San Francisco sits in third place, though only a game back of Los Angeles.
---
NL West Odds (via FanDuel Sportsbook)
Los Angeles Dodgers: -280
San Diego Padres: +210
San Francisco Giants: +2000
Arizona Diamondbacks: +30000
Colorado Rockies: +30000
---
The Dodgers struggled through a 5-15 stretch that cooled talk of the team potentially being among the best in MLB history. But Los Angeles has now won 11 of 12, even as the team deals with a variety of injuries, including the loss of Corey Seager and left shoulder soreness for Mookie Betts.
"Even when we're not at full strength, we have a lot of really, really, really good players," infielder Gavin Lux said, via ESPN.com. "I think we just went through a funky stretch there where we all kind of slumped, and now obviously we're picking back up where we left off early in the year."
FanDuel Sportsbook still expects the Dodgers to ultimately win the race. Los Angeles stands as a -280 favorite to win the NL West, with the Padres at +210. The sportsbook lists the Giants as a +2000 long shot.