It's all about quantity, not quality for the Pac-12 Conference in Week 4 of the AP Top 25 College Football Poll. The conference is tied with the SEC for the most teams in the poll with six.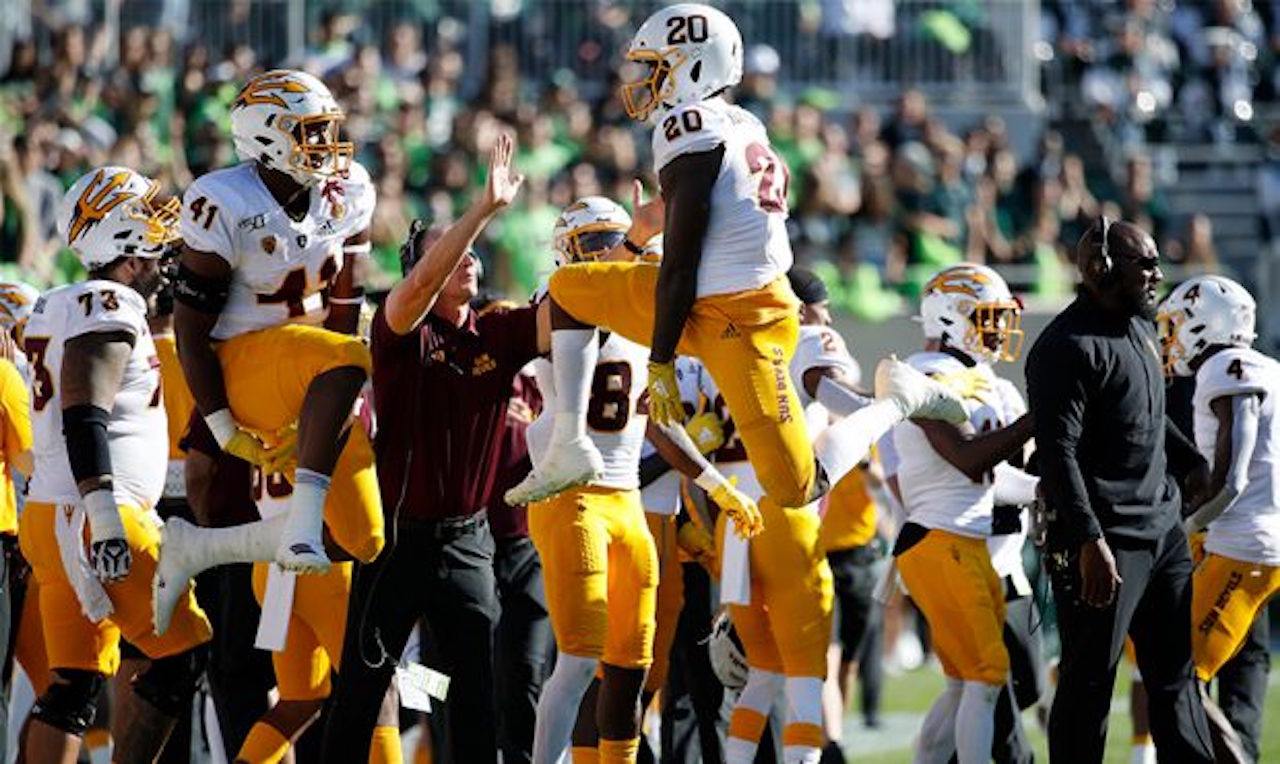 It's the first time in four years the Pac-12 has had that many schools in the poll. While they have six, they only have one in the Top 10. Utah moved to No. 10, after going 3-0, and flipping spots with idle Michigan.
The other Pac-12 teams in the poll are: No. 16 Oregon, No. 19 Washington State, No. 22 Washington, No. 23 Cal, and No. 24 Arizona State. USC, which was ranked No. 24 last week, dropped out of the top 25 after its overtime loss to BYU.
Little Movement in Top 10
Other than Utah and Michigan flipping spots, the Top 10 stayed the same. Clemson remains No. 1 with 1,545 points and 57 first-place votes, one more than they received last week.
Alabama got the other five top votes, and stays at No. 2. The SEC powerhouse is followed by two other from the conference, Georgia and LSU.
Georgia is hosting No. 7 Notre Dame this Saturday and is a 13.5-point favorite. It will be the first time two teams in the Top 10 will play one another. Georgia coach Kirby Smart said he didn't think the team looked ahead to this game.
"I'm not with the kids 24-7, I'm not on their phones with them, I think they live in a different world nowadays where there's so much information that, it's not like you're worried about them being worried about Notre Dame," Smart said. "You're worried about them being worried about everything because they are constantly getting information, it's information overload all the time, so we just tried to concentrate on Arkansas State and talked about their program and their conference, and tried to go out and play them."
LSU coach Ed Orgeron said his team is looking forward to facing its first SEC opponent when they travel to Vanderbilt.
"We look forward to getting on the road," Orgeron said. "We look forward to fixing ourselves this week. There's a lot of things to fix. There's a lot of things to be positive of."
Plenty of Change Outside of Top 10
While the Top 10 was relatively quiet, the teams lower down the rankings were not. Other than No. 12 Texas, and No. 14 Penn State, every other team made movement of some sort.
The biggest jump was Virginia. The Cavaliers barely got by Florida State, 31-24, but moved from No. 25 to No. 21.
"It felt like we won the game about three different times," Cavaliers coach Bronco Mendenhall said, "and then we didn't."
They finally did when the defense stopped FSU on the 4-yard-line on the last play of the game.
Three teams made their debut in the Top 25. Pac-12 conference teams Cal and Arizona State are No. 23 and 24 respectively, while TCU took the last spot.