It's the ultimate battle of cats and dogs when the UW Huskies head down to Tucson to take on quarterback Khalil Tate and the Arizona Wildcats in the last game on the college football schedule for this week's installment of the Pac-12 After Dark.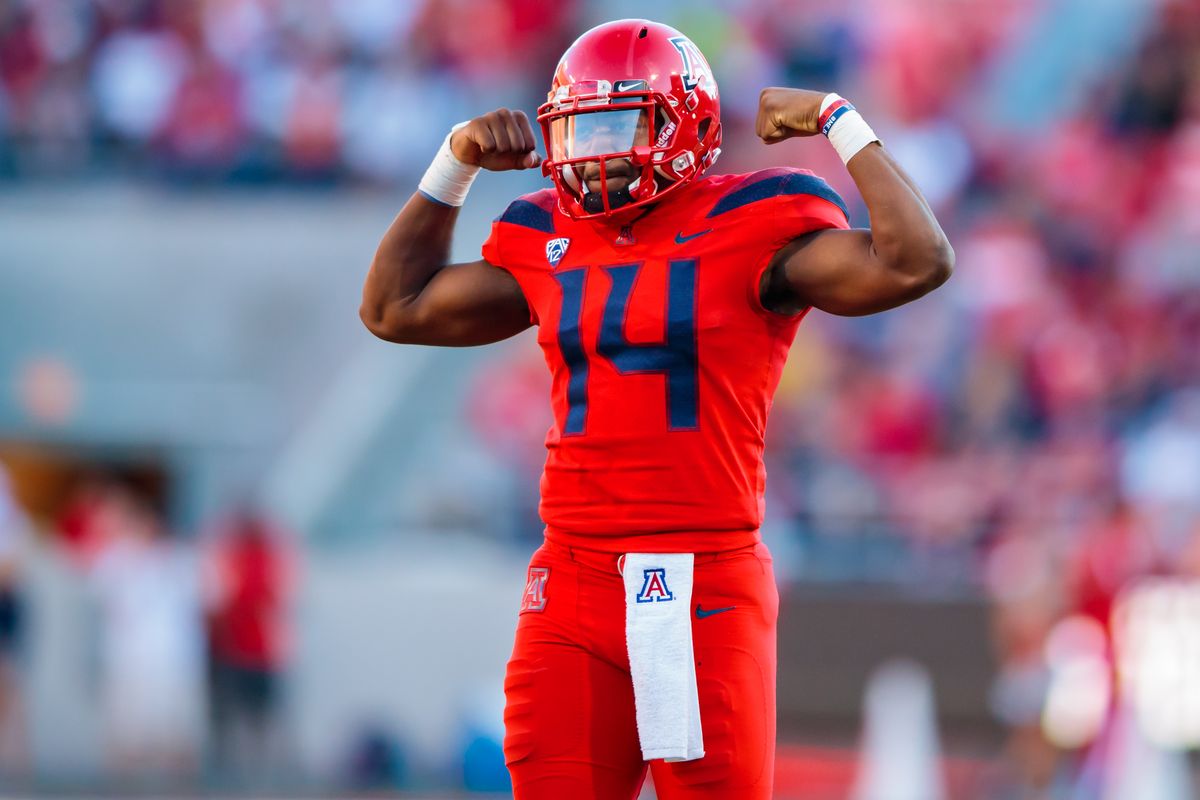 Sometimes when you need action, you'll take whatever action you can get. That's often the last game on the schedule. The Pac-12 is always reliable for late-night gamblers because it gives them one final chance to get unstuck after a long Saturday of college football.
Washington was in the Top 25 before tumbling out last week after a loss to Stanford. Arizona had Top-25 aspirations that never panned out after they dropped the first game of the season to Hawaii. An Arizona win over UW won't thrust them into the Top 25 this week, but it will put them a little closer to the bubble.
Arizona sits on top of the Pac-12 South with a 2-0 conference record. UW is near the bottom of the Pac-12 North with a 1-2 record in Pac-12 play.
Washington Huskies (4-2) at Arizona Wildcats (4-1)
Kickoff: 8pm PT
Location: Arizona Stadium, Tucson, AZ
Point Spread: -6
Total: 60
Money Line: UW -220 / AZ +210
Arizona is undefeated at home (3-0), including a win over Chip Kelly and UCLA in a previous installment of Pac-12 After Dark. But, the Wildcats are a home dog once again. The only other time this season the Wildcats got points at home, they were a slight dog against Texas Tech. Arizona whooped Tech by two touchdowns. Overall, Arizona is 2-3 ATS.
UW has the better overall defense, limiting opponents to only 18.3 points per game. Arizona puts up 37 points, so UW's defense will be tested once again. UW is 1-1 on the road, and 4-2 ATS overall.
The total for UW and Arizona is 60 points. If this Pac-12 After Dark matchup is anything like last week's Arizona and Colorado shootout, this should be a fun game to watch, even if you're not sweating a late-night bet.
The Tate Show
Senior QB Khalil Tate is truly a one-man wrecking crew after a banged-up 2018 season. If he played anywhere back east, he'd get more love as a viable Heisman candidate. Thus far, Tate passed for 1,088 yards and nine touchdowns. Tate has also rushed for two scores, and he's averaging 8.3 yards per carry when he takes off and runs.
Tate is coming in hot after torching the Colorado secondary for 404 yards and three touchdowns in a 35-30 victory in Boulder.
"When I am healthy, I can do a lot more," explained Tate. "Anything my team needs, I'm doing it for them."
The Arizona/Colorado game was fun to watch, with nine lead changes as the two teams slugged it out all day. Arizona rallied back to secure a win, and remained unbeaten in conference play.
Arizona's D came up big with a huge fourth-down stand late in the fourth quarter.
"To get a fourth-down stop, that's the one everyone is going to point to," said Arizona coach Kevin Sumlin.
When Arizona's defense steps up, they're not an easy team to beat. Tate's golden arm keeps Arizona in every game, so long as the defense keeps it close.
Husky Down
At one point, UW was the lone hope for the Pac-12 in the race to become one of the four teams in the college football playoff. The Pac-12 has been a little pathetic the last few seasons. No Pac-12 team has had a legit shot at the national championship since Chip Kelly left Oregon.
UW's been on a downward trajectory, while #13 Oregon is on the rise. As expected, Oregon had an easy job defeating the visiting Colorado Buffs on Friday Night Football. The Ducks inched closer to the Top 10, while UW is struggling to regain their footing after a shocking loss to Stanford in last week's installment of Pac-12 After Dark.
Last week, #18 UW was favorite by nearly 16 points. Not only did Stanford cover with a backup QB at the helm, the smart kids won outright, 23-13. UW led 7-3, but then Stanford outscored them 20-6 over the final three quarters. Stanford held the ball for twice as long as UW (39 minutes to 21 minutes in time of possession), and wore down the defense. UW's run D played their worst game of the season, allowing Cameron Scarlett to rush for a career-high 157 yards. Stanford's shaky D even pitched a fourth quarter shutout against UW's stagnant offense. They converted only 2-of-12 third down situations.
Against Stanford, Senior WR Aaron Fuller hauled in 171 yards on nine receptions. That number is even more impressive knowing that QB Jacob Eason threw 206 total yards all game, and the lion's share went to Fuller. RB Salvon Ahmed destroyed USC, but an injury kept him on the sidelines for most of the Stanford game.