Walt Harris nearly stopped Alistair Overeem in the first round of their fight on Saturday, but it was Overeem who came away with the victory in the main event of the UFC's third Jacksonville show in eight nights.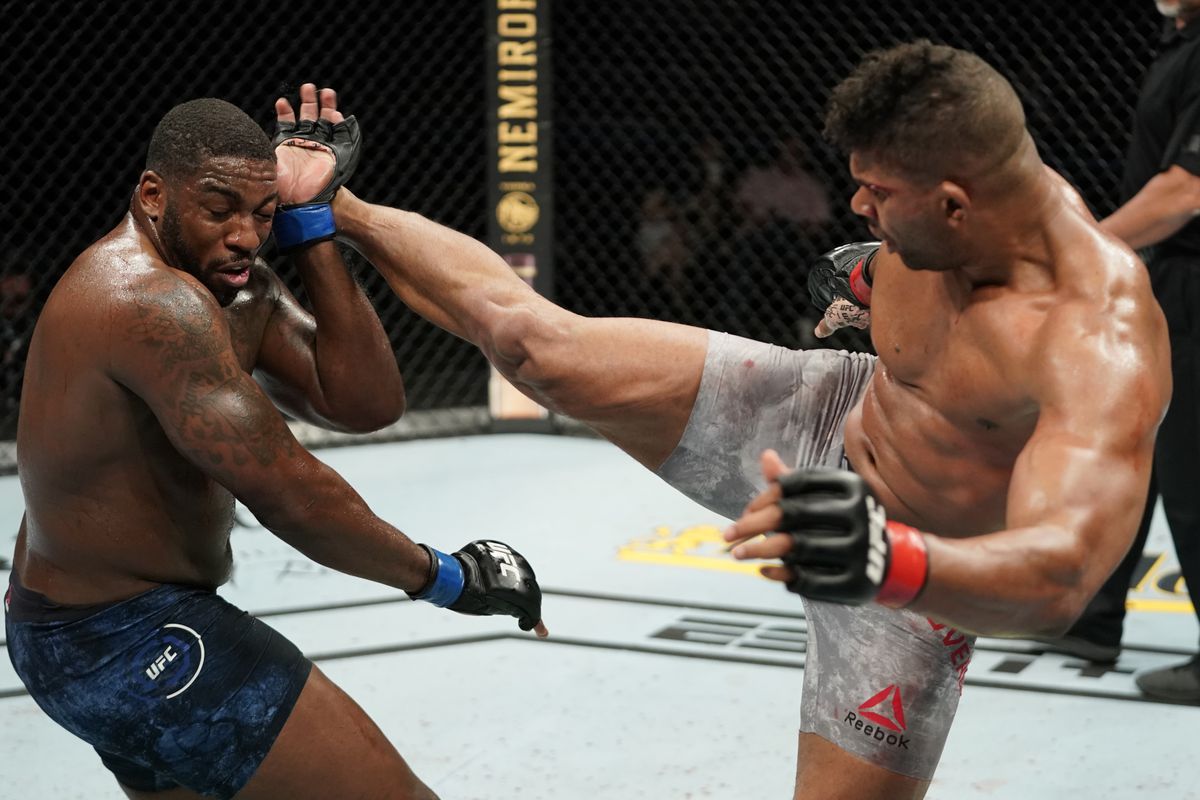 Overeem (46-18) finished the fight by pounding away at Harris with punches on the ground, earning the Dutchman a TKO win three minutes into the second round.
Overeem Recovers to Finish Emotional Harris
In the opening minutes, Harris was on the verge of victory. Harris (13-8) dropped Overeem early in the first round, then began to follow up with more shots on the ground. He may well have been only a couple of unanswered shots away from getting a stoppage. But Overeem defended himself, recovered, and looked to be in control as the first round came to a close.
The fight marked Harris' first return to the Octagon since the death of his stepdaughter Aniah Blanchard last fall.
"I want to say thank you, first and foremost, to the UFC," Harris said in his post-fight interview. "They've been amazing throughout this whole process. My wife and my family are so grateful. We owe you guys everything."
Overeem consoled Harris after the fight, and suggested that the two train together in the future.
White Sees Arizona as Possible Host for Next Event
UFC president Dana White wants to hold the company's May 30 event at its Apex facility in Las Vegas. But if that proves impossible, White says he already has an alternative in mind.
"If we can't get May 30 at the Apex, it's going to be super disappointing, but we will go somewhere else," White told reporters after Saturday's card, before specifying Arizona as the probable destination.
Arizona Gov. Doug Ducey has already announced that professional sporting events are welcome in the state as of Saturday, provided no fans are in attendance. Conversely, Nevada has suspended all combat sports until further notice.
The UFC also announced on Saturday that Kevin Randleman would be joining the company's Hall of Fame later this year. Randleman, who passed away at age 44 in 2016, will enter as part of the Pioneer Wing.
Randleman won the UFC heavyweight championship in 1999 when he defeated Pete Williams by decision at UFC 23. He then defended that title with a win over Pedro Rizzo before Randy Couture defeated him by TKO at UFC 28. Randleman ended his MMA career with a 17-16 record, though he was 14-5 before losing 11 of his final 14 fights.
Barboza Won't Appeal Split Decision Loss
Edson Barboza (20-9) and his team considered appealing his controversial split decision loss to Dan Ige (14-2) from Saturday's card, but have since been told that the Florida State Boxing Commission won't review the decision simply because it appears incorrect to many observers.
"We wanted to come in front of them and analyze the fight and show them the decision was wrong," Alex Davis, Barboza's manager, told MMA Junkie. "They can't allow it because for that to happen, I would have to accuse the judges of fraud, or Ige of having taken [performance-enhancing drugs]. I have no suspicion of fraud, and I don't think he takes PEDs."
All three judges – and nearly all observers – believed Barboza clearly won the first round, while Ige clearly won the third. Two of the three judges gave the second round to Ige as well, giving him a 29-28, 29-28, 28-29 split decision. The vast majority of media members scored the fight 29-28 Barboza, according to data collected by MMAdecisions.com.