The college career of Oregon center Bol Bol is coming to an early end, as the freshman announced that he would be missing the rest of the season with an injury to his left foot.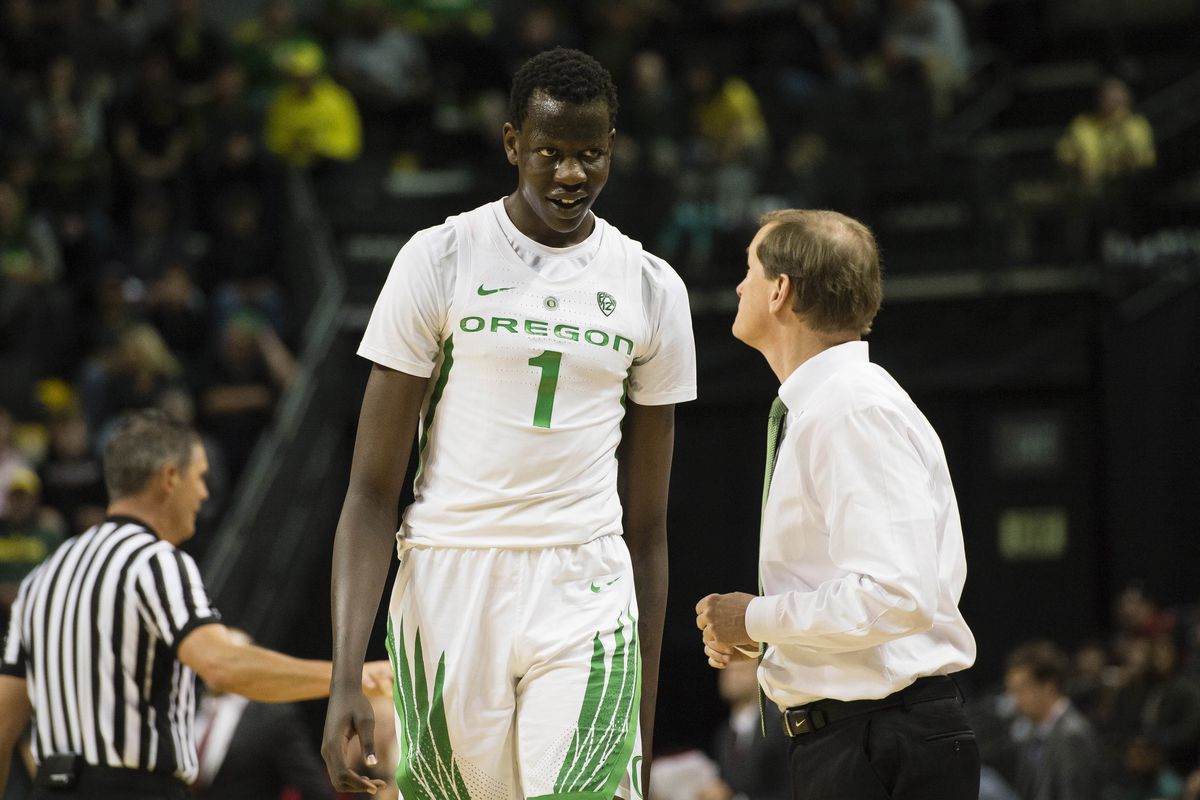 Bol is planning to enter the NBA draft after the season ends, and is currently projected by many media organizations to be a high lottery pick.
Bol Dominant in Short Stint with Oregon
Bol found success with the Ducks, albeit in a limited sample size. The 7-foot-3 center played the first nine games of the season for Oregon, during which time he averaged 21 points, 9.6 rebounds, and 2.7 blocks per game. He also showed a surprising touch from long distance, shooting 52 percent from behind the three-point line.
According to a statement from Bol's lawyer, Bryan J. Freedman, Bol had surgery for a non-displaced fracture of the navicular bone in his left foot on Thursday. Bol is expected to use crutches or a boot for up to 10 weeks before he can begin thinking about returning to basketball activities, let alone play in a competitive game.
"Bol had been treating this injury wearing a walking boot for the past few weeks and although his foot pain completely resolved, repeated imaging studies revealed that the fracture was healing very slowly," Freedman said in a statement. "At surgery, two screws were inserted into the navicular bone and bone graft from his pelvis was added to speed up the healing which will expedite his return to play."
In a Twitter message, Bol thanked his fans for supporting him during his time at the school.
Playing for my dream school under my favorite Coach Altman has been the Best part of my life and sadly it has come to end sooner than I would Like but thank you for all those who rocking with me & all Oregon fans 💚💛thank you #GoDucks pic.twitter.com/qYnjKO0p6x

— Bol (@bolmanutebol) January 3, 2019
"Playing for my dream school under my favorite Coach Altman has been the best part of my life and sadly it has come to end sooner than I would like," Bol wrote.
Altman Has No Recruiting Regrets
The Ducks will have difficulty replacing Bol's production, especially because fellow center Kenny Wooten is also out until February with a fractured jaw. Oregon is already off to a slower-than-expected 9-4 start, and will begin its Pac-12 schedule on Saturday night against in-state rival Oregon State.
The premature loss of Bol has led to renewed questions about the value of recruiting likely one-and-done players who are expected to quickly jump to the NBA. But Oregon coach Dana Altman isn't ready to back off from bringing in top players who plan to go pro early.
"It's not an easy question to answer," Altman told reporters. "But, we recruited Bol and we definitely weren't going to turn him down, and I wouldn't change my mind if another talented player wanted to come in."
Bol Bol is the son of former NBA player Manute Bol, a Sundanese basketball player who, at nearly 7 feet 7 inches tall, shares the honor of being the tallest player in NBA history with Gheorghe Muresan. Bol played in the league from 1985 through 1995, twice leading the NBA in blocks and once being named to the All-Defensive Second Team.