For Ete Indien, it's a trip back to his turf roots that brings the one-time Kentucky Derby prospect back after a year on the sidelines. Ete Indien's first start in nearly 13 months comes in Sunday's Bob Umphrey Turf Sprint at Gulfstream Park.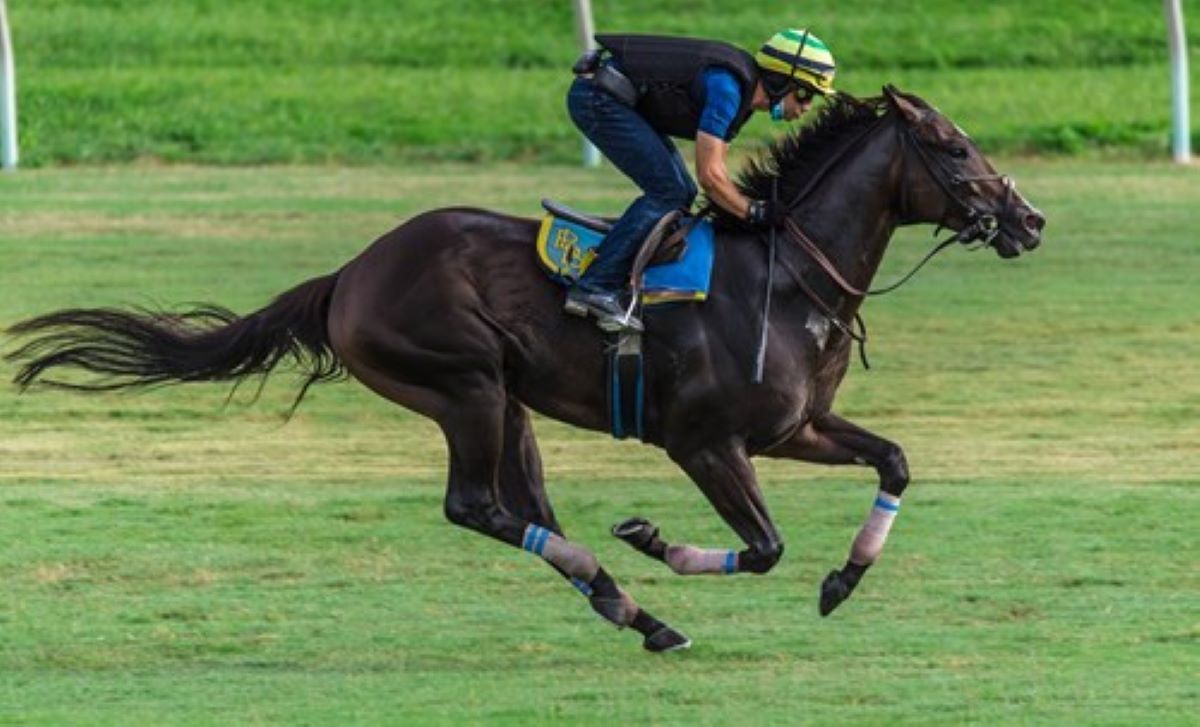 The Black-Type Umphrey sends its runners on a five-furlong sprint on the Gulfstream Park turf. The $100,000 race is part of Gulfstream Park's Summit of Speed Weekend. The Grade 2 Princess Rooney Invitational headlines Saturday's card.
As for Ete Indien, who won his career debut on turf in September, 2019, any race works for a horse who hasn't entered a starting gate since June 10, 2020. That's when he finished fourth in a Gulfstream allowance optional claiming race captured by his stablemate, Sole Volante. Jesus' Team and Shivaree completed the trifecta of what became a flagship allowance.
Sole Volante ran in the Belmont Stakes 10 days later, finishing a miserable ninth. He hasn't been the same since. On the other hand, Jesus' Team came out of that on an upward progression. After finishing fourth in the Haskell, Jesus' Team hit the board in his next six races, which were all stakes events. Those highlights included a win in the Claiming Crown Jewel Stakes, seconds in the Breeders' Cup Dirt Mile and Pegasus World Cup (both to Knicks Go), and a third in the Preakness Stakes.
Allowance wiped Ete Indien out for 2020
Ete Indien, meanwhile, went on the shelf after that allowance — one he led via a sizzling pace until the three-quarters post. His fourth took plenty out of him and trainer Patrick Biancone decided the son of Mizzen Mast needed time off.
Ete Indien is a prime example of how the pandemic negatively affected several horses from last year's 3-year-old class. He had one of the best springs of any sophomore, finishing second to Tiz the Law in the Holy Bull, then springing out of that to win the Fountain of Youth by 8 ½ lengths. Ete Indien took that into a third – once again, behind Tiz the Law – in the Florida Derby.
"For us, it was very disappointing because my two horses – he and Sole Volante – were at the the top of their games," Biancone told Gulfstream Park. "Everything changed. One got hurt and the other one lost his form."
Each workout better than the last
Ete Indien's last 2020 workout came at the Palm Meadows Training Center on June 28. He turned in a bullet, six-furlong work that day, then went off the grid for the next 11 months. He returned on May 21 with a four-furlong breeze (51.95 seconds), then put in three June works. Two of those were bullets: a June 21 four-furlong breeze in 46.75 seconds and a June 30 three-furlong breeze in 36.75 seconds.
"He's trained extremely well, but when you have not run for a year, you cannot expect to have the horse super-tight," Biancone said. "He had a little hiccup, and he's recovered from everything now. He's happy, sound and very strong. He strained one of his ankles. He should have been ready to run in March, but unfortunately, one morning, he put his legs over the (stall) door, and I lost another three months."
This clumsiness may be a byproduct of Ete Indien's size. In the words of Biancone, "he's a monster." The colt spent his time off growing into a 16-hand Thoroughbred. Now, Ete Indien gets his first chance to see what he can do with that size and maturity.
"We go back to scratch," Biancone said. "He's had a year off. We got back to where he started."