Tennessee and Missouri are two teams that are trying to get bowl eligible. They are both 5-5 on the year, and need another victory to get to a bowl game, though Missouri might be banned from the post-season for academic violations. They are awaiting a decision from the NCAA on a possible bowl ban.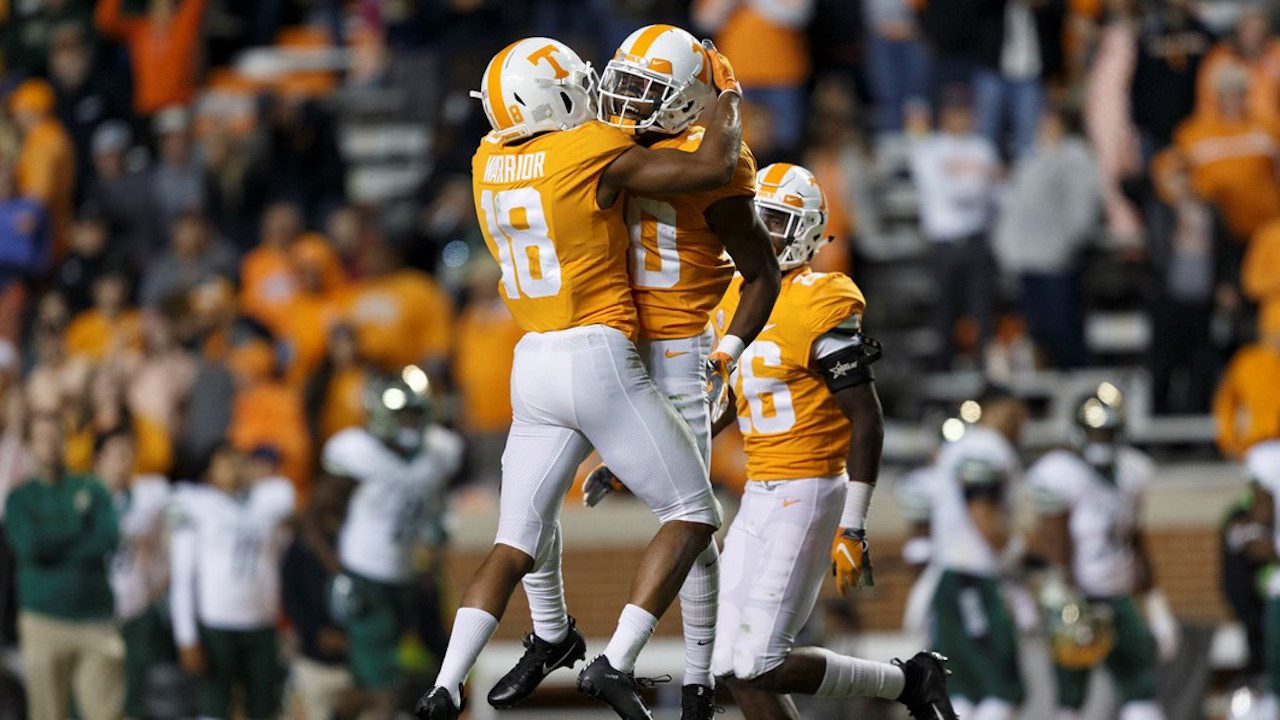 The teams are about equal, though I think the Vols have a couple of advantages. That is why with this week's One Bet, $100, I'm taking the six points, and picking Tennessee to win on the road.
One Bet, $100

This Week's Pick           Last Week's Result         Season Total

Tennessee +6                 Won Clemson                8-4, Up $350
Last week I took Clemson against Wake Forest, laying 34 points. The Tigers won, 52-3, easily covering the spread. I don't believe I will have as easy a time with Tennessee, but I do feel confident that the Vols can knock off Missouri.
Vols Rested for Tennessee-Missouri Game
Tennessee should have an advantage after not playing last weekend. Volunteers coach, Jeremy Pruitt told reporters that he, and his team, are ready after the seven-day break.
"Our guys are excited to get back into game week," Pruitt said. "They should be fresh, I know I definitely am, had a good weekend."
The extra time off helped quarterback Jarrett Guarantano rest his injured hand, and Pruitt said it shouldn't be an issue.
"He has been able to do everything except maybe clap his hand to take the snap," Pruitt said. "We probably cut down the reps to eliminate the contact there so it would reduce the swelling, so we would have a better opportunity on Saturday."
That doesn't mean Guarantano will start in the Tennessee-Missouri game. He lost the starting job to Brian Maurer after the first four games. He has come in relief of Maurer the last six games, and is 4-2, including a 17-13 victory against Kentucky two weeks ago.
Common Opponents Favor Vols
Tennessee and Missouri have played four common SEC opponents, Georgia, Florida, South Carolina, and Kentucky. The Vols are 2-2, while the Tigers are 1-3, including a blowout 29-7 loss to Kentucky.
The losses by both teams were to top-10 teams Georgia and Florida. The Bulldogs defeated Missouri, 27-0, and Tennessee, 43-14. The Gators downed Missouri, 23-6, while knocking off Tennessee, 34-3.
Both teams have an embarrassing loss this season. For Tennessee, it was losing to Georgia State, 38-30. Missouri was beaten by Vanderbilt,  21-14.
Can Tennessee Stop Kelly Bryant?
The biggest task for Tennessee against Missouri is stopping Tigers quarterback, Kelly Bryant. The Clemson transfer is an athletic signal caller who can give opposing defenses trouble.
Tennessee is ranked 34th in total defense, but Pruitt knows they'll be tested by the senior.
"I think it's an advantage, playing against somebody for us, where at least we've prepared against him before and probably have a good idea of their skillset," Pruitt said. "The offenses are different, but there are some things that they do that are similar, so you probably would draw on some of the past to kind of help create a plan."
Why Tennessee Will Win
Despite Missouri being 5-1 at home, Tennessee should be able to win outright, and should at least cover with the six points they are getting. Missouri is ranked 10th in total defense, but the quarterback tandem of Guarantano and Maurer might keep the Tigers on their toes.
Look for Tennessee to win this game outright by a touchdown.