The Oklahoma-Texas game is one of the biggest rivalries in college football, and the subject of my "One Bet, $100" pick for this week. Texas is an 11-point underdog, and I believe they will cover that number.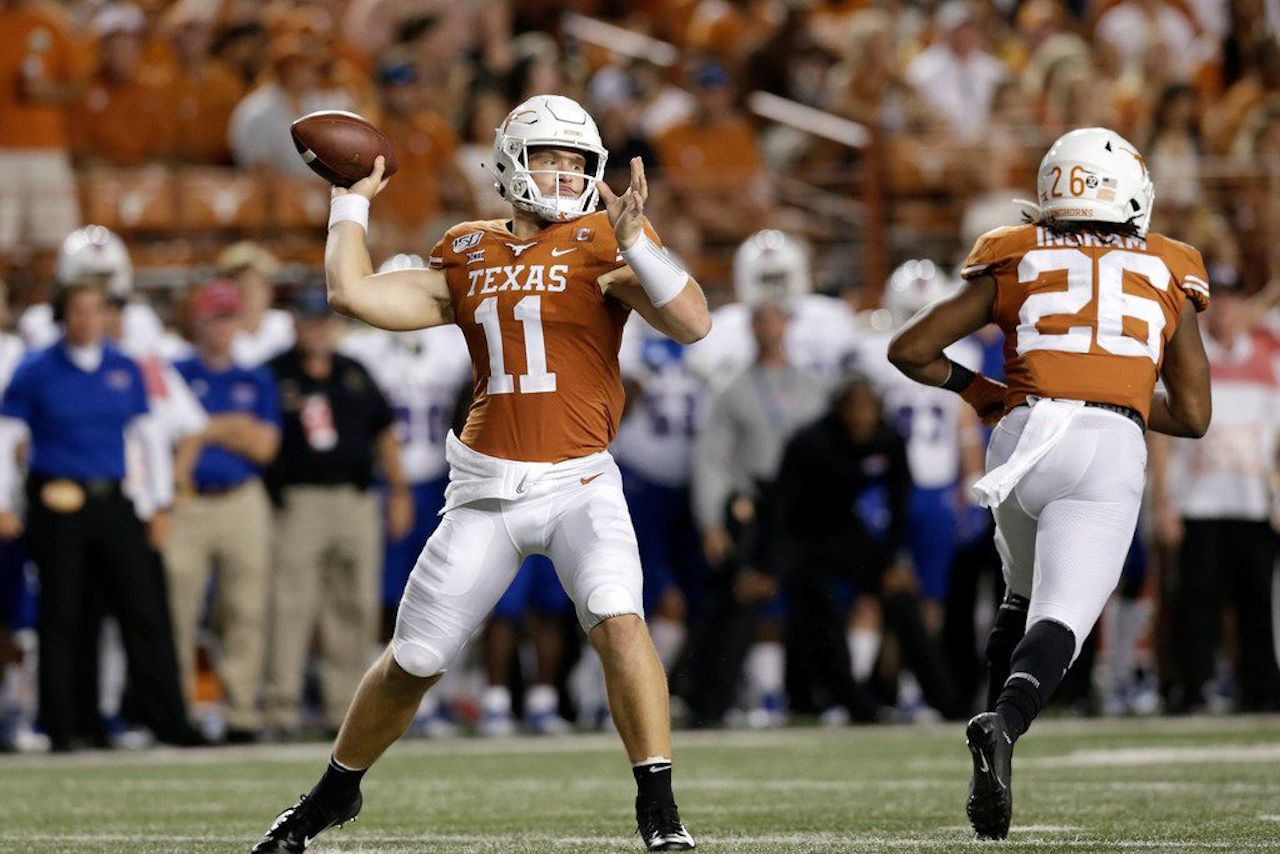 Last week's "One Bet, $100" was another loss. I picked SMU, who was undefeated against the spread to cover 12.5 points against Tulsa. The Mustangs nearly lost the game outright before mounting a comeback against the Golden Hurricanes, and winning, 43-37.
One Bet, $100

This Week's Pick           Last Week's Result         Season Total

Texas +11                        Lost SMU                       4-2, Up $160
Two losses in a row makes my record 4-2. I'm hoping I can bounce back with Texas in the Red River Showdown. There are several reasons I like Texas in this game.
Oklahoma-Texas Game Gets Players Chirpy
There's a lot of talk that goes down in the Red River Showdown, but the one thing coaches caution against is giving the team bulletin-board material. Jalen Hurts did that after the Sooners defeated Kansas. He told reporters he wasn't concerned about the intensity of the Oklahoma-Texas game.
"I played in the Iron Bowl," Hurts said about the Alabama-Auburn rivalry game. "I played in big games before. I think I'll be all right."
That didn't sit well with the Texas players. One of them, safety B.J. Foster, told 247 Sports that the transfer from Alabama should watch himself on Saturday.
"He's not dumb," Foster said. "He's gonna have to slide, or it's not gonna be good for him."
Lincoln Riley Gives Thumbs Down to Horns Down
Another Oklahoma tradition that irks Texas is a variation on the Longhorns famous "horns up" hand sign. The Sooners have their own interpretation, doing a horns down signal.
When asked about the hand signal, Riley said, "Our players won't do it."
That doesn't mean fans won't. Those that get into Darrell K Royal–Texas Memorial Stadium are likely to do it every chance they get.
"As long as Horns have been going up, Horns have been going down at Oklahoma," former Oklahoma coach Barry Switzer told ESPN. "No one's ever gonna stop doing it."
Oklahoma Defense Still Shaky
There's no doubt the Oklahoma defense is much improved from last year. The Sooners allowed 48 points to Texas last year, and it cost defensive coordinator Mike Stoops his job.
New defensive coordinator, Alex Grinch, brought new respectability to the defense. His squad has allowed many fewer points than last year's unit, and that should hold true in the Red River Showdown.
Texas coach Tom Herman knows this will be a much different defense than what he saw last year.
"I think you just see them playing so hard and flying to the football," Herman said. "Really aggressive. Not terribly complex. Some of the things they do with their line movements and twists and stunts are going to be difficult for our offensive line and quarterback. (Sooners defenders) are in the right place at the right time, and they're getting there with their hair on fire and really physical."
The Sooners defense hasn't really been tested by a top offense, and Saturday will see how well they can hold up against quarterback Sam Ehlinger, who is always a threat to run the ball.
Why Texas Will Cover
Don't get me wrong, I believe Oklahoma is the better team, and will win this game. But I believe the tempo will trend in Texas' favor. That means a ball control offense that will keep this game close. I feel confident this week's "One Bet, $100" will be a winner.
The Longhorns will give Oklahoma's defense fits. They also have a size advantage with their receivers. This should work in their favor.
Hurts is ready to show Alabama that they should have stuck with him, but I have a feeling he is going to have some nerves. I wouldn't be surprised if this game is decided by a field goal or a late touchdown. It should be a classic Red River Showdown.