Emotional victories are draining, especially in the playoffs, and the Viking's OT win over the the Saints last weekend should affect the outcome of their Saturday NFC Divisional Playoff game against San Francisco. That's why, with this week's One Bet, $100, I'm taking the 49ers and giving away the seven points.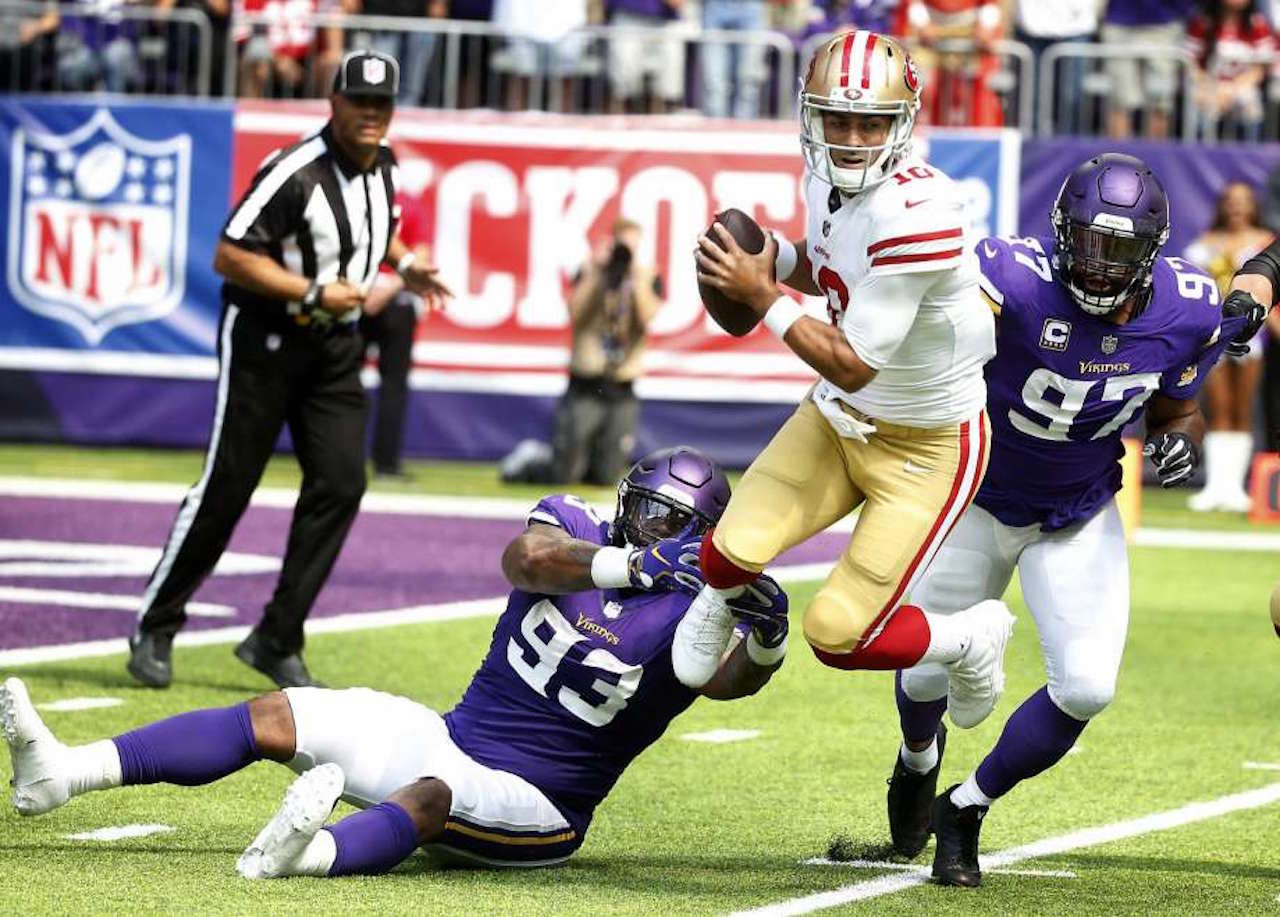 In my last One Bet, $100, I took Washington and 10.5 points in the regular season finale against Dallas. The thought was, Dallas was going to lose their coach and the team was out of the playoffs, so they would just go through the motions in this game. What I didn't count on was the Redskins playing much worse than the Cowboys. Dallas treated their fans to a 47-16 beating of Washington.
One Bet, $100

This Week's Pick              Last Result                    Season Total

San Francisco -7             Lost Dallas                     10-8, Up $285
Now we're in the playoffs and, after a crazy wild-card weekend where Minnesota shocked New Orleans, 26-20 in the Superdome, the favorites should prevail. Picking Minnesota to pull off its second consecutive road upset is asking an awful lot. I just don't think they have it in them.
The Inexperience Factor
A lot has been made of the 49ers' inexperience as they enter the NFC Divisional Playoff game. This is especially true when we're talking about quarterback Jimmy Garoppolo, who is starting his first playoff game as a signal caller.
What people are forgetting, however, is that he had a front-row seat in New England for three years, learning from arguably the greatest quarterback of all time in Tom Brady.
One person who doesn't doubt Garoppolo's nerves is 49ers head coach Kyle Shanahan. He had a very simple message to his quarterback that he shared with reporters earlier in the week.
"Just be you. Do the same thing you do every single day," Shanahan said. "Didn't give him a big message this week. Just talked to him the same way I have every other week."
One of Garoppolo's favorite targets, tight end George Kittle, isn't concerned either.
"I'm not really worried. Jimmy has been doing it all year," Kittle said. "Every prime-time game he shows up, plays well. He's just going to do him and play really well. I just have that expectation of him. I have all the confidence in the world in him."
Can Cousins Create More Magic?
Minnesota quarterback Kirk Cousins had one the best games of his career in the team's shocking, 26-20, road victory over New Orleans last week. In that upset, the Vikings were 7-point underdogs. Cousins finished 19-of-31 for 242 yards and a touchdown. If Minnesota is going to shock another NFL team, Cousins will have to have another mistake-free performance on Saturday.
Shanahan isn't surprised at the success Cousins is having. The two were together in Washington when Shanahan was an assistant coach.
"Every time he's gotten more opportunities, he's only gotten better," Shanahan said. "I know when he's had bad games, he's always learned from them, come back and responded. I think he's been given the right opportunity."
Why San Francisco Will Cover
The Minnesota-San Francisco Divisional Playoff game is intriguing, and one could argue that Cousins has the edge over Garoppolo. I am not one of those. I believe the 49ers have better players than the Vikings, and one match up in particular will be huge. Tight end Kittle has been a nightmare for defenses to cover, and I think that will once again be the case on Saturday.
At home, and with some rest, San Francisco should win this game by 10 or more points.