The Las Vegas Raiders started the season with two victories, but that streak should likely come to an end Sunday against New England. The Patriots are tough to beat at home. That fact, and several other factors, are working against Las Vegas.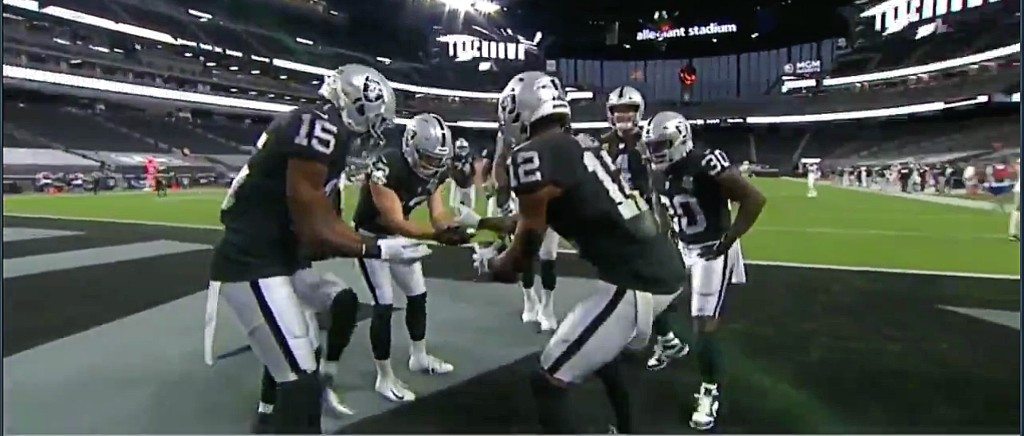 That's why with this week's One Bet, $100, I'm taking the Patriots and giving away 5.5 points. I had to hunt for the best odds since most of the sportsbooks were at six points, but BetMGM had 5.5, and I jumped on it.
My last bet was on the opening game of the season for Minnesota and Green Bay. I thought Green Bay was fairly unstable with a possible rift between head coach Matt LaFleur and quarterback Aaron Rodgers. I couldn't have been more wrong. They are fine. It's Minnesota that is the train wreck.
---
One Bet, $100
| | | |
| --- | --- | --- |
| This Week  | Last Bet | Season Total  |
| New England -5.5 | Lost: Minnesota | 0-1, -$100 |
---
With this week's bet, I'm hardly in the minority, but there is a surprising amount of money on the Raiders. At William Hill, 55% of the tickets are on Las Vegas, while 64% of the money is on New England.
Patriots Present Tougher Test for Raiders
The Raiders had a thrilling home victory against the New Orleans Saints. It was a win that many didn't think was going to happen. Las Vegas was a four-point underdog at home, despite the Saints being without star wide receiver Michael Thomas.
Las Vegas prevailed, however, winning by 10 points. The victory allowed the Raiders to join Buffalo, Baltimore, Pittsburgh, and Kansas City as the only undefeated AFC teams.
Getting to 3-0, though, might be a tough proposition. Unlike Carolina and New Orleans, New England is a much better team, especially at home. Against the spread at home in 2019, the Patriots were 7-2. This year they are 1-0 ATS at home.
Long Flight on Short Rest
Another factor that works against Las Vegas is that they're facing New England on short rest, and have to fly across the country to play in Foxboro. The eastbound trip is tough enough, but doing it on a short week makes it that much more challenging.
Raiders quarterback Derek Carr did admit there is a disadvantage in giving the Patriots an extra day to prepare, but told reporters that he feels good about his team.
"There's definitely a confidence on our team, but it really doesn't mean anything unless we go and prove it," Carr said. "It doesn't mean anything unless we execute … Yes we have a lot of confidence in what we can do, but we also acknowledge that we have a great competitor that we are going to have to travel to and play at their place. It's never easy to win there."
Why New England Will Win/Cover
The Patriots are a difficult team to beat at home. The Raiders are working on a short week after the emotionally draining Monday Night Football victory.
Also, this is the first time Las Vegas will be facing a running quarterback, which is just one more element the team has to prepare to defend. With so many factors working against the Raiders, Sunday will be where the team gets its first defeat of the season, losing by at least a touchdown.