Flip-flopping is dangerous when deciding on which team to bet in a game, but that is exactly what I've done in Friday's Holiday Bowl. With this week's One Bet, $100 I first picked USC, convinced they had the edge with their wide receivers over Iowa.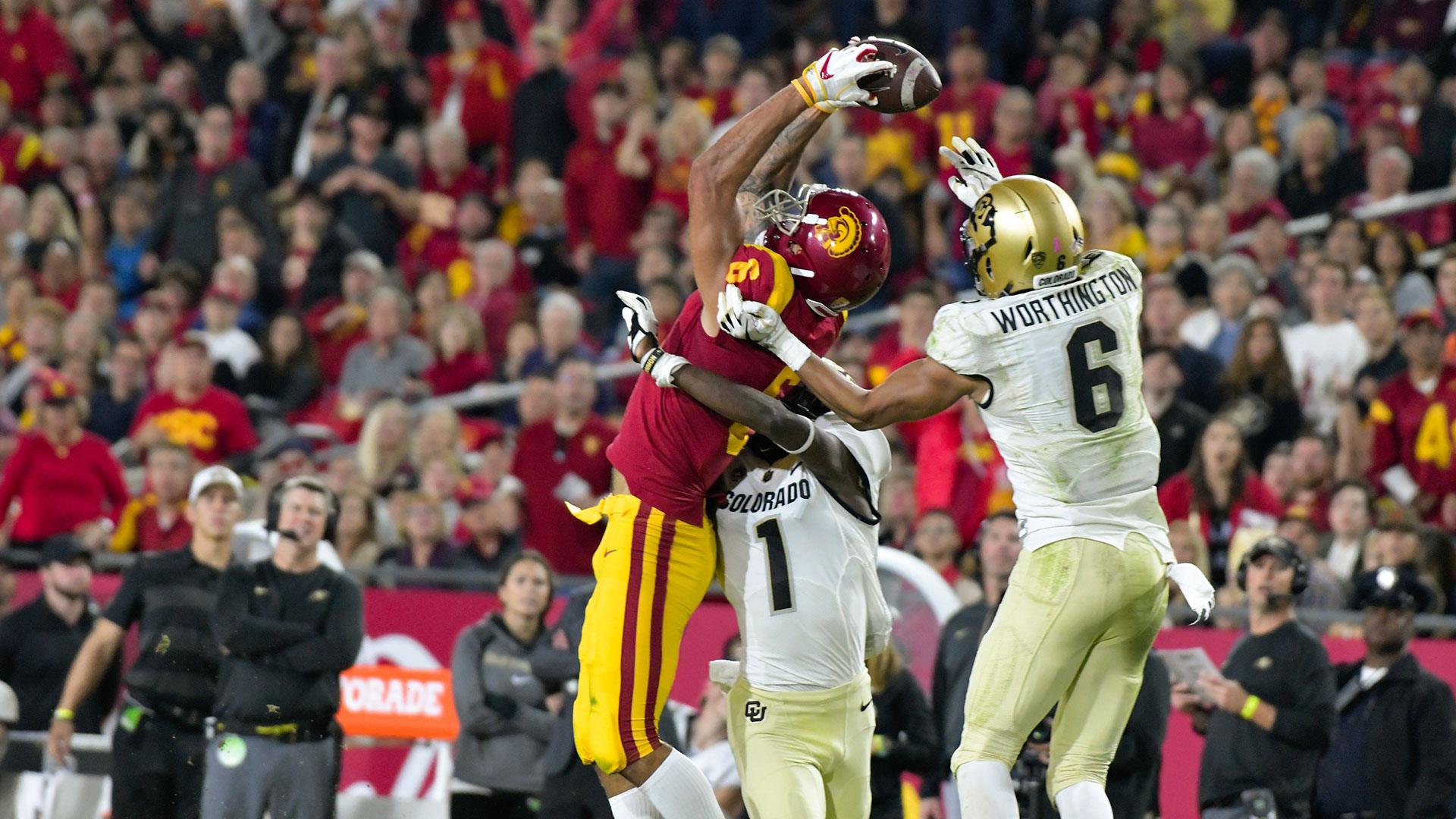 A friend had told me to "back up the truck," convinced that USC was a lock. I went along with that thinking until I did a little more research, and I'm now convinced that Iowa will be able to defeat USC in the Holiday Bowl, and cover the 2.5-point spread.
In my first bowl pick I learned that liking a team too much can be disastrous to your bankroll. I took Georgia Southern over Liberty in the Cure Bowl. I was convinced they would dominate the run game, but was totally wrong.
One Bet, $100

This Week's Pick               Last Pick's Result         Season Total

Iowa -2.5                            Georgia Southern        9-6, Up $240
In this bowl game, I don't have that strong of a feeling, and that might actually be a good thing. I dove into the records and stats of both teams, and believe I've made a sensible choice with Iowa.
Iowa Defense Can Handle USC in Holiday Bowl
Speed is usually a deciding factor in football games, and with USC's talented wide receivers, you would think they would be a lock to win the Holiday Bowl. Ah, but not so fast. Iowa has some speedy secondary members, and they should be able to keep up with the Trojans.
The Hawkeyes rank sixth in the country in scoring defense at 13.2 points per game. They are 12th in total defense at 304.3 ypg., and 11th in passing defense at 184.2 ypg.
There's no doubt the USC offense will be a big test for them. The Trojans are sixth in the nation in passing yards, gaining an average of 335 per game. They have three dangerous receivers that Iowa is going to have to try and contain.
Iowa coach Kirk Ferentz told reporters during the team's Holiday Bowl press conference that they know what they are up against.
"They have really elite players," Ferentz said. "I know they have a freshman quarterback that stepped in, did a great job, great receivers. We're going to have our work cut out for us, that's for sure."
USC in Turmoil
The Holiday Bowl is a chance for USC coach Clay Helton to win back a legion of fans that have turned their back on him. Boosters don't believe he's the answer, and are upset that new athletic director Mike Bohn chose to retain him for next year.
That fury was further stoked when USC turned in a horrible recruiting class for 2020. The recruiting website 247 Sports had the Trojans early signing class as last in the Pac-12, and 78th nationally.
USC did get some good news when offensive tackle Austin Jackson, and defensive tackle Jay Tufele, decided to play in the Holiday Bowl, even though they are rumored to be leaving for the NFL after the game.
Standout receiver Michael Pittman Jr. is also playing, instead of protecting himself for the draft.
Why Iowa will Cover
The Hawkeyes are motivated to win this game for two reasons. The first is to become the ninth team in program history to win at least 10 games. The second is because they have dedicated this game to former coach Hayden Fry, who recently died.
Iowa has a strong defense to counteract USC's offense, which relies more on big plays than sustained drives. The Hawkeyes should be able to control time of possession, and keep this a reasonably low-scoring affair that will work to their advantage. This game will be close, but ultimately, I believe Iowa will prevail.