The Houston Texans were stunned on Monday by the New Orleans Saints, but won't be making the same mistake against the Jacksonville Jaguars on Sunday. How sure am I? I'm making one, $100 bet this week, and taking the Texans at home as 8.5-point favorites over the Jaguars.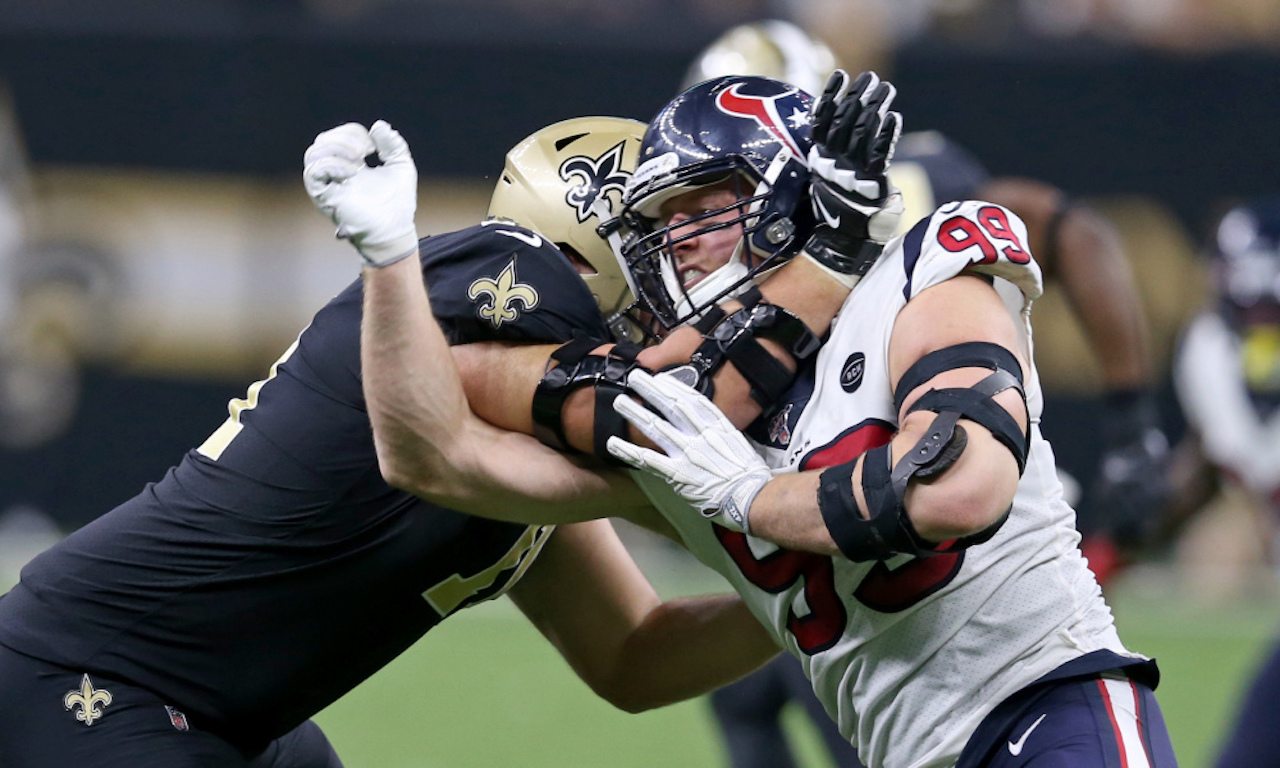 Yes, both teams are 0-1 so far this season, but I believe Houston is a much better team than the Jaguars.
One Bet, $100

This Week's Bet            Last Week's Result           Season Total

Houston -8.5                 Lost, Detroit                       0-1, Down $100
This game will hopefully get me over the shell shock of the Detroit Lions choking away an 18-point lead in the fourth quarter last week. The Lions defense played strong in the first three quarters, then let Kyler Murray do a Johnny Unitas impersonation in the fourth to tie the game.
Houston Defense Must Step Up
That shouldn't happen with Houston. The team has one of the best defenses in the NFL, though they didn't look like it when playing the Saints. They allowed only a field goal in the first half, but started to fall apart in the final two quarters.
New Orleans scored 27 points in 30 minutes, including a 58-yard game-winning field goal. Houston defensive end J.J. Watt wasn't happy, and said his unit deserved the blame.
"That's on us," Watt said of the Texans defense. "There's a lot of things that are on us. To hold them to three points in the first half and then give up 27 in the second, that's just terrible. And for our offense to give us the lead with 40 seconds left, or whatever it was, and not win the game, we'll take 100 percent of that blame, as we should."
Watt was held without a tackle or an assist in the Saints game. It was only the second time that has happened in his nine years in the league.
"It's very frustrating, but that's something you have to deal with when you're in the position I'm in," Watt said. "You've got to find a way to get there, and I didn't. I take that on me."
Two Factors Favor Texans' Defense
Watt will have incentive to perform better this week, and will get a break in who lines up opposite him. Jacksonville has two rookies on the offensive line, Will Richardson and Jawaan Taylor.
Richardson will get Watt, while Taylor will likely have to deal with Whitney Mercilus.
"Both of them have a plethora of moves," Richardson said. "It's knowing their techniques, the small things, and try to get used to what they do before they do it. What down do they like to work this move? What do they like on third-and-10? You hope you get a good idea of what they want to do on each down and distance."
Jaguars Starting Back Up QB
With Nick Foles suffering a broken clavicle, the quarterbacking duties will most likely fall to rookie Gardner Minshew. He relieved Foles in the first quarter after the injury, and threw for 22 of 25 passing for 275 yards, two touchdowns, and an interception.
Can Minshew repeat that performance? It seems unlikely against a defense that will be constantly blitzing in an effort to put as much pressure on the rookie as possible.
Houston coach Bill O'Brien has seen the film on Minshew, and says its hard to believe he has only played one NFL game.
"I think when you watch Gardner, I think he's pretty in tune to what's going on," O'Brien said. "He's smart with the ball, makes good decisions. I see him as a guy that's pretty wise beyond his years relative to his experience."
Watson Should Shine
Houston's quarterback, Deshaun Watson took a beating against the Saints, getting sacked six times, and hit another 11. But Watson didn't appear rattled with all the contact, and should have a much easier time this Sunday.
"As long as we can keep it within range, we are in every game, and that's what Deshaun Watson gives us," O'Brien said. "He's a great player, he's competitive, he's calm and he's poised. He's got all that."