In the SEC Game of the Week, No. 14 Tennessee will travel to Sanford Stadium to take on No. 3 Georgia. The Volunteers last defeated the Bulldogs on the road in 2016 when they were ranked No. 11 in the AP Top 25 Poll.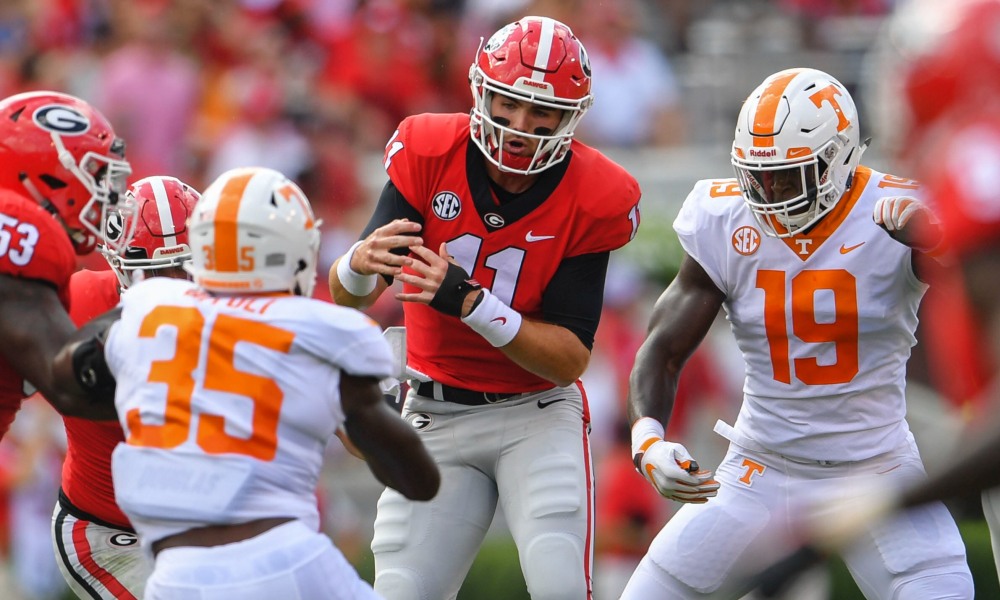 This game will come down to whose running game is more effective. For that reason, and a couple of others, I'm taking Georgia and giving away 12 points this Saturday against Tennessee.
Last week with my One Bet, $100, I thought I'd handicapped the North Carolina-Boston College game perfectly. Neither team had scored more than seven points in the first half of the three combined games they had played. I took the first half under of 27.5 points, and they crushed me. The score at halftime was 21-16. Of course, in the second half, the two teams scored a total of 11 points.
This week, however, I feel pretty strong about Georgia's chances to cover less than two touchdowns. I was fortunate to find a spread at 12. Circa was offering it and I jumped on it. The line has moved to 12.5, and in some sportsbooks, it's up to 13.
That's understandable, as many believe the Bulldogs are the third-best team in the country, behind only No. 2 Alabama and No. 1 Clemson. I hold that opinion as well, convinced Georgia is in the same class as those programs, while the Volunteers are not.
Will Georgia Run Circles Around Tennessee?
Georgia's run offense is third in the SEC, while Tennessee's is second. Both teams rely heavily on that part of the offense, and stopping it will be key.
Kirby Smart, Georgia's head coach, said the battle in the trenches will be a big indicator of who's going to have success running the ball.
"The line of scrimmage is probably where it sticks out most," Smart said. "Their offensive line is big, physical. They've got good players, good experience. They've recruited well there."
Tennessee head coach Jeremy Pruitt said his team has to focus on the run and improve from last week's performance against Missouri.
"I feel like we were committed to running the football, and that gave us an opportunity to do that. I also feel like we left a lot of yards out there. We ran one particular play 10 times in the game, and we only blocked it right four times. So we've got to eliminate those mistakes to give us a chance to have more success."
Strength of Schedule Favors Bulldogs
One factor that popped out at me is who the team's have played. Tennessee might be No. 2 in the SEC in run offense, but they've played South Carolina and Missouri. Both of those teams are winless, and the victory against the Gamecocks wasn't impressive. The Volunteers defeated South Carolina, 31-27. They did bounce back against Missouri, however, winning 35-12.
Conversely, Georgia trounced 1-1 Arkansas, 37-10, and handled No. 13 Auburn last week, 27-6. Those wins are much more impressive to me. Auburn is in the same class as Tennessee, and could only muster six points.
"I've said before, Georgia's got a really good football team," Pruitt said.  They're very well-coached. They've got good players, and they're going to be there Saturday."
Georgia is out of prove they belong with Clemson and Alabama, and on Saturday, they will make another positive step in that direction by easily handling Tennessee and covering the 12 points.