I haven't seen Georgia Southern play one down this season, but I love them to dominate Liberty in the Cure Bowl at Exploria Stadium in Orlando, Fla. on Saturday. There are several reasons for my infatuation with the Eagles, who are 4.5-point favorites.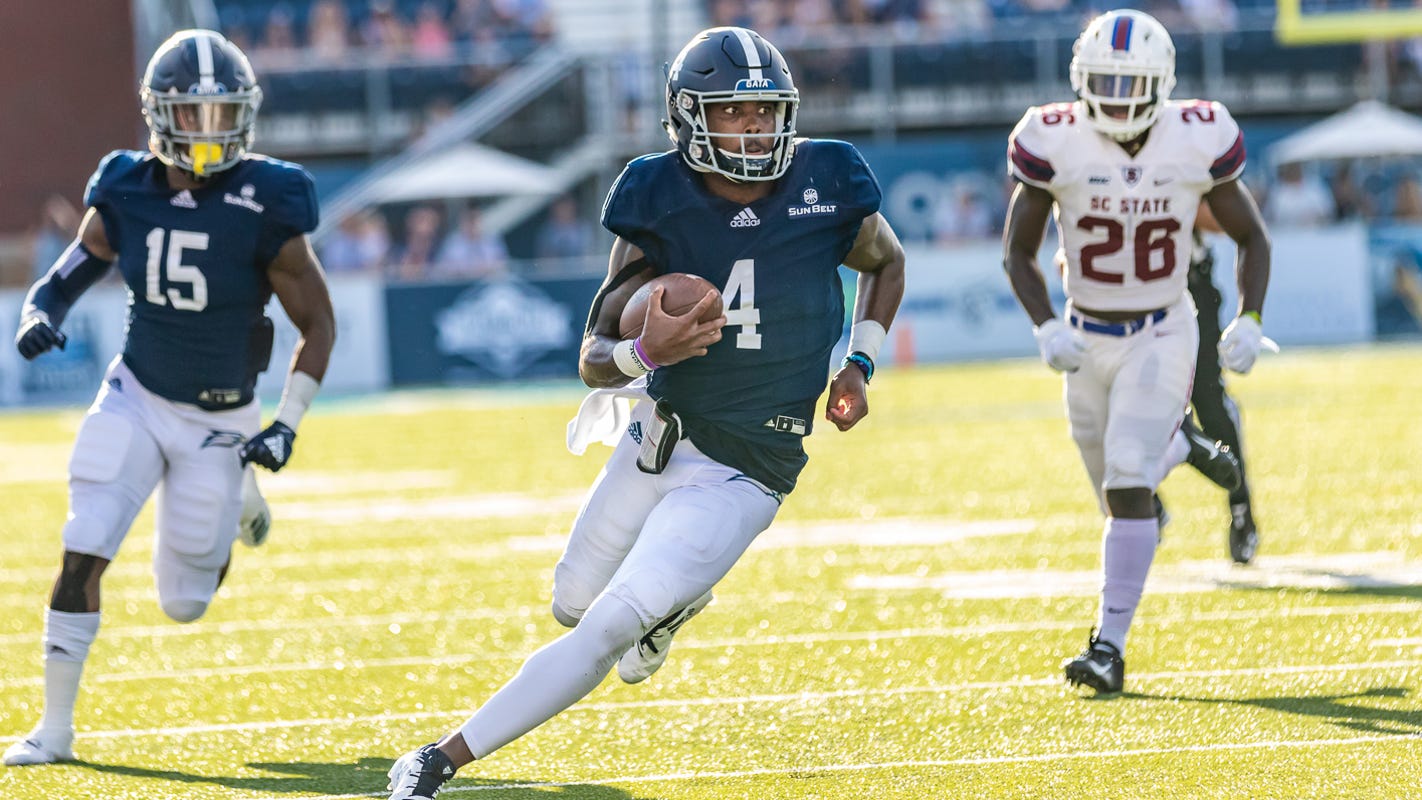 It's the same feeling I had when I took Appalachian State to defeat Louisiana-Lafayette two weeks ago in the Sun Belt Championship. I gave away 6.5 points, and Appalachian State narrowly covered, winning 45-38. The Mountaineers were up big in the first half, and the temptation to be overconfident was there, but I managed to keep my emotions in check, and not have a heart attack as the Ragin' Cajuns nearly pulled off the backdoor cover.
One Bet, $100

This Week's Pick               Last Pick's Result         Season Total

Georgia Southern -4.5      Won Appalachian St.     9-5, Up $340
My hope is that Georgia Southern doesn't give me the same anxiety in Saturday's Cure Bowl. The Eagles have had an up and down season, but I am hoping earlier troubles are behind them.
Georgia Southern Survives Tumultuous Season
Early in the season, Georgia Southern didn't look like they would be eligible for the Cure Bowl. The Eagles began the year 1-3, and coach Chad Lunsford told the media on Thursday that he thought the team was dead on arrival.
"We started off the season 1-3, and we had two feet in the grave," Lunsford said. "Our guys have been very resilient and worked very hard to get into this bowl game."
After the poor start, the Eagles found their groove. They won their next four games, including upsetting Appalachian State. Georgia Southern got 14 points, but won outright, 24-21.
Overall, it's been a satisfying season for Lunsford, whose team battled injuries, off-the-field arrests, and a teammate committing suicide.
"Just to see our guys be so resilient all year and get themselves in position to go finish off the season with a bowl championship … I just can't say enough about (the players) or our coaches for doing that," Lunsford said.
Liberty Must Stop Three-Headed Running Attack
Georgia Southern running backs J.D. King and Wesley Kennedy led the team with 776 and 760 yards respectively. Right behind them is quarterback Shai Werts, who gained 676 yards.
Werts gives defenses fits as a dual-threat quarterback, as he can escape a collapsing pocket, and scamper for big gains.
Liberty will have problems defending the run. They are ranked 100th in college football in run defense.
Why Georgia Southern Will Cover
This Cure Bowl is the first postseason game for Liberty, who joined the FBS ranks two years ago. Coach Hugh Freeze says getting the team to its first bowl game in his first year is a little overwhelming, but a definite highlight for him and the team.
"For it to be the first bowl game in Liberty University's history is very rewarding," Freeze said. "It brings me great joy."
That euphoria might be short lived, however, as Liberty has to make the most of their offensive opportunities, and limit Georgia Southern's time with the ball. Time of possession is crucial for Georgia Southern to win this game. If they can be effective with their run game, they should be able to win the Cure Bowl.