Sometimes you have to go against the grain, and that is definitely what I did this week for the Baltimore Washington game. No, I didn't take Washington, my mental state has not plunged that far down … yet.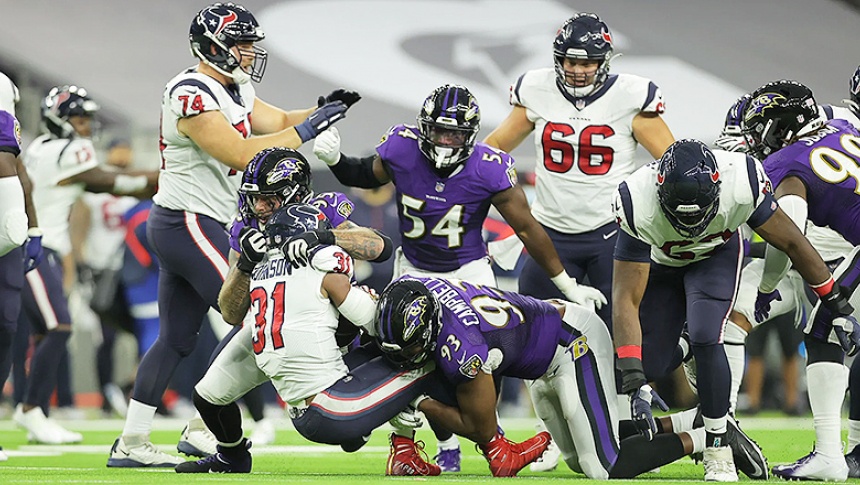 With this week's One Bet, $100, I took the under on the game. It appeared it was a popular pick with the sharps. They hammered the over/under the minute it was released. It opened at 52, and was bet down to 45.5. I was fortunate I just happened to be at the Westgate sportsbook when the lines for NFL Week 4 were released, and was able to jump on over at 52. I am not sure I would have bet it at 45.5.
Last week, I evened up my record at 1-1 after taking New England against the Las Vegas Raiders and giving away the 5.5 points. The Patriots at home with an extra day of rest proved to be too much for the Raiders, who fell 36-20.
One Bet, $100
| | | |
| --- | --- | --- |
| This Week  | Last Week  | Season Total  |
| Baltimore/Washington over 52 points | Won: Patriots | 1-1, Down -$10 |
Bucking Over Trend with Baltimore-Washington
The over has been hitting at an incredible rate this season. Going into Sunday the over was 30-19. Eight of the 14 games remaining on the Week 4 schedule had over/under lines of 50 or more points.
It would have been nine games if the over/under on the Baltimore-Washington game hadn't gotten pounded. There is good reason, though, why the sharps jumped on that line.
First, even though Washington is 1-2 on the season, they have one of the better defenses in the NFL. They rank sixth in yards allowed per game, averaging 334.2. They are 18th in the league in points allowed per game at 27.
Baltimore's numbers, as expected, are impressive. The Ravens are third in the NFL in points allowed per game at 18.7. They actually are 19th in yards per game, 13 spots below Washington.
Harbaugh Leary of Washington Defense
When Washington hired Ron Rivera as the new head coach of the team, they expected an improvement on that side of the ball, and so far Rivera has delivered. He has Jack Del Rio as his defensive coordinator, who has made the defense respectable.
It has certainly caught the attention of Baltimore head coach John Harbaugh, who said even without rookie edge rusher Chase Young, who is doubtful with a groin injury, they will give his offense a challenge.
"[They have] many first-rounders on that defense," Harbaugh said. "So, if Chase plays, that's a guy we have to be alert for. But Ryan Kerrigan has done a great job over the course of his career, too. Montez Sweat is a first-round pick. [They have] two first-round tackles."
Struggling QB Haskins Could Slip Further
Another factor that should help the under hit is Washington quarterback Dwayne Haskins. He struggled last week against Cleveland, throwing three interceptions in the 34-20 loss. Cleveland's pass defense ranks No. 22 out of 32 teams. Baltimore's pass defense is No. 26.
If Washington is going to score points, Haskins is must have a better day than he did last week. His quarterback rating was 58.8, by far the lowest in his three games this season.
Haskins will feel the heat from Baltimore, and this game, and Washington's defense will do just enough to keep the Ravens' offense from scoring at will. Look for this game to be 24-20, and the under to hit easily.