Instead of shipping her cross-country to Belmont Park for Saturday's Grade 1 Ogden Phipps Stakes, John Sadler could have run Ollie's Candy on his home track at Santa Anita Park.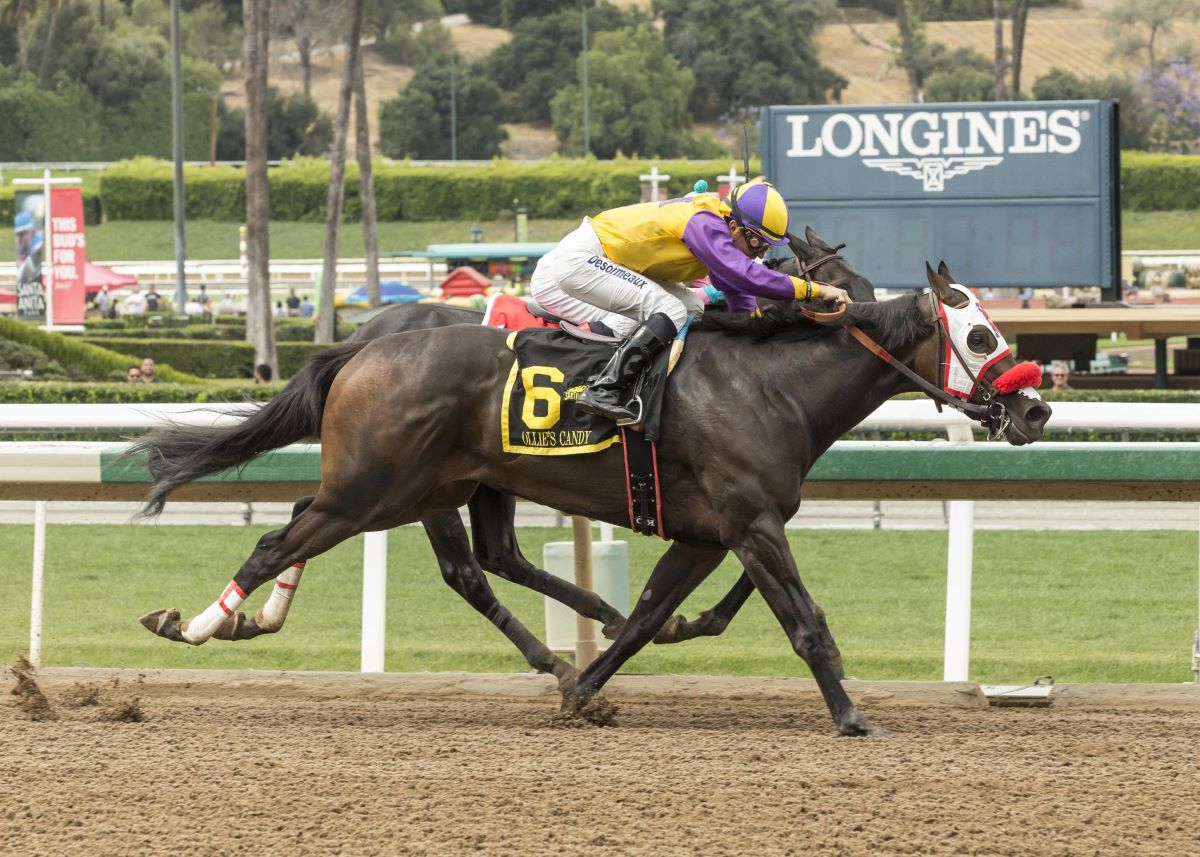 The Grade 2 Santa Maria Stakes was cozily sitting right there, like a ripe-for-the-picking peach. Plus, the Santa Maria came with a revenge-factor chaser: seeing Ce Ce again. The two mares built themselves quite a rivalry, with Ce Ce holding serve with her nose victory over Ollie's Candy in April's Grade 1 Apple Blossom Handicap at Oaklawn Park.
That was Ce Ce's second victory over her rival this year. She beat Ollie's Candy in March's Grade 1 Beholder Mile at Santa Anita.
Instead, Sadler decided on the Ogden Phipps, a 1 1/16-mile jaunt around Belmont Park that brings the winner an all-expenses-paid spot in the Breeders' Cup Distaff at Keeneland. It's a "Win and You're In" race for one of the most prestigious filly-and-mare events in the world.
Sadler opted for Belmont for a couple of reasons. Working backward, he wants Ollie's Candy in the Del Mar gate, defending her title in the Grade 1 Clement Hirsch later this summer. The second reason is Santa Anita doesn't seem to be a good course for this horse.
This Foal Loves Going on the Road
"We thought (the) Hirsch was a little far off and we haven't always gotten her best race at Santa Anita," Sadler told Bloodhorse about the Candy Ride progeny. "We know she loves Del Mar and we want to run in the Hirsch, so before that, with this being her last year of racing, we thought it was worth a chance to go on the road again."
This is a sweeter move for Ollie's Candy since she owns one victory, a second and two thirds in six Santa Anita starts. Included in that, however, are her worst two finishes: a fourth in last year's Breeders' Cup Distaff and a seventh in the 2019 Grade 1 Gamely Stakes. Those represent the only two times Ollie's Candy missed the board in 12 starts.
Ollie's Candy's only Santa Anita victory came two years ago in the Grade 2 Summertime Oaks. Maybe it's the beachfront locale, but take her about 100 miles south to Del Mar and Ollie's Candy is a different horse. She hasn't finished worse than second in three races — all graded stakes.
Ollie's Candy Rarely Turns in a Sour Effort
Aside from her Hirsch victory, Ollie's Candy finished second in the Grade 2 San Clemente Stakes and the Grade 1 Del Mar Oaks. In the latter, she rang up her career-high 107 Equibase Speed Figure. Both those wins came two years ago.
What makes Ollie's Candy such a powerful mare is her consistency and a versatile running style that gives her natural speed options to pace-set, pace-press, or stalk. It took a monumental effort and a virtuoso trip from Ce Ce's jockey, Victor Espinoza, to beat her in the Apple Blossom. Ollie's Candy turned in a career-high 98 Beyer Speed Figure. In so doing, she took so much out of her rival that Ce Ce ran a poor third in the Santa Maria as the 3/5 favorite.
Even in defeat, Ollie's Candy usually makes her presence known. A product from the mare Afternoon Stroll, her owners Paul and Karen Eggert intended to sell her at last November's Keeneland Breeding Stock Sale, but several elements pulled her back into training.
Three Reasons to Keep Running
First, Ollie's Candy has only 10 races on her resume. Second, there's a soft California distaff field around her. Finally, her owners and Sadler want the Breeders' Cup Distaff title.
That means Ollie's Candy will spend much of 2020 living up to the name of her dam – Afternoon Stroll.