Oleksandr Gvozdyk and Artur Beterbiev will put their undefeated records on the line on Friday night at Temple University's Liacouras Center in a light heavyweight title unification bout.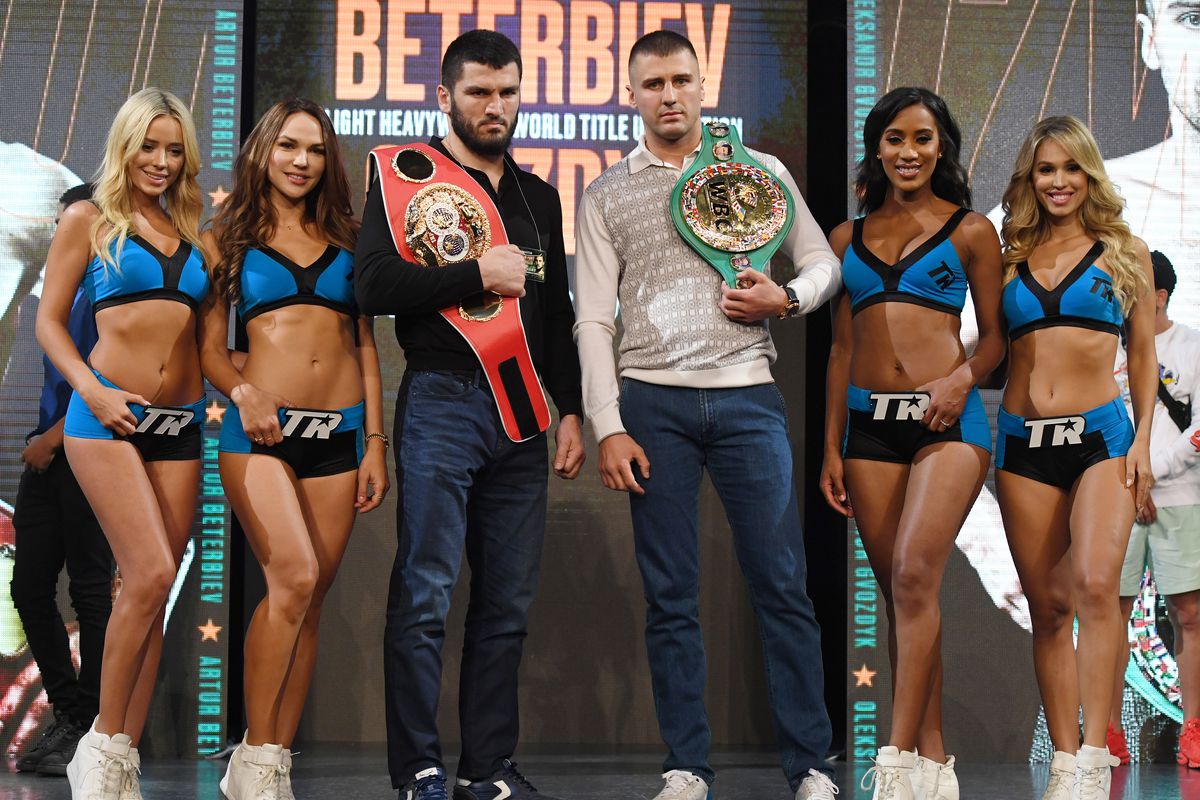 Gvozdyk (17-0, 14 KOs) comes in as the WBC world champion, while Beterbiev (14-0, 14 KOs) has the IBF belt.
Gvozdyk, Beterbiev Offer Contrast in Styles
Gvozdyk and Beterbiev aren't exactly household names. In fact, for many casual boxing fans, this might be the first time either man has come across their radar. But this fight has a fair amount of hype behind it, not only because it is a title unification matchup, but because the two competitors are considered evenly matched and among the best in the world in their weight class.
It's also a bout that will see two different styles at play, though both men are capable of meeting the other on their preferred turf. As Beterbiev's 100 percent knockout rate suggests, he has enormous power, while Gvozdyk has the edge in technical skill. But, both rate as being very good in the areas where the other has made a name for himself, meaning this is a fight that could see periods of tactical maneuvering mixed with devastating exchanges.
In short, this is a fight that could provide fans with a little bit of everything, and one which many pundits see as a true 50/50 matchup, with the winner poised to take the mantle as the top light heavyweight boxer in the world.
Amateur Encounter Ended in KO
Some of those looking for insight into the bout have gone far into the past for guidance. Back in 2009, Beterbiev knocked out Gvozdyk in the second round of an amateur contest (both men have extensive amateur and Olympic experience). But even Beterbiev says that it's silly to think that a fight that happened a decade ago will have any bearing on Friday night's encounter.
"The past is the past," Beterbiev told BoxingScene.com. "He's a different fighter now because 10 years have passed. It's a different story. I can't go in there thinking that will happen again because it happened then."
For his part, Gvozdyk has also downplayed the result, saying that he was new to the Ukrainian national team at the time, while Beterbiev was already an amateur champion. That said, he clearly respects Beterbiev's power, saying he'll have to be thoughtful in approaching this fight.
"This guy can hit," Gvozdyk told reporters. "You're not supposed to stand in front of him and you're not supposed to trade punches with him. It's not a good strategy and it's not smart. So, we have our game plan, which you're gonna realize in the ring, and I know we're gonna win this fight."
In a bout that is seen as evenly matched by most, bookmakers are giving the more polished Gvozdyk the slightest of edges. At FanDuel Sportsbook, Gvozdyk is a -129 favorite, while Beterbiev is getting +100 odds of pulling out the win. Oddsmakers are also expecting a stoppage, with +185 odds available on the fight going the full 12 rounds.