The ironclad grip Alabama quarterback Tua Tagovailoa had on the Heisman Trophy has weakened significantly, as another signal caller is now the favorite to win college football's highest honor. Oddsmakers now believe Oklahoma QB Kyler Murray will take home the award on Saturday at New York's Downtown Athletic Club.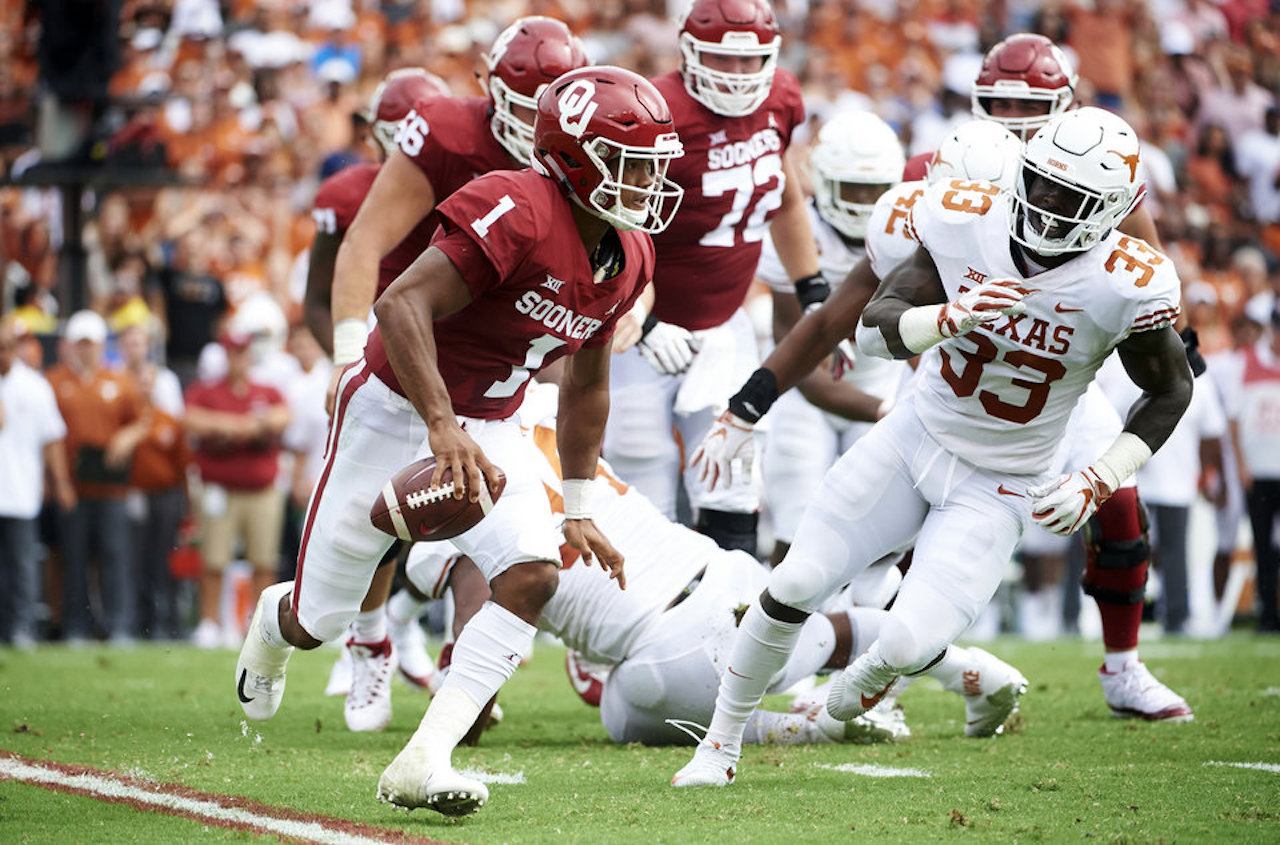 Murray was announced as one of three finalists for the honor, along with Tagovailoa and fellow quarterback Dwayne Haskins of Ohio State. If Murray wins, it would be the first time since 2004-2005 that players from the same university won. Baker Mayfield won last season.  USC quarterback Matt Leinart and running back Reggie Bush achieved that feat, though Bush was forced to give the award back because of NCAA violations.
Beginning the season at 20/1, Murray has rocketed up the board, getting to 5/1 a couple of weeks ago. Tagovailoa, who at one point was 1/10, was in control up until two weeks ago. A knee injury hampered his production, and allowed Murray to sneak in to contention. now Tagovailoa is at +120, while Murray is at -160, according to BetOnline.
Conference Championships Telling
The biggest turning point in the race between the two was last weekend's conference championships. Tagovailoa struggled in the SEC Championship game against Georgia. He suffered a high ankle sprain, and was replaced by Jalen Hurts, who led the Crimson Tide to a 35-28 comeback victory. Tagovailoa was 10 for 25 for 164 yards, throwing a touchdown and two interceptions.
Conversely Murray led his team to a 39-27 victory over Texas in the Big 12 Championship. The victory allowed Oklahoma to grab the fourth spot in the College Football Playoff. He was 25 of 34 for 379 yards and three touchdowns. It was that performance that many believe put him over the top. ESPN college football analyst Jesse Palmer said it all comes down to who is more important to their team.
"I've watched Kyler Murray though these last couple of weeks," Palmer said. "To me, he's really closing the gap. The statistics are off the charts. He's playing better than Baker Mayfield did a year ago. You cannot argue that Kyler Murray is not more valuable to his team than Tua is to his. I think Bama is 11-0 with Jalen Hurts at quarterback. Oklahoma may not be a .500 team with their defense if they don't have Kyler Murray."
Mayfield, who gets a vote because he is a past winner, said he is going with Murray.
"To me, after being around him, it might be easy for me to say that, how special of a player he is, but to me, it's obvious," Mayfield said. "It's nothing against Tua (Alabama QB Tua Tagovailoa). Absolutely not. I think he's had an incredible year."
Tale of the Tape
Murray has the better statistics than Tagovailoa. The Sooner's signal caller passed for 4,053 yards, including 40 touchdowns and seven interceptions. He also added 892 yards rushing for 11 more TDs. Tagovailoa has 3,353 yards for 37 touchdowns and four interceptions.
What the winner might come down to is early votes. About 15 percent of the voters cast ballots before last weekend, and most of those cast then might be going to Tagovailoa. If the junior can get enough split votes that were done after the championship game, he could squeak out a victory.