The Oklahoma Sooners have disappointed this season, as much as any undefeated Power 5 team can be a disappointment. But the Big 12 powerhouse can start to make its case as a College Football Playoff contender on Saturday when it visits Baylor in a game with both conference and national championship implications.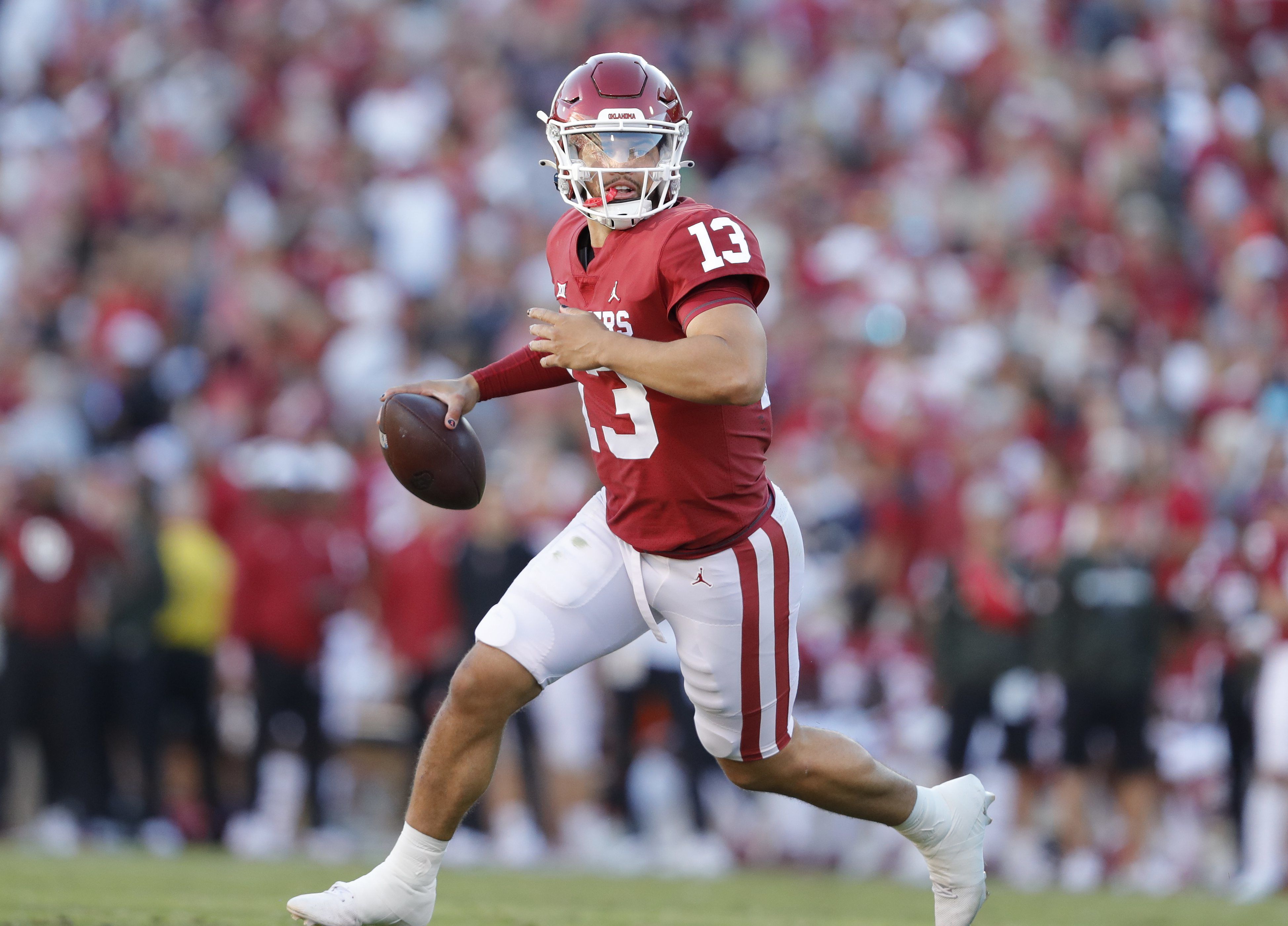 Oklahoma (9-0) ranks just No. 8 in the latest College Football Playoff rankings.
Close calls hurt Oklahoma in CFP rankings
The Sooners haven't dropped a game, but they've come perilously close against some less than stellar opponents. Oklahoma has survived one-score games against Tulane, Nebraska, West Virginia, Kansas State, and Texas. They also trailed 1-6 Kansas heading into the fourth quarter before pulling ahead for a 35-23 victory.
Oklahoma has looked better on offense since freshman quarterback Caleb Williams took over in October. But Baylor will present a tougher test than the defenses he has feasted on over the last three games, as he's put up 15 touchdowns and only one turnover.
"I think he's just trying to improve," Oklahoma head coach Lincoln Riley told reporters about Williams. "We get that we're going to play some good defenses coming up, but we're a pretty good offense too. When we play to our standard, and when we're playing at a high level, we've got a group that can be tough to stop."
Riley had to answer questions after missing a Tuesday press conference, one that sparked rumors about what had happened. In the end, Riley took a video presser on Thursday instead, saying that he missed his earlier commitments due to a personal matter.
"My mom texted me and asked if I was okay," Riley told reporters. "That was about it."
Bears ready to bounce back after TCU stunner
Baylor (7-2) currently sits 13th in the College Football Playoff rankings. Perhaps more relevantly, the Bears occupy third place in the Big 12 conference standings, behind only Oklahoma and Oklahoma State. That means they could still reach the conference championship game, especially if they upset the Sooners on Saturday.
Baylor suffered a 30-28 upset at the hands of TCU last week. But the Bears say they can bounce back this weekend.
"We have a lot of confidence at home," Baylor kicker Noah Rauschenberg told reporters. "We kind of get to our routine and we know what's going to happen, we know where everything is. It's just that kind of sense of normalcy and routine that just helps us stay locked in, helps us focus and just get ready."
Oklahoma will come into Baylor as a favorite, though not a large one. FanDuel Sportsbook rates the Sooners as the 5.5-point favorite over the Bears, as well as -220 on the moneyline. While the Baylor defense can shut teams down, oddsmakers are still expecting plenty of points, with the total set at 62.5.
Despite Oklahoma's poor CFP ranking, the Sooners remain a +1400 pick to win the national championship. That's fourth on the board, likely due to their ability to boost their profile with some Big 12 wins down the stretch. Baylor is still on the national championship board, but only as a +30000 long shot.