President Donald Trump just got grilled for his menu choices when Clemson's football team visited the White House and oddsmakers are betting he won't make the same dinner choice for whoever wins this year's Super Bowl. The internet site Bookmaker.eu put up a humorous proposition bet on what the leader of the free world will serve the Lombardi Trophy winners.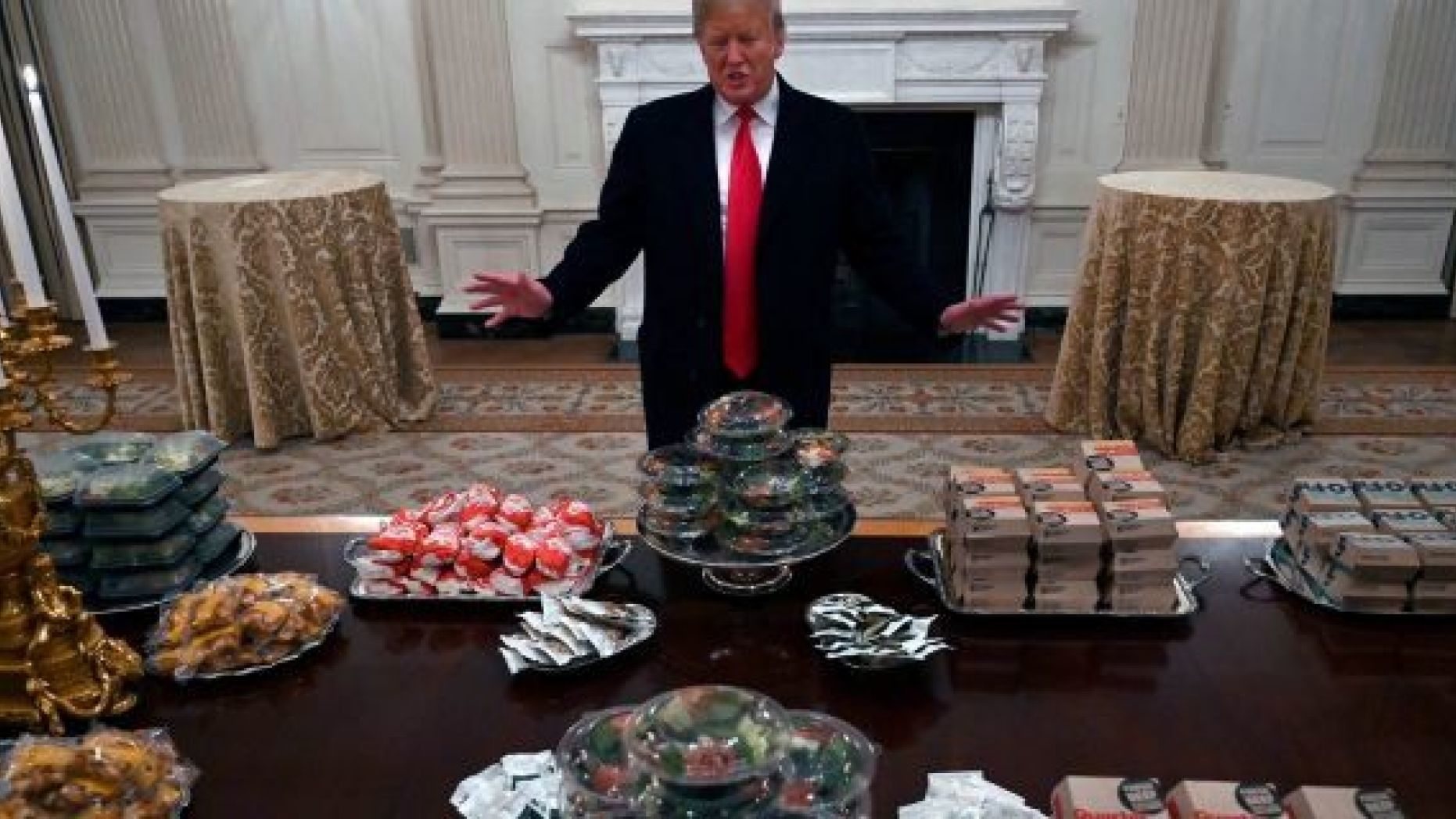 The favorite is burgers and pizza at -150. The next was Subway sandwiches at +150, followed by Taco Bell at +900. Indian food was at a distant +1500.
Trump found himself in a bit of a pickle on Tuesday when he announced that he would be serving fast food to the members of the Clemson Tigers, who won the College Football National Championship, defeating favorite Alabama, 44-16.
With the government shutdown, the White House is running on a skeleton crew, including the kitchen staff, the president decided he would spring for pizza, burgers and fries.
"We ordered American fast food, paid for by me. Lots of hamburgers, lots of pizza," Trump said after returning to the White House from a trip to New Orleans. "We have some very large people that like eating, so I think we're going to have a little fun."
Cooking up Controversy
Trump may have had a little embellishment on the amount of food that was ordered. He said in a tweet that he paid for more than 1,000 hamburgers, though the number was later revealed to be more around 300. He also misspelled hamburgers, instead writing "hamberders."
Burger King took a cheesy approach to the tweet, issuing one of its own the following day. "due to a large order placed yesterday, we're all out of hamberders. just serving hamburgers today," the company posted on its Twitter site.
One  faux pas that was a bit more serious was a quote that was attributed to freshman quarterback Trevor Lawrence. An image of Lawrence with a quote attached was posted on Twitter by @CloydRivers, an account with 1.84 million followers. The headline over the image read, "Clemson QB speaks out to defend America."
The quote attached to Lawrence's image read: "President Trump got all our favorite foods, it was the best meal we ever had. Then we go and see the coastal elite media trashing it for not being organic vegan. We're football players, not bloggers. This was a perfect blue collar party."
Lawrence quickly denied the quote.
"I never said this by the way… I don't know where it came from. However the trip to the White House was awesome!" Lawrence posted on Twitter.
Other conservative Twitter accounts retweeted the post, but after Lawrence's denial it was taking off the original site.
Better Dining Offer
One person who thought the players and coaches deserved a better meal, was Michael Strahan, the former New York Giant and host of Good Morning America. He went on his show on Tuesday and offered the Tigers lobster and caviar in Manhattan.
"We're gonna take care of you," Strahan said. "We're gonna give you the proper meal that you deserve because that was one great game, a great accomplishment."
Nick Kokonas, the co-owner of The Alinea Group in Chicago, also invited the team to a celebratory meal at his Michelin three star restaurant. He tweeted out the invitation Tuesday night.
"I could care less about college football. But I'm personally inviting the Clemson Tigers team and coaches to Chicago to experience what an actual celebration dinner should be. I'm not joking. Someone let them know what The Alinea Group does. It'll be worth," he posted.