Can South Carolina pull off a second consecutive upset of a top-10 ranked team when the Gamecocks face No. 9 Florida? Probably not, but oddsmakers are giving South Carolina more of a fighting chance this week.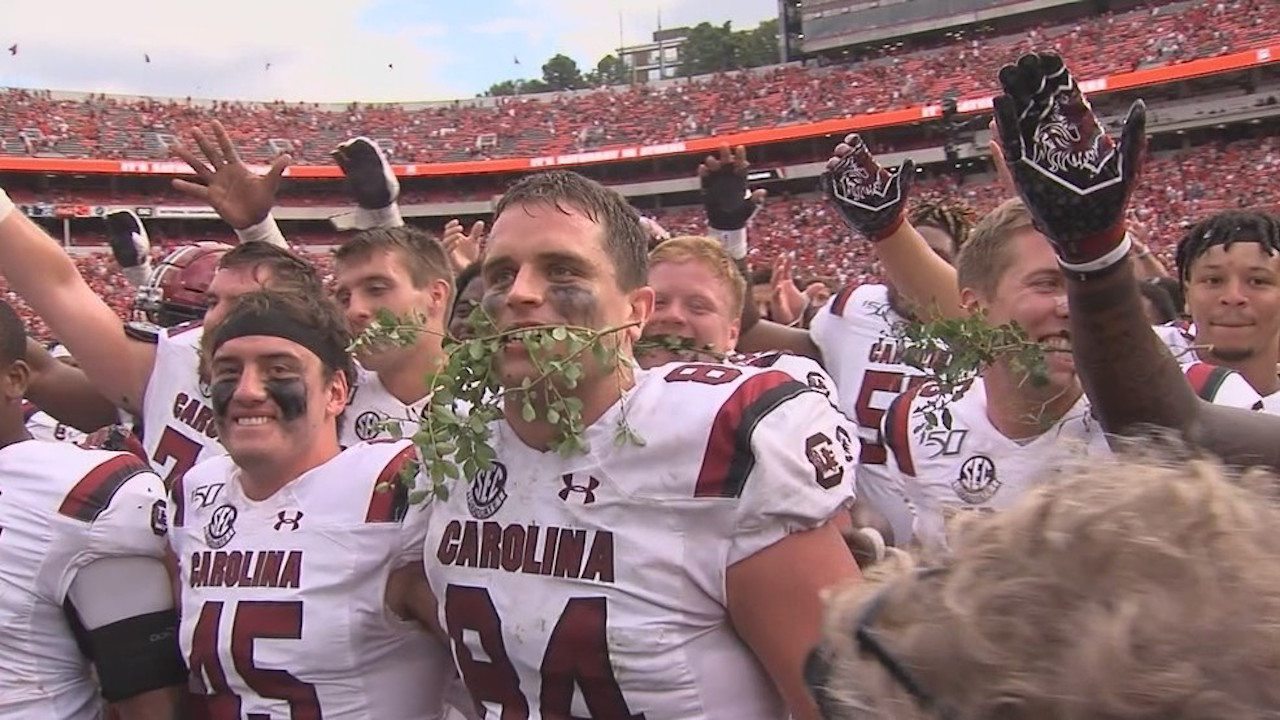 The Gamecocks faced then-No. 3 Georgia in Week 7, and were 21-point underdogs on the road. South Carolina defeated the Bulldogs, 20-17, in the biggest win against the spread in 40 years, according to ESPN -Stats and Information.
This week against the Gators, the Gamecocks are just a 5-point dog.
South Carolina getting a second consecutive upset is very possible, according to coach Will Muschamp. He told reporters that he has preached to his team this week not to dwell on past successes.
"If you don't prepare the right way, you bask in something that happened in your past and not think about the present and the now, you don't deserve that right," Muschamp said. "There's a difference between wanting something to happen and deserving it to happen. Every week is a season here. Leave no doubt has been in our locker room from Day 1. Leave no doubt about your energy, your effort, your toughness, your discipline, your team-first mentality."
Hilinski Ready for South Carolina Victory
Freshman quarterback Ryan Hilinski  gave Gamecock fans a scare when he suffered a knee injury against Georgia. Fortunately, Muschamp said his starting signal caller should be ready to go on Saturday.
"Ryan practiced today and should be fine for Saturday," Muschamp said. "He wore a brace, but he'll be fine."
Florida coach Dan Mullen told reporters he and his staff were putting together a game plan for both Hilinski, and backup Dakereon Joyner.
"Obviously, it's a challenge coming into a week where (USC) hasn't been in this situation before," Mullen said. "When you have a week to put a game plan together for one quarterback and a game plan for another quarterback, it's a challenge."
Mullen wasn't about to take this game lightly, even before South Carolina upset Georgia.
"Talented team, obviously a team that has some great playmakers on their offensive side of the ball. One of the best receivers in the league (in Bryan Edwards), run the ball really well, good offensive front, able to block. Defensive line, they've got a premier defensive line. Some veteran players at linebacker that are great playmakers, and then some real big-time playmakers in the secondary, I think everybody saw that last week. So, should be a big challenge for us. We've got to try to find a way to win."
Odds Against South Carolina
Florida is coming off a loss to No. 2 LSU last weekend. When a Mullen-Florida team has lost the week prior to a Top 25 team, they are 1-1.
This is a must-win game for Mullen and the Gators, though he will not admit to that. The team has to bounce back from the LSU loss, and Mullen has been preaching that all week he told reporters.
"Everything we want to do is out in front of us," Mullen said. "We'll see what our attitude is like this week. You don't win or lose the game on Saturday. You win or lose the game during the week with how you prepare. Look at the mistake we made last year with 2 losses in a row. How are we going to respond and fix our mistakes so that doesn't happen again?"