Jon Gruden, Antonio Brown, and the rest of the Oakland Raiders are the primary focus of the HBO's reality series "Hard Knocks", which follows a pro football team during the preseason as they whittle down the roster and prepare for the upcoming season.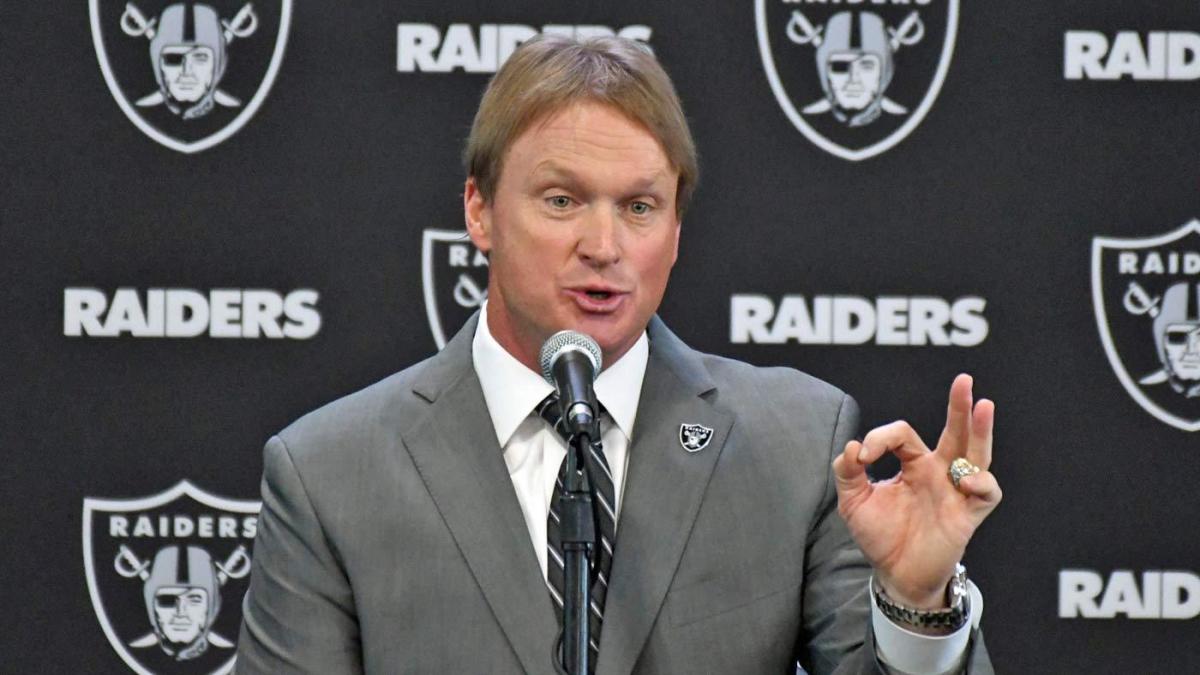 The Raiders were not eligible last season because of the NFL and HBO's rule of not filming a team with a new head coach. Jon Gruden struggled in his first season with the Raiders as they finished 4-12.
The Raiders seemed like the obvious choice this season, especially after Gruden pulled off the Antonio Brown trade.
Aside from the Raiders, four other teams were eligible to appear on "Hard Knocks" this season including Detroit Lions, Washington Redskins, San Francisco 49ers, and New York Giants.
HARD KNOCKS INELIGIBILITY RULES:
1. Any team with a first-year head coach.
2. Teams that made the playoffs in previous two seasons.
3. Any Team that appeared on "Hard" Knocks in last 10 years.
When Washington head coach Jay Gruden got asked if his team would make good reality TV fodder, he told reporters, "If they were smart, they would go to Oakland. They should follow my brother. Seriously, what an entertainment value. You got to be crazy to not go to Oakland."
How screwed up are things in Oakland? The Raiders didn't even know where they were going to play this upcoming season.
Last season, "Hard Knocks" featured the 0-16 Cleveland Browns. Episodes shone a light on the growing rift between head coach Hue Jackson and other coaches and players. The Browns fired Jackson after 8 games and a 2-5-1 record.
Chucky's Squad
Jon Gruden inherited a team on its way to relocating to Las Vegas next season. He struggled in his first-season back on the sidelines after several years as an announcer for Monday Night Football.
Gruden made his presence known as soon as he return to the Bay Area. He shipped out the best defensive player in the league and the team's top wide receiver. At the same time, the team's quarterback Derek Carr had no idea when he would get shopped next.
The Raiders traded Mack to the Chicago Bears and led their revamped defense to the playoffs. Gruden shipped out top WR Amari Cooper to the Dallas Cowboys. Cooper helped turn around a Cowboys squad on the brink of a midseason meltdown. Cooper and the Cowboys went to the playoffs.
Characters in Silver and Black
Antonio Brown can't leave his old team in Pittsburgh alone. He also has previous bad blood with Vontaze Burfict. The league's top WR will not have the cameras on him 24/7. He'll have an opportunity to reshape his image, or it might be the beginning of a toxic relationship.
Then there's Richie Incognito, who is no stranger to drama.
Team owner Mark Davis has no shortage of quirks and funky haircuts. HBO suits would have loved to access Al Davis' squads back in the 1970s when Raiders nation came into fruition. These days, it's less like "Band of Brothers" and more like a wreck on the 405 freeway.
Head coach Jon Gruden is his own quotes machine. He loves the cameras and even made big bucks as a member of the sports media-entertainment-complex.
Much like ex-Jets head coach Rex Ryan, Jon Gruden is perfectly suited for the current reality genre. His biggest challenge is trying to hold together the volatile mix of players and the never ending circus of life within the Raiders organization.