The New York Racing Association and the State of New York want to give racing fans seeking a seat at storied Saratoga this summer a literal shot in the arm.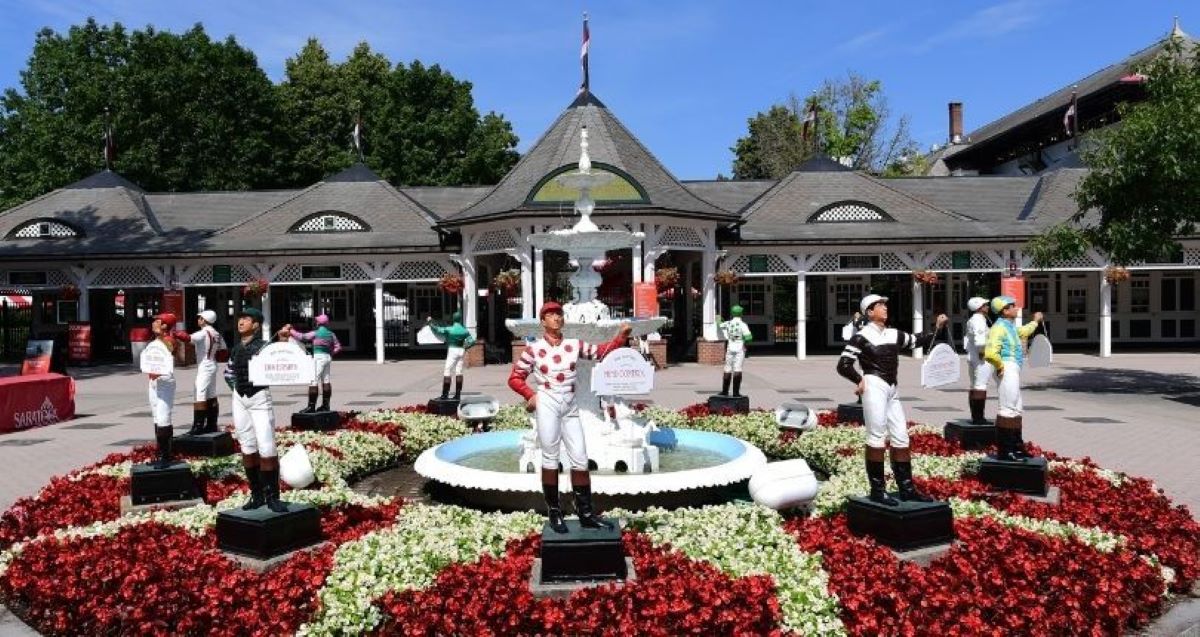 All eager fans have to do for a shot at visiting the famed track is to get a COVID-19 shot.
New York State gave the NYRA the green light to open Saratoga to near full capacity. To do that, however, the NYRA must designate most sections, including Saratoga's popular backyard venue, for vaccinated fans only. This mandate falls in line with state guidelines that allow full capacity in vaccinated sections of outdoor sports or entertainment venues.
Along with this, comes free Opening Day admission on Thursday, July 15 for any vaccinated fan. That applies to Saratoga's grandstand. Out-of-state residents can show their Centers for Disease Control and Prevention COVID-19 vaccination card.
"This is all part of New York's rebirth and resurgence as we continue to build back better and stronger from the pandemic," New York Gov. Andrew Cuomo said in a NYRA-issued statement.
Saratoga offering walk-up tickets — with vaccination
Saratoga's season passes go on sale Wednesday, June 9, to vaccinated fans only. Clubhouse and weekly ticket plans go on sale the same day. Unlike many tracks, like Santa Anita Park, that require reserved seating, Saratoga offers single-day grandstand and clubhouse walk-up tickets. Those require proof of vaccination for entrance.
Saratoga Race Course to open on July 15 at near full capacity 🎪 Tickets will go on sale beginning June 9.↓https://t.co/2Keim2h5Hj

— NYRA (🌳) (@TheNYRA) May 27, 2021
The state defines "vaccinated" as 14 days passing from the second dose of a two-dose series or 14 days passing from a single-dose vaccine.
Along with this, NYRA said a limited number of seating areas will be available for non-vaccinated fans. Those fans will have to observe social distancing guidelines and wear face coverings at all times.
The Spa's aura resulted in a strong handle last year
Saratoga ran a 40-day meet last year without fans — a crushing blow to a region that depends on the historic track for much of its summer tourism. Yet, the track brought in a surprisingly strong handle without spectators. The NYRA reported more than $702.5 million in all-sources handle. That represented a drop of only 3.9% from 2019.
"Beyond its importance to the Thoroughbred racing community and legions of passionate fans, the annual summer meet is an economic engine that creates jobs and supports the hospitality and tourism economy throughout Upstate New York," NYRA President and CEO Dave O'Rourke said in a statement. "We appreciate the opportunity to open the gates at this most historic of sporting venues on July 15."
Saratoga's 40-day, 2021 season opens on July 15 and runs through Labor Day, Monday, Sept. 6. As always, Saratoga's marquee races are the Grade 1 Whitney for older horses on Aug. 7, and the Grade 1 Travers Stakes for 3-year-olds on Aug. 28.