Deal Thor and keep Wheeler? It's never a dull day following the New York Mets because the latest trade rumors out of Queens say that Noah Syndergaard is on the trading block and the Mets want to keep Zack Wheeler.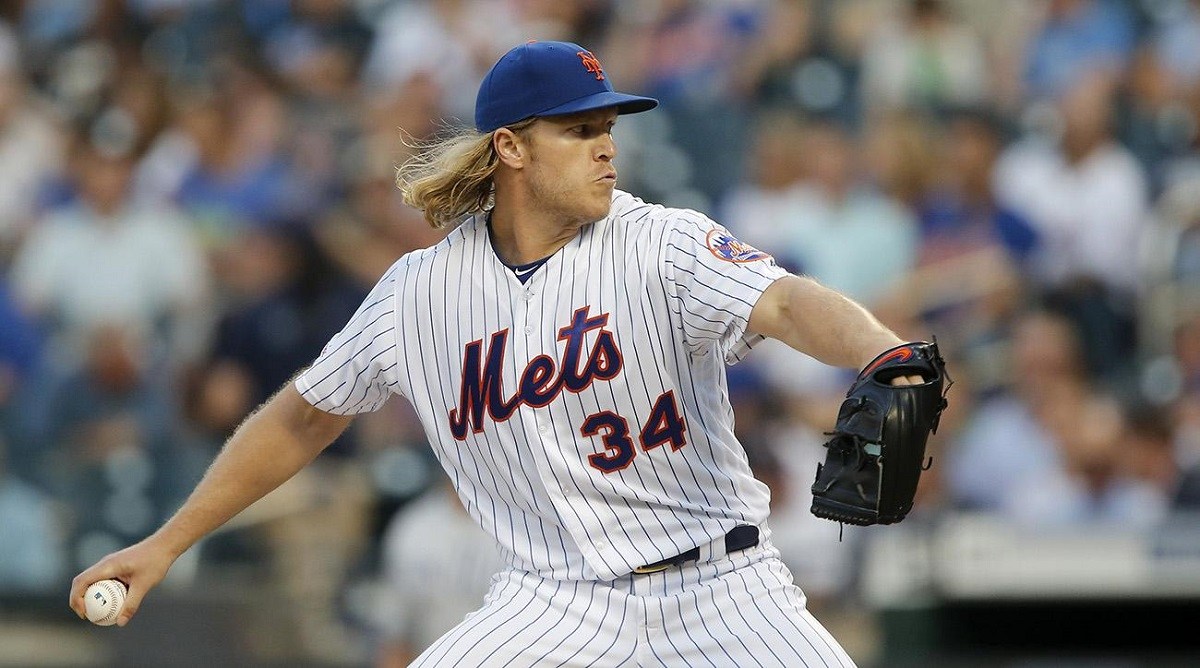 Syndergaard, 26, is 7-5 this season with a 4.33 ERA and 1.26 WHIP. Wheeler, 29, is 6-6 with a 4.69 ERA and 1.27 WHIP.
The Mets initially said no to Thor offers. Mets GM Brodie Van Wagenen had zero interest in dealing Syndergaard. But the team made a complete about face about Syndergaard's availability less than a week before the trade deadline on July 31.
WHO IS NOAH SYNDERGAARD?
Age: 26
Hometown: Mansfield, TX
Nickname: Thor
Position: Pitcher (Throws Right)
Draft: First Round 2010 by Blue Jays
Career Stats: 44-27, 3.21 ERA, 1.15 WHIP
The Milwaukee Brewers are in desperate need of a starting pitcher. Their ace, Brandon Woodruff, injured his oblique and he's on the IL for at least six weeks. The Brewers are fighting tooth and nail to stay alive in the NL Central race. Both the Cubs and Cardinals are making things both interesting and terrifying in the NL Central.
The Atlanta Braves are also on the short list to grab Noah Syndergaard. However, many teams do not like to trade to a division rival. Then again, the Braves have a lock on the NL East and they're looking to add extra firepower for an inevitable showdown with the LA Dodgers in the NLCS.
The San Diego Padres have also been mentioned as a landing spot for Syndergaard. The Padres with newly acquired free agent Manny Machado got off to a hot start. But, they have since cooled off. San Diego is loaded with several top young players like Fernando Tatis Jr and pitcher Chris Paddack.
Would the Mets really trade Thor across town to the Yankees? Fans in the Bronx would go batty for Thor.
Wheeler Stays?
Zack Wheeler has been mentioned in multiple trade rumors with the NY Mets and involving the Minnesota Twins, NY Yankees, Milwaukee Brewers, and Atlanta Braves. However, now it looks like the Mets want to keep Wheeler and re-sign him while raking in a nice score for dealing Syndergaard.
Zack Wheeler is 36-39 lifetime with a 3.88 ERA and 1.30 WHIP. He had spent a quick stint on the IL with shoulder fatigue. He returns to the mound for the Mets on Friday evening. This might be his last start for the Mets if they decide to trade him.
Wheeler would love a trade because it would allow him to become a free agent next season without his future new team having to chalk up a comp draft pick to sign him. But the latest Wheeler trade rumors suggest the Mets can get better prospects for dealing Syndergaard.
Wheeler is no slouch and would be one of the key guys in rebuilding a contending starting rotation around Jason de Grom. However, did anyone think about standing pat with both arms?
Three Aces Cracked
What a difference a half-year makes. Everyone seemed high on the Mets' trio of Aces with Noah Syndergaard, Jacob de Grom, and Zack Wheeler. And now, there's no shortage of click-bait articles about the Mets dealing one or two of their top arms.
The Mets were doomed before the season began. The Mariners unloaded a hefty contract on a fading Robinson Cano and the Mets were the only suckers dumb enough to take the bait of Cano returning to his old glory days in NYC.
The Mets also gave up top prospects for a closer, Edwin Diaz, who has been a dud. Then again, it's not like he gets many opportunities to close games.
If it weren't for the lowly Miami Marlins, the NY Mets would be the worst team in the AL East. The NL Wild Card race is one of the craziest in years with almost every team still within striking distance of one of the two Wild Card spots. The Mets would need Thor to pitch godlike tin August and another amazing miracle if they expect to go on an epic heater (that would coincide with a Braves and Phillies co-losing streak) to jump back into contention.
According to William Hill, the NY Mets are 200/1 odds to win the World Series but we all know that number should be much higher.