Now that we've bid farewell to the Thoroughbred standouts who retired in 2020, which horses will we greet as the returning equine stars worthy of attention in 2021?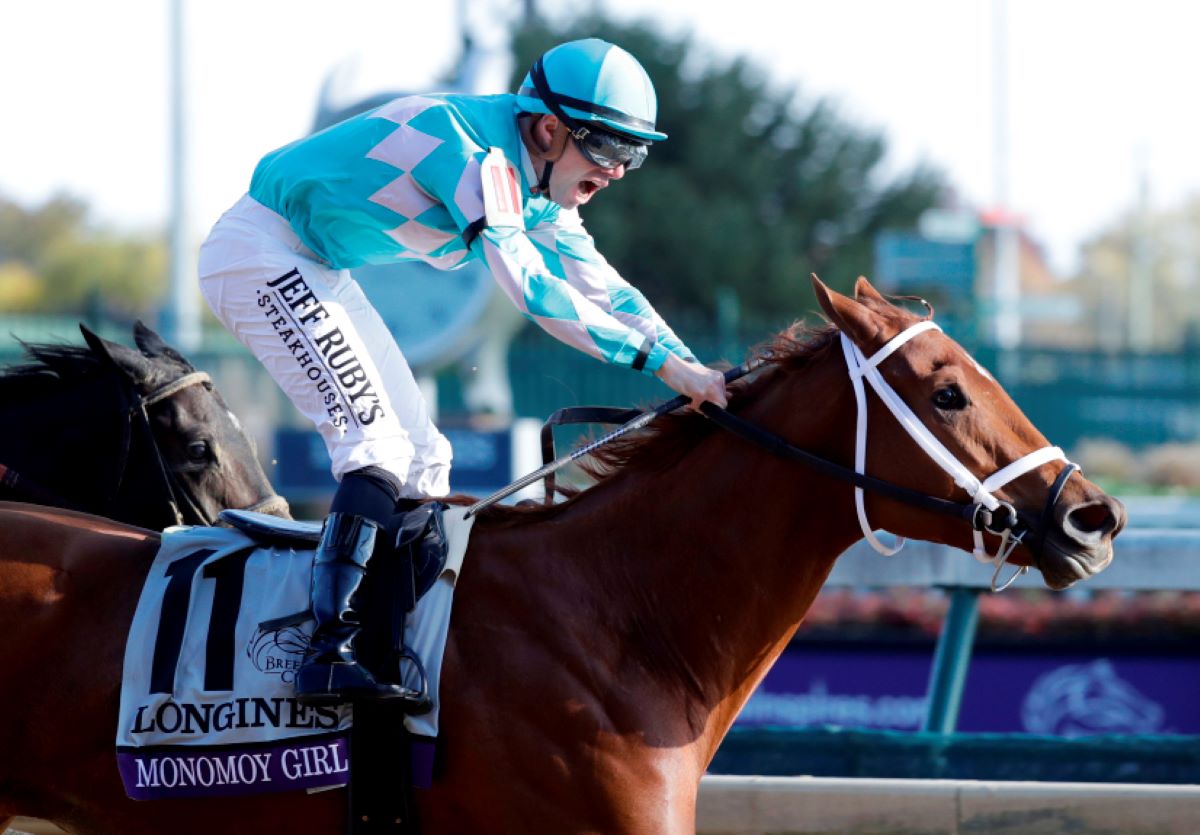 We bid farewell to Authentic, Improbable, Maximum Security, Vekoma, Tom's d'Etat, War of Will, McKinzie, Serengeti Empress, Enable, and Ghaiyyath in recent months. All but the 6-year-old Enable and 4-year-old Serengeti Empress are males, a testament to the fundamental truth that males are far more valuable in the breeding shed than in the starting gate. After all, a typical stallion can cover 150-200 mares a year, while that same mare is good for one foal a year.
This explains why Monomoy Girl – the best mare in North America – headlines the equine stars returning to racing in 2021. She does so for her 6-year-old campaign after being sold for $9.5 million at the Fasig-Tipton November Sale the day after she won the Breeders' Cup Distaff.
Among top-shelf fillies and mares, Monomoy Girl gets company next year. Swiss Skydiver, Gamine, Shedaresthedevil, and Got Stormy aren't going anywhere but back to training. Neither are turf dynamos Newspaperofrecord and Sharing. All are Grade 1 winners, and Monomoy Girl and Swiss Skydiver could take on the boys somewhere along the way.
Monomoy Girl, Swiss Skydiver Aren't the Retiring Type
Monomoy Girl could run next month's Cigar Mile at Aqueduct, and Swiss Skydiver already tangled with the males twice in 2020. She finished second to Art Collector in August's Blue Grass Stakes, then beat Kentucky Derby champion Authentic in a memorable Preakness Stakes. Swiss Skydiver ran 10 races in 2020 and audacious trainer Kenny McPeek isn't likely to shake his throwback image with her as a 4-year-old.
But what about the boys those two could see along the 2021 path? Who are some of the promising or proven males worthy of attention next season?
Start with Knicks Go. Since moving to Brad Cox's barn at the beginning of 2020, this 4-year-old has been unstoppable. He wired the field in the Breeders' Cup Dirt Mile, setting the event record by nearly three-quarters of a second in his 3-½-length victory. With Cox – who won four Breeders' Cup races – pulling the strings, Knicks Go will improve on his three 2020 victories, and he'll likely do so in his share of Grade 1s.
Who Will Be 2021's Top Sprinter? Nashville or Whitmore?
From there, head to Nashville, who seeks to rule a Sprint division opened up with the injury retirement of Volatile. The Steve Asmussen charge hasn't won a graded stakes yet, but Nashville won his first three starts by more than 24 lengths. He broke the Keeneland track record for six furlongs in the Perryville Stakes on the Breeders' Cup undercard. His six-furlong time as the 1/9 Perryville favorite was faster than Whitmore's winning Breeders' Cup Sprint time.
Speaking of Whitmore, the 7-year-old gelding reminded everyone that he's not finished beating the kids. He returns for his 8-year-old campaign with even more to prove.
When it comes to proving things, three other returners come to mind: Maxfield, Charlatan, and Tiz the Law. Injuries deprived both Maxfield and Charlatan of their incredible promise and horseplayers of their incredible talent. Both are 3-for-3 on the track, with Charlatan surrendering his take-no-prisoners win in the Arkansas Derby after flunking a drug test. Neither has run since May, although Charlatan may return for the Dec. 26 Malibu Stakes.
Tiz the Law Has Plenty to Prove
As for Tiz the Law, the most dominant sophomore for the first eight months of the year will attempt to prove he didn't peak as a precocious 3-year-old. The one-time unstoppable force ran into an immovable object named Authentic in the Derby, then ran the worst race of his career as the 3/1 favorite in the Breeders' Cup Classic. Tiz the Law won't wait long to give his connections — or bettors — a sign as to which way he's going. He's set to run the Pegasus World Cup on Jan. 23 at Gulfstream Park.
Another runner to watch is Happy Saver, last seen winning the Jockey Club Gold Cup at Belmont Park last month. That was his fourth victory in as many 2020 starts. Last year's Pegasus World Cup winner, Mucho Gusto, just returned to training after finishing fourth in February's Saudi Cup. He could replace Improbable as Bob Baffert's top older horse.
Others who aren't retiring yet are Code of Honor and the immensely frustrating Tacitus, who's still looking for his first Grade 1 victory. Both return for their 5-year-old campaigns.