Norway's Thomas Waerner won the 2020 Iditarod and completed the 975-mile trek through Alaska in 9 days, 10 hours, 37 minutes, and 47 seconds. Waerner reached the finish line in Nome at approximately 12:37 am local time with 10 dogs in harness, including his lead dogs, Bark and K2.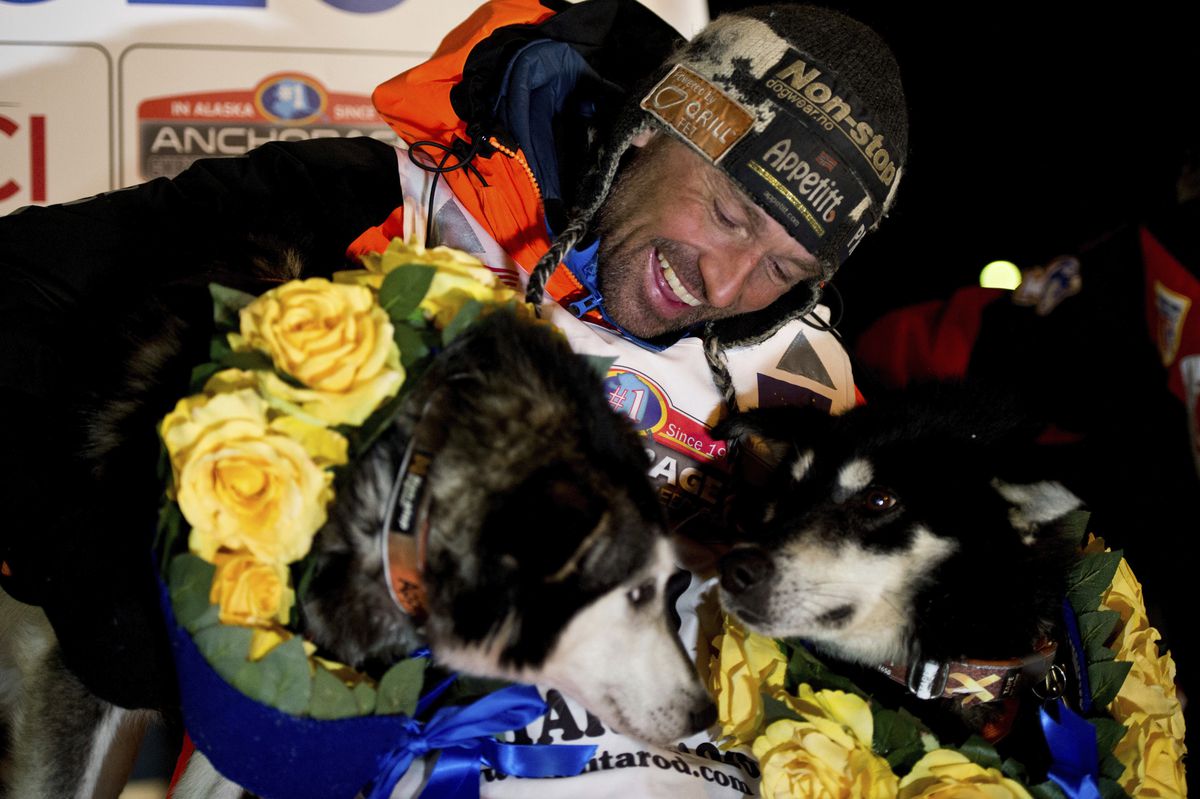 "This is awesome, something special," said Waerner.
Waerner won the 2020 Iditarod by more than 5.5 hours. Veteran musher and three-time champion, Mitch Seavey, finished in second place. Seavey holds the record as the race's oldest winner when he won at age 57 in 2017.
2020 Iditarod Standings
1. Thomas Waerner (10 dogs) 9d 10h 37m
2. Mitch Seavey (10 dogs) 9d 16h 15m
3. Jessie Royer (14 dogs) 9d 17h 47m
For the second year in a row, Jessie Royer finished in third place. Royer, who secured the lead shortly before the mid-way point in Ruby, attempted to become the first woman to win the Iditarod since Susan Butcher did it in 1990.
The 2020 Iditarod marks the 48th running of the world's most famous sled dog race and started with 57 mushers. Both men and women compete against each other.
At press time, only three mushers reached the finish line in Nome. At least 12 mushers dropped out along the course.
The Iditarod began on March 7 in Anchorage. At the time, the coronavirus outbreak had yet to reach Alaska or cancel any sporting events. When Waerner crossed the finish line nine-and-a-half days later, the sled dog race became the final sporting event to conclude in America.
Norway Scores 2 in 3
Thomas Waerner, 47, became the fourth Norwegian musher to win the Iditarod, and the second to accomplish the feat in the last three years. He joins two-time champion Robert Sorlie (2003 and 2005) and Joar Leifseth Ulsom (2018) as the only Norwegians to win the Iditarod.
The resident of Torpa, Norway, runs a small electrical company and owns a kennel. He won the Iditarod in only his second attempt. Waerner finished in 17th place in the 2015 Iditarod to earn Rookie of the Year honors. He didn't return to Alaska to race until this year.
Waerner won the top sled dog race in Europe last year, taking first place in Norway's 750-mile Finnmarkslopet.
Bold Move on the Yukon, Bark Homecoming
Waerner passed Royer on the Yukon River on Monday, making his move during a 12-hour overnight run on an 85-mile stretch from Kaltag to Unalakleet.
"I was a little surprised no one followed," said Waerner.
Waener's tight bond with his dogs paid off. He said he listened to the dogs, which allowed him to push them for extended stints on the trail.
"I listen to their signals," said Waerner. "If you listen to the dogs, you can actually do long runs."
"Thomas Waener had the best dogs on the trail the entire Iditarod," said Royer.
Waener has a dynamic duo named K2 and Bark as his lead dogs. Several of Waerner's dogs originate from Alaskan bloodlines. He bought lead dog, K2, from Ramy Brooks ( a past winner of the Yukon Quest).
"K2, an amazing dog and has this inside engine that never stops," explained Waerner. "Bark is the tough one. He's the one just charging through everything. It doesn't matter what comes, he will just go through it, storms, snow, or whatever. So, they two together are an amazing team."
Apparently, Bark was conceived at a checkpoint in Ruby, Alaska. Bark's parents were racing the 2014 Iditarod with Robert Sorlie. Two running mates accidentally bred when his mother, Kelly, went into heat during a rest stop in Ruby.
$50,000+ to Waerner
Waerner won at least $50,000 and a new truck for his first-place finish. His total Iditarod winnings will depend upon how many mushers reach the finish line in Nome, Alaska.
Waerner also secured bonuses for becoming the first musher to reach checkpoints at White Mountain and Unalakeet. In Unalakeet, he earned $2,000 in gold nuggets. At White Mountain, a local bank paid out a $2,500 bonus.
"This is a money-spending sport," said Waerner.
All of the prize money goes to the upkeep and training of the teams. His dogs consume over 5,000 calories per dog, per day.
Last year's champion, Peter Kaiser, is currently in 14th place and still 30 miles away from Nome.