Wisconsin and North Carolina have met twice in the NCAA Tournament in the past 20 years: once in the Sweet Sixteen, and another time in the Elite Eight. Now, the two major conference powerhouses will see each other in the opening round of the 2021 March Madness bracket.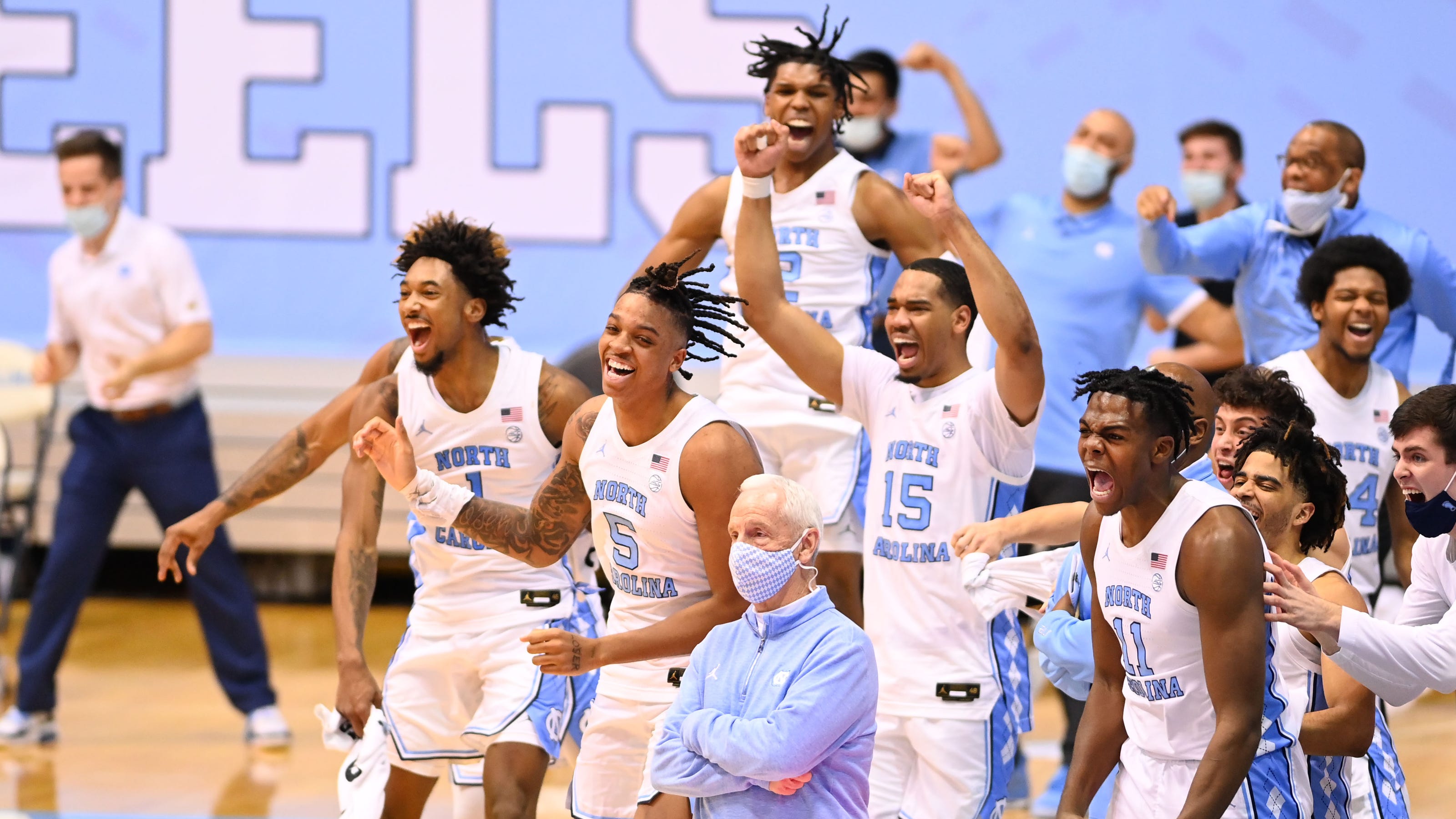 Both No. 8 seed UNC (18-10) and No. 9 Wisconsin (17-12) come into the tournament following solid but unspectacular regular-season campaigns for programs used to earning high seeds in March.
UNC improving heading into tournament
The Badgers reached nine of the last 10 tournaments, making it all the way to the national championship game against Duke in 2015. The Tar Heels have appeared in 10 straight NCAA Tournaments, winning a national title in 2017.
North Carolina comes into the game as a slim 1.5-point favorite over Wisconsin, according to DraftKings Sportsbook. UNC head coach Roy Williams says he's excited to get back to postseason basketball after the NCAA cancelled last year's March Madness tournament due to the COVID-19 pandemic.
"There were a couple of times during the season when we were wondering whether or not we would make the field, but our team kept getting a little bit better and better," Williams said in a statement. "So I'm just ecstatic for these kids, who have endured so much due to COVID and have an opportunity to continue their season."
---
North Carolina vs. Wisconsin Odds (via DraftKings Sportsbook)
North Carolina (-1.5): -112
Wisconsin (+1.5): -108
Money Line
North Carolina: -124
Wisconsin: +104
Total
Over 137: -107
Under 137: -113
---
The Tar Heels went 6-4 over their final 10 games this season. They made the semifinals of the ACC Tournament before dropping a 69-66 decision to Florida State.
Meanwhile, Wisconsin struggled down the stretch, losing six of its final eight games and falling to Iowa 62-57 in the Big Ten Tournament quarterfinals. That run took a bit of the shine off what had been a strong season, as the Badgers started at a 14-5 clip.
Badgers remain in Indy after Big Ten Tournament
The Badgers have been in Indianapolis since the Big Ten Tournament, which also took place in the city. Head coach Greg Gard says that might give his team a slight edge, as they're accustomed to dealing with the COVID procedures in place.
"We've gone through our protocol of quarantining and testing every day. We've had two practices," Gard told reporters. "This is unique in terms of what we've had to come through this year to get to this point. So I want [the team] to embrace it. Enjoy it, but also congratulate them. This is not easy to get to this point. Obviously this year has presented a few more obstacles than normal."
One stat that stands out heading into the matchup is Williams' astounding success in the first round of the NCAA Tournament. The coach is 29-0 in the opening round of March Madness, including going 15-0 at UNC. While some of that is due to enjoying strong teams at both Kansas and North Carolina, Gard says Williams deserves much of the credit as well.
"He's been doing it for a long time and obviously had tremendous success at both places, but you know I think it's a combination," Gard said. "It's obviously always having good teams but him doing a good job of preparing them and putting them in that position."