The Los Angeles Angels have two of the best players in baseball in Mike Trout and Shohei Ohtani, but have failed to turn that into a winning formula. The franchise began addressing that issue on Tuesday when the Angels signed right-handed starting pitcher Noah Syndergaard to a one-year deal.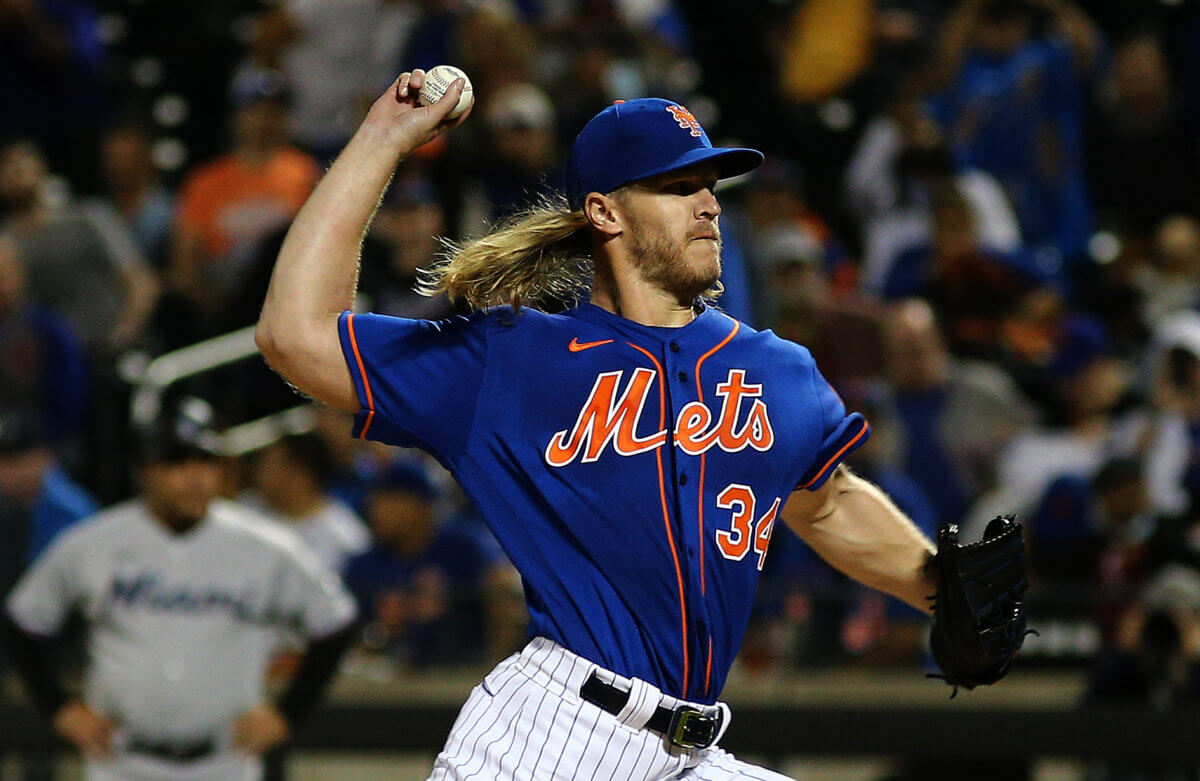 Multiple media outlets reported that the Angels signed Syndergaard to a one-year, $21 million contract, pending a physical.
Syndergaard coming off Tommy John surgery
The 29-year-old righty spent seven seasons with the New York Mets, developing into one of the most dynamic starting pitchers in the league. However, Syndergaard underwent Tommy John surgery in 2019, and has only thrown two innings since then.
Overall, Syndergaard has compiled a 47-31 career record with a 3.32 ERA. He's struck out 777 batters in just 718 innings of work.
MLB Network's Jon Heyman reported that the Angels beat out the Yankees, Red Sox, and Blue Jays in bidding for Syndergaard's services.
Syndergaard is taking Angels physical today. Assuming he passes he's an Angel and Mets get draft choice. If not he can still take the Mets $18.4M qualifying offer. Angels weren't only team in; at least Jays, Yanks and Red Sox are believed to have considered Noah.

— Jon Heyman (@JonHeyman) November 16, 2021
The Angels will give up a second-round draft pick in 2022, as the Mets made a qualifying offer to Syndergaard.
FanDuel Sportsbook now rates Los Angeles as a +3500 pick to win the World Series in 2022. But if the Angels continue their offseason spending spree, they could shorten those odds significantly.
The team will likely pursue more pitching, which could include the likes of Max Scherzer or Robbie Ray. The Angels may also be in the mix for a shortstop, and will look to bolster their bullpen as well.
Ohtani, Trout desperate for help
All of these moves would serve to address the growing discontent among Angels fans who have watched Trout – and more recently, Ohtani – put up incredible seasons to little avail. The Angels haven't reached the postseason since 2014 when they were swept by the Royals in the ALDS. Los Angeles hasn't produced a winning season since 2015, and last reached the second round of the playoffs in 2009.
Ohtani shared that frustration. The two-way star went 9-2 with a 3.18 ERA on the mound in 2021, while also hitting .257 with 46 homers and 100 RBIs. After his final start of the season, he expressed his feelings about being so far from the postseason.
"I really like the team," Ohtani said via an interpreter. "I love the fans, I love the atmosphere of the team but more than that, I want to win. That's the biggest thing for me. I'll leave it at that.
"If nothing changes on the team, I think it's gonna be really hard to be in playoff contention," Ohtani added at the time.
The Mets remain a fringe World Series contender, with FanDuel offering +1800 on New York to win a title in 2022 even without Syndergaard. The Mets could still piece together a strong rotation, including two-time Cy Young Award winner Jacob deGrom, Carlos Carrasco, and Taijuan Walker. deGrom and Carrasco both missed significant time to injuries last year, while Walker faded after a strong start to the season.