The National League Division Series could come to an early end on Thursday, as both the Atlanta Braves and Los Angeles Dodgers have built 2-0 leads in their respective NLDS contests.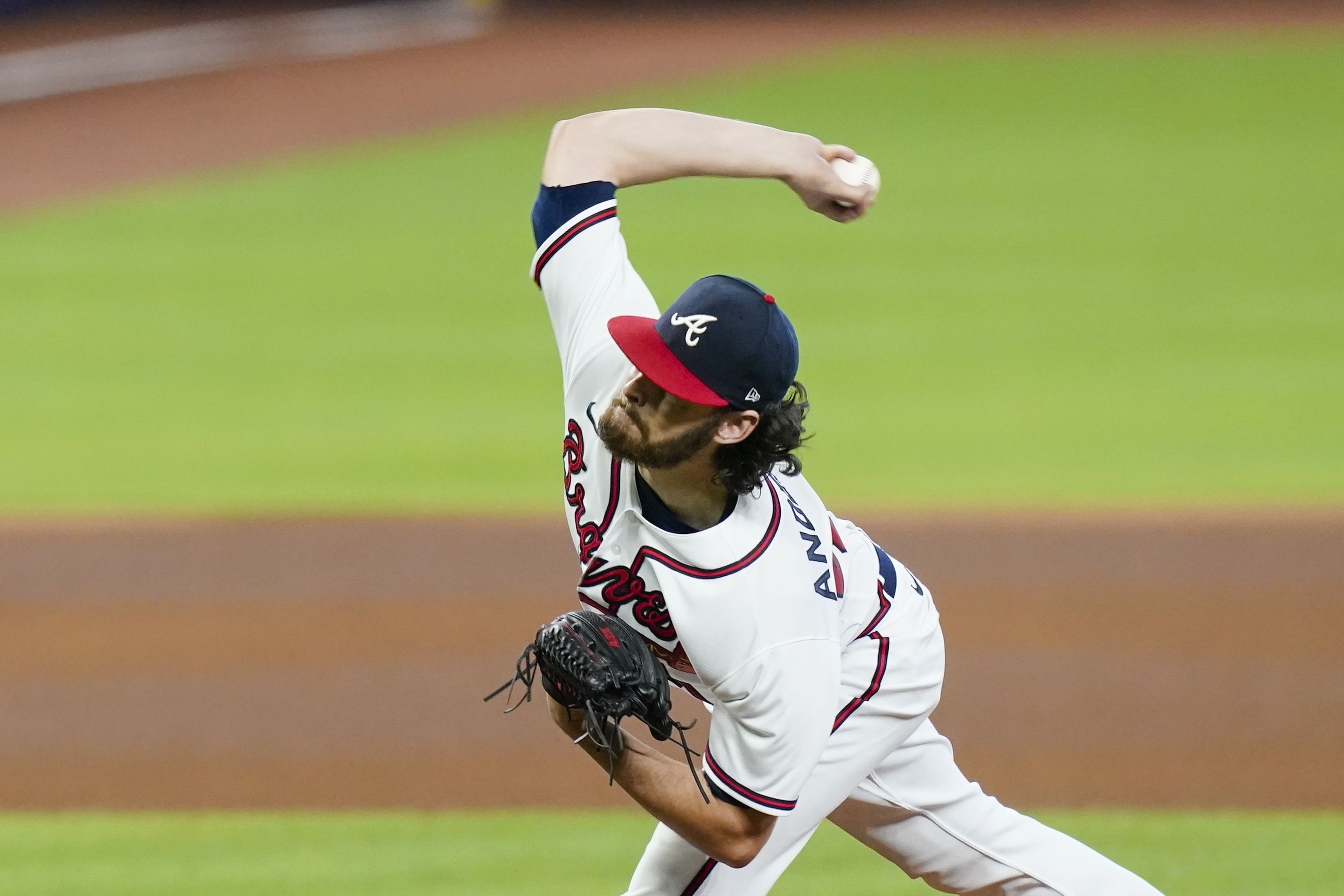 The Braves continued to show off their pitching strength on Wednesday, blanking the Marlins 2-0 to earn their third shutout in four postseason games.
Braves Notch Third Postseason Shutout
Ian Anderson struck out eight and allowed just three hits over 5.2 innings to get the win for Atlanta.
"I definitely had more nerves today," Anderson told reporters after the game. "I don't know if it was the different site and seeing all the playoff stuff around the stadium or what … but I was able to calm down and get in the groove of the game."
Atlanta's offense came via solo homers by Travis d'Arnaud and Dansby Swanson.
"It's hard to bunch hits together, pitching is too good," Braves manager Brian Snitker said afterward. "Power, I think is something that plays in the postseason."
---
Braves vs. Marlins Game 3 NLDS Odds (via DraftKings Sportsbook)
Moneyline
Braves (Wright): -139
Marlins (Sanchez): +117
Run Line
Braves (-1.5): +120
Marlins (+1.5): -143
Total
Over 9: -114
Under 9: -107
Series Winner
Braves: -3335
Marlins: +1250
---
While Braves pitchers have dominated their opponents so far, that might not continue in the longer playoff series of the NLDS and beyond. For Game 3, Atlanta will turn to Kyle Wright who compiled a 2-4 record and a 5.21 ERA during the regular season, a sign of the Braves' limited pitching depth.
The Marlins, on the other hand, will go with Sixto Sanchez, who pitched well in two starts against Atlanta this year and who threw five shutout innings against the Chicago Cubs in last week's wild-card series.
The Braves enter Game 3 as a -137 favorite to finish off the Marlins (+115), according to DraftKings Sportsbook.
Bellinger Helps Dodgers Snag 2-0 NLDS Lead
The Dodgers pushed the San Diego Padres to the edge of elimination in the other NLDS series with a 6-5 win on Wednesday. Cody Bellinger played the hero, hitting a solo home run and then making a spectacular catch to rob Fernando Tatis Jr. of a homer of his own.
NO WAY!! ARE YOU SERIOUS!?

Cody Bellinger ROBS Tatis of a 2-run HR!! pic.twitter.com/0VejV1v1ZJ

— FOX Sports: MLB (@MLBONFOX) October 8, 2020
"I just kind of turned around as fast as I could, got to the fence, and saw that it was probable, so I decided to try to time up the jump, and it's how it worked out," Bellinger told reporters. "I didn't know if it was a homer or not, but I knew I caught it."
Clayton Kershaw pitched six solid innings, giving up three runs to get the win. The Dodgers were heading for a comfortable win thanks to two insurance runs in the seventh, and Bellinger's catch, before closer Kenley Jansen gave up two runs in the ninth. Manager Dave Roberts pulled Jansen and brought in Joe Kelly who walked two batters to load the bases before finally getting out of the inning to end the game.
Roberts didn't commit to keeping Jansen as his closer moving forward.
"I thought there were some good throws in there," Roberts told reporters. "It was just a lot for [Jansen], 30 pitches to get two outs. I know that he's disappointed as well. I'll keep thinking through it."
The Padres announced that they will open with Adrian Morejon for Game 3, signaling a bullpen game for San Diego. The Dodgers have yet to name a starter, with Julio Urias or Tony Gonsolin among the most likely choices.