The Los Angeles Dodgers overcame a 3-1 deficit in the 2020 NLCS to beat the Atlanta Braves, going on to win a World Series title. They'll have to repeat the feat if they want to defend their championship, as Atlanta holds that same two-game advantage heading into Game 5 of the 2021 NLCS.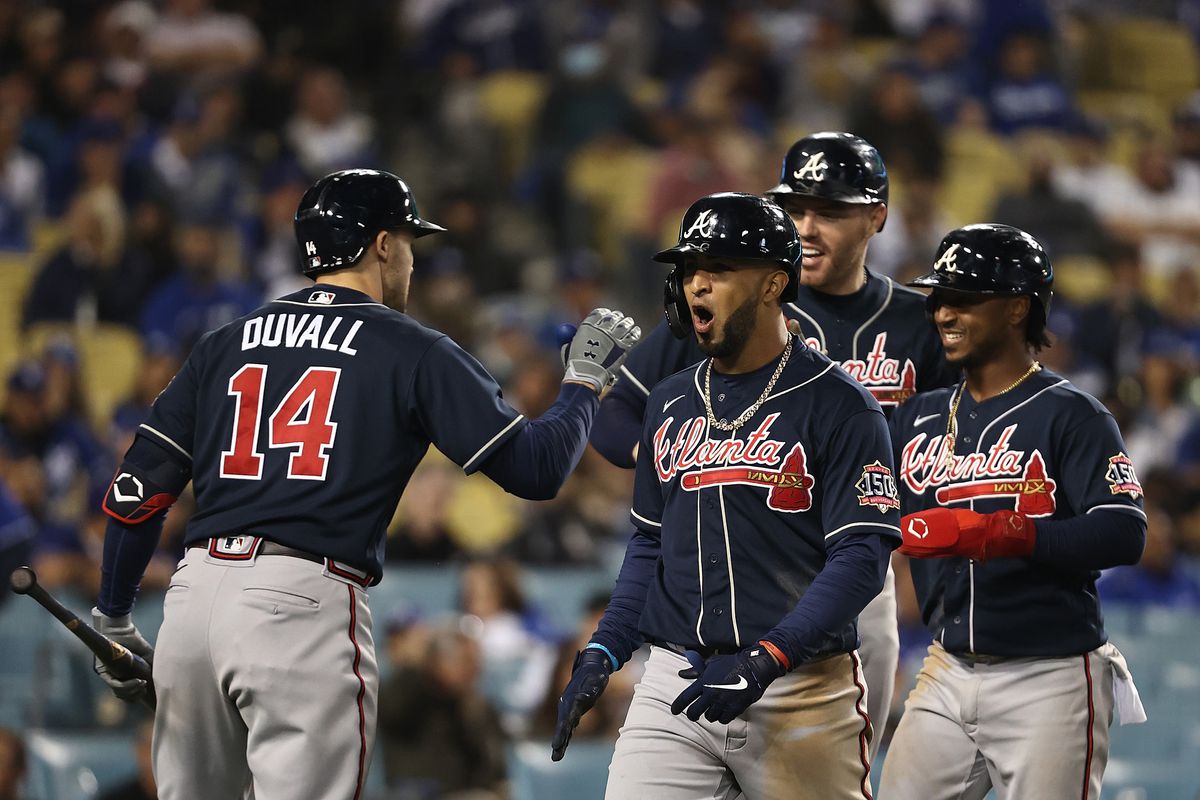 The Braves scored five runs in five innings off of Dodgers starter Julio Urias and never looked back, beating the Dodgers 9-2 on Wednesday.
Dodgers in unenviable NLCS position, again
Eddie Rosario powered the Atlanta offense, hitting two home runs and driving in four runs on a 4-for-5 night.
"Eddie has been in the moment here," Braves manager Brian Snitker told reporters. He's had really just great at bats. I looked up and told [bench coach Walt Weiss], 'He's a double shy of the cycle again,' and then he hit a homer."
The Braves used six pitchers to hold the Dodgers to just four hits on the night. That performance left Los Angeles in a deep hole, but one that it is more than familiar with.
"No one needs to really tell anyone that we can do it. We've done it," Dodgers outfielder AJ Pollock said of the 3-1 deficit. "Obviously we got to grind tomorrow, but we win tomorrow, we're not in a bad spot."
The numbers disagree with that assessment. Teams with a 3-1 lead in best-of-seven MLB postseason series have gone on to win 84% of the time. The Dodgers aren't an average team, however, even by playoff standards. But FanDuel Sportsbook still rates LA as a +380 underdog to win three straight and get back to the World Series, with Atlanta the -500 favorite to advance.
Any Dodgers comeback must start immediately, and LA does stand as a -138 favorite in Game 5.
Fried gets Game 5 start for Braves
The Braves will send Max Fried (14-7, 3.04 ERA) to the mound for Game 5. He's already pitched well in the NLCS, throwing six innings of two-run ball in Atlanta's Game 1 win.
"Max lives for these types of games," Atlanta pitcher Drew Smyly told reporters. "He loves to take the ball at that moment. He's one of the most prepared pitchers I've ever been around."
Meanwhile, the Dodgers have yet to announce a starting pitcher as of early Thursday afternoon. Los Angeles doesn't have a traditional starter ready to go, meaning the team will rely on its bullpen to carry the way. Corey Knebel (4-0, 2.45 ERA) will likely get his third start of the playoffs as a result.
The Braves clearly hold the advantage in the NLCS, with only the memories of last season fueling the drama at the moment. But Atlanta players say history won't be repeating itself so soon.
"2020 was last year and this is a whole different team and a whole different thing," Atlanta first baseman Freddie Freeman told reporters.