22-year-old stars Juan Soto and Fernando Tatis Jr. are among the top picks to win the National League's Most Valuable Player award, according to the latest 2021 NL MVP odds.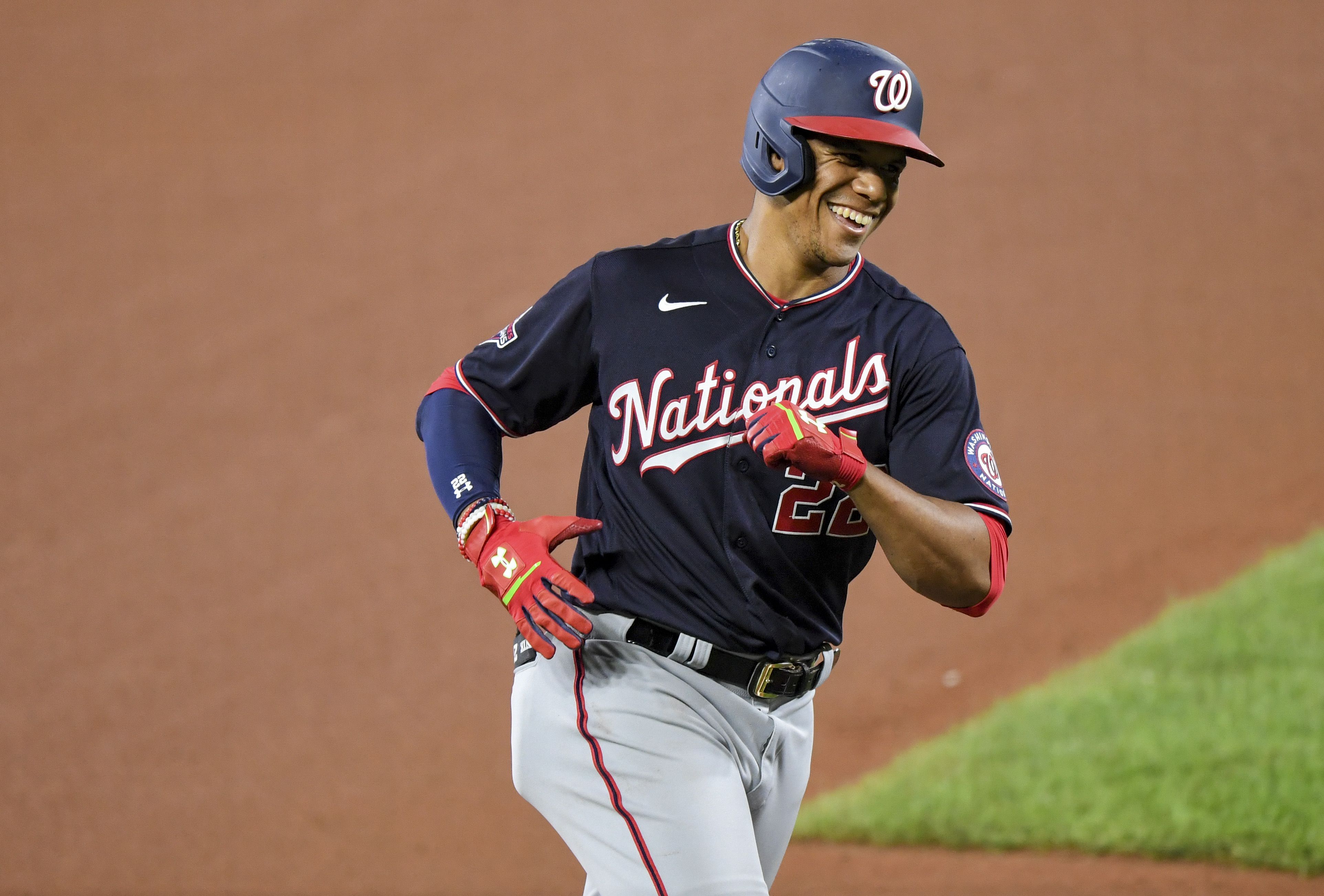 Unlike in the AL MVP race, where Mike Trout stands as the clear favorite, there are a number of leading contenders for the NL award this year.
Soto, Tatis lead young contenders
FanDuel Sportsbook lists Soto as the +700 favorite, just ahead of both Mookie Betts (+750) and Ronaldo Acuna Jr. (+750). Soto finished fifth in NL MVP voting last year in just his third season in the majors. The Washington Nationals outfielder led the league in both batting average (.351) and OPS (1.185) while hitting 13 home runs and 37 RBIs in 47 games during the shortened 2020 season.
Soto signed his first big-money contract in the offseason, agreeing to a one-year, $8.5 million deal in order to avoid arbitration. But the Dominican superstar says he still feels like he's finding his place in the majors.
"I mean, for me, we have a bunch of veteran players on the team. I just try to keep learning from them," Soto told reporters during spring training. "For me, I'm going to keep being the same rookie since 2018. I just try to keep learning from them, keep playing hard, and try to help the team as much as I can."
If Soto puts up MVP-caliber numbers in 2021, he could be in line for the kind of contract that Fernando Tatis Jr. signed this offseason. Tatis agreed to a 14-year, $340 million contract with the San Diego Padres, one that could keep him with the same team for his entire career.
"He wanted to be one of those very unique players that plays his career in one spot," Padres general manager A.J. Preller told reporters when announcing the deal. "He loves the franchise, he loves the city, he loves his teammates and he talked a lot about really wanting to get on the path of that statue contract."
Atlanta Braves boast two NL MVP candidates
The 22-year-old shortstop hit .366 with 17 home runs and 45 RBIs last year, finishing fourth in the NL MVP race. FanDuel sees him as a +850 choice to win the award in 2021.
Defending NL MVP Freddie Freeman (+1400) figures to be in the mix again, though he's getting a late start to his campaign. Freeman and his wife celebrated the birth of their third son on Feb. 21, meaning the Atlanta Braves first baseman only arrived at camp on Monday.
---
NL MVP Odds (via FanDuel Sportsbook)
Juan Soto: +700
Mookie Betts: +750
Ronaldo Acuna Jr.: +750
Fernando Tatis Jr.: +850
Francisco Lindor: +1100
Christian Yelich: +1200
Nolan Arenado: +1200
Cody Bellinger: +1300
Freddie Freeman: +1400
Bryce Harper: +1500
---
Freeman may not even be the leading MVP candidate on his own team. The 23-year-old Acuna came into camp in great shape, suggesting he may be able to add elite athleticism to his dynamic power and return to his 2019 form, which saw him lead the league in both runs scored and stolen bases.
Other leading contenders include Mets shortstop Francisco Lindor (+1100), Brewers outfielder Christian Yelich (+1200), and Cardinals third baseman Nolan Arenado (+1200).