United States Ambassador to the United Nations Nikki Haley shocked White House officials and the Washington DC press corp Tuesday by announcing her resignation at the end of the year. Now President Donald Trump has to fill a position that most thought was stable, furthering the view his administration is anything but.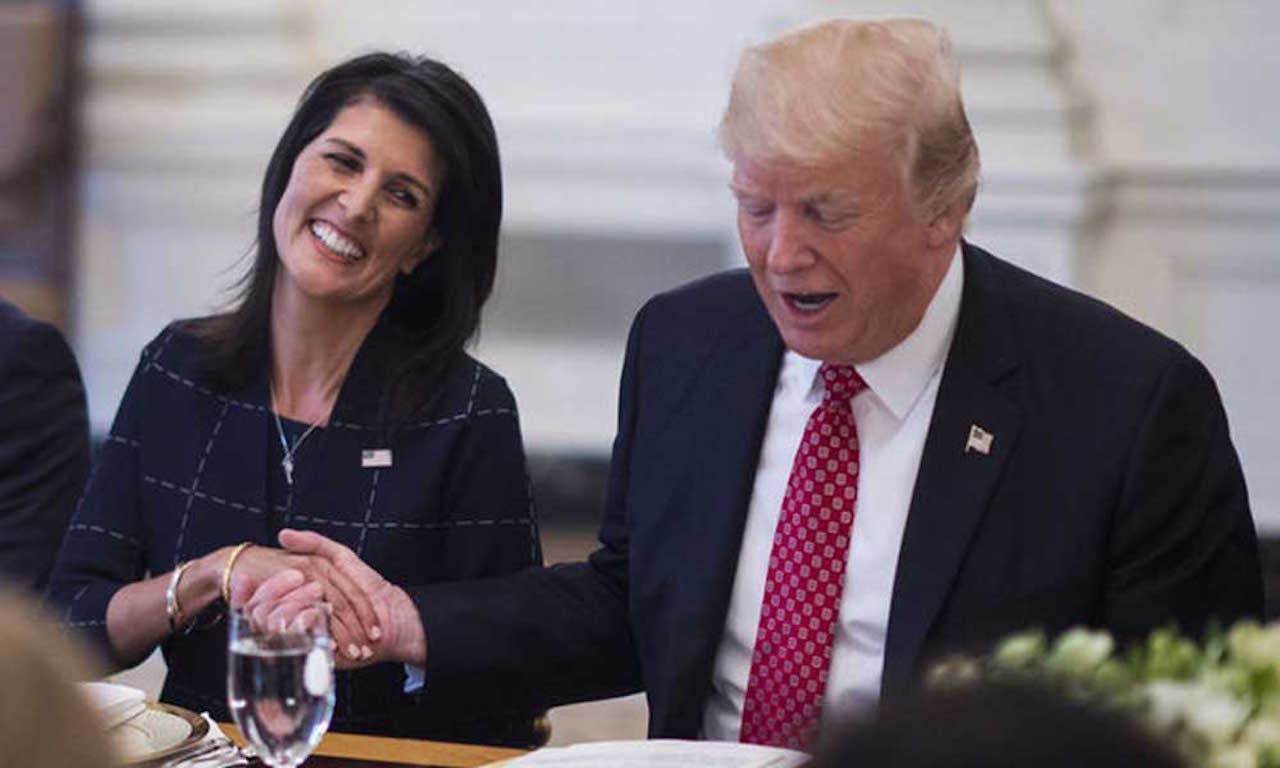 Who President Trump will find to succeed Haley, 46, was the source of immediate speculation in Washington DC, and odds provide a glimpse who bookmakers believe will take the job.
MyBookie has US Ambassador to Germany Richard Grenell as the favorite at 3/1, followed by former deputy national security adviser Dina Powell at 5/1. Bovada also has Grenell as the top pick, but at 7/4. Powell is 2/1.
Haley's departure was not marked by any rancor, as has been seen by other high level members of Trump's administration. The President was notably complimentary to Haley, who served as the governor of South Carolina prior to boarding the Trump Train.
"On behalf of the country I want to thank you for a great job," Trump said to her in the Oval Office Tuesday. "She's done a fantastic job and we've done a fantastic job together."
There was some speculation that Haley was considering a run for the White House in 2020. But she denied she was planning on furthering her political aspirations in 2020. Instead recent financial disclosures show she is several hundreds of thousands of dollars in debt, and returning to the private sector will help her situation, though her spokespeople denied that as the reason as well.
Ambassador Ivanka?
Powell, former counselor to the President, was Haley's recommendation as her own replacement. And though Powell has has kept in the White House's good graces, even after leaving the administration earlier this year, Trump seemed less interested in the Egyptian-born banking executive who cut her political teeth in the George W Bush White House.
"Dina's certainly a person I would consider, and she is under consideration," Trump said. But he added that she was not on a short list of possible successors.
Though Grenell is the betting odds favorite, Trump also shot down the idea of the position being filled by a career diplomat.
"He is doing so well in a position that is so important," Trump told reporters aboard Air Force One on Wednesday. "Ric is doing so well that I wouldn't want to move him. I'd personally rather keep Ric where he is."
Another name that was floated as a candidate was the President's daughter, Ivanka. The first daughter is listed at 25/1 at Bovada, and 8/1 at MyBookie. The President said, "I think Ivanka would be incredible," Trump said.
But the first daughter quickly dismissed that possibility on Twitter.
"It is an honor to serve in the White House alongside so many great colleagues and I know that the president will nominate a formidable replacement for Ambassador Haley. That replacement will not be me," she wrote.
Rest of Field
One name that wasn't on either Bovada or MyBookie's list was outgoing Tennessee senator Bob Corker. The chairman of the Foreign Relations Committee has been critical of President Trump, saying last year that the White House resembled "an adult day care center."
But he has worked to mend his relationship with the oval office and said he wouldn't rule it out. He also said he didn't believe he was being seriously considered for the position. He would be in the rest of the field category, which MyBookie has at 5/1 and Bovada has at 2/1.
"We've had no conversations about it and conjecture's really bad for your health," Corker told the Washington Examiner.
Trump said a decision on Haley's successor should come in the next couple of weeks.