NFL Week 8 saw Kansas City quarterback Patrick Mahomes finding a new way to throw a touchdown pass and Las Vegas Raiders field goal kicker Daniel Carlson finding that the wind was definitely not his friend.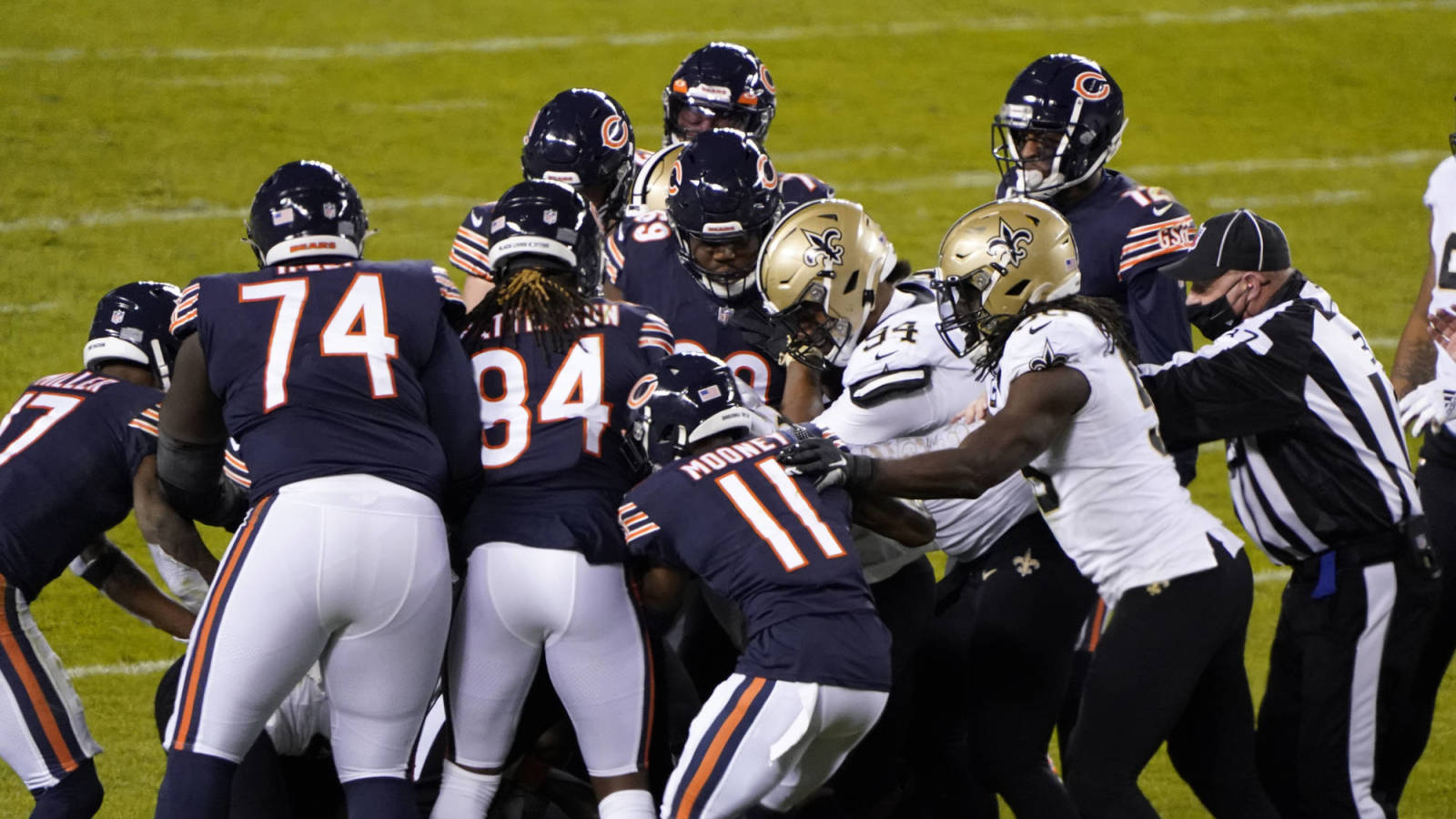 There were also a couple of cheap-shot punches thrown by Chicago's Javon Wims that got him ejected in the team's game against New Orleans. Wims can probably expect a call from the league's New York office with a fine or suspension.
We look at those, and other highlights from Sunday's NFL action.
Mahomes Mayor of Lob City
It's getting to the point where Kansas City's Patrick Mahomes isn't playing fair. The quarterback has thrown passes sidearm and shuffled the ball to receivers for completions ever since first joining the league. On Sunday against the New York Jets, he added a new pass to his repertoire. He underhanded a lobbed ball to tight end Travis Kelce, who scored.
Mahomes practicing his softball pitch

— Bovada (@BovadaOfficial) November 1, 2020
The Chiefs, who were 20-point favorites, easily covered against the 0-7 Jets, 35-9.
Sucker Punch Leads to Brawl
Chicago Bears wide receiver Javon Wims has some explaining to do to the NFL league office after his unprovoked punches to New Orleans defensive back C.J. Gardner-Johnson. That led to a large fight with several players on both sides joining in. Wims was ejected from the game and could be facing additional disciplinary action.
FIGHT FIGHT FIGHT pic.twitter.com/QfAzketfgw

— Bovada (@BovadaOfficial) November 1, 2020
Chicago head coach Matt Nagy told reporters he did not see the incident.
"I did not see it, I totally missed it," Nagy said. "What I did hear is what it looked like, which is completely unacceptable. We've talked to him and told him that that's not how things go here. There's no place in our game for that."
Bend it Like Beckham
Maybe in the offseason, Las Vegas Raiders field goal kicker Daniel Carlson can hook up with a professional soccer team. His 41-yard field goal attempt early in the first quarter had some serious hook to it. It looked good from the beginning, but then took a sharp left turn and bounced off the upright.
Omg. pic.twitter.com/RzQpmT3ard

— Kyle Maskson (@KyleAMadson) November 1, 2020
The kick was wind-aided, as the game had gusts up to 25 mph. Carlson did manage to convert kicks from 29, 34, and 23 yards in the Raiders' 16-6 victory.
Fake Punt Against Fake Team
It's become almost cruel to pick on the New York Jets, but teams are certainly pulling off trick plays and not feeling too bad about it. Kansas City lined up for a punt on fourth and four late in the first quarter.
Then, punter Tommy Townsend threw a bullet to Byron Pringle for a 13-yard gain.
The Jets thought they forced a punt

Nope. pic.twitter.com/Zwa5AG8RNR

— BetOnline.ag (@betonline_ag) November 1, 2020
The play extended the drive and allowed Mahomes to hook up with Tyreek Hill for a 36-yard touchdown to make the score, 14-3.
Catch Him or Wait … You Can't
Seattle wide receiver D.K. Metcalf proved again that he is one of the fastest players in the game. This pass in the middle of the field turned into a 46-yard score for Metcalf.
DK just too quick ⚡️ @dkm14 @Seahawks

📺 #SFvsSEA on FOX pic.twitter.com/pNMGXoF5Xw

— The Checkdown (@thecheckdown) November 1, 2020
It was one of two TD catches for Metcalf. He now has seven touchdowns on the season.
Nice Run, Better Cover
Miami's Jakeem Grant had an impressive 88-yard punt return for a touchdown against the Los Angeles Rams. While Dolphins fans were celebrating that feat, those who had the first-half over were even happier. Grant's TD made the score 21-7 and pushed the over/under of 23.5 over, cashing tickets.
Jakeem Grant returns the punt 88-yards to cash the 1H total (23.5).

MIA scores it's 2nd defense/special teams TD to cash at +9500 odds!!💰#LARvsMIA #FinsUp pic.twitter.com/StwUE6j0Ew

— SportsBettingDime (@SBD) November 1, 2020
Grant's score also cashed another prop bet. It was the Dolphins' second defensive/special teams score.
That's how you help out your rookie QB

— Bovada (@BovadaOfficial) November 1, 2020
Those who had Miami to do that cashed odds of 95/1.