The Green Bay Packers, Kansas City Chiefs, Buffalo Bills, Seattle Seahawks, and Chicago Bears are trying to stay among the few remaining undefeated teams in the NFL by winning their matchups in Week 4. The Chiefs have a rematch of the 2019 AFC Championship game against Bill Belichick and the New England Patriots. Nick Foles gets tapped for his first official start as a member of the undefeated 3-0 Bears.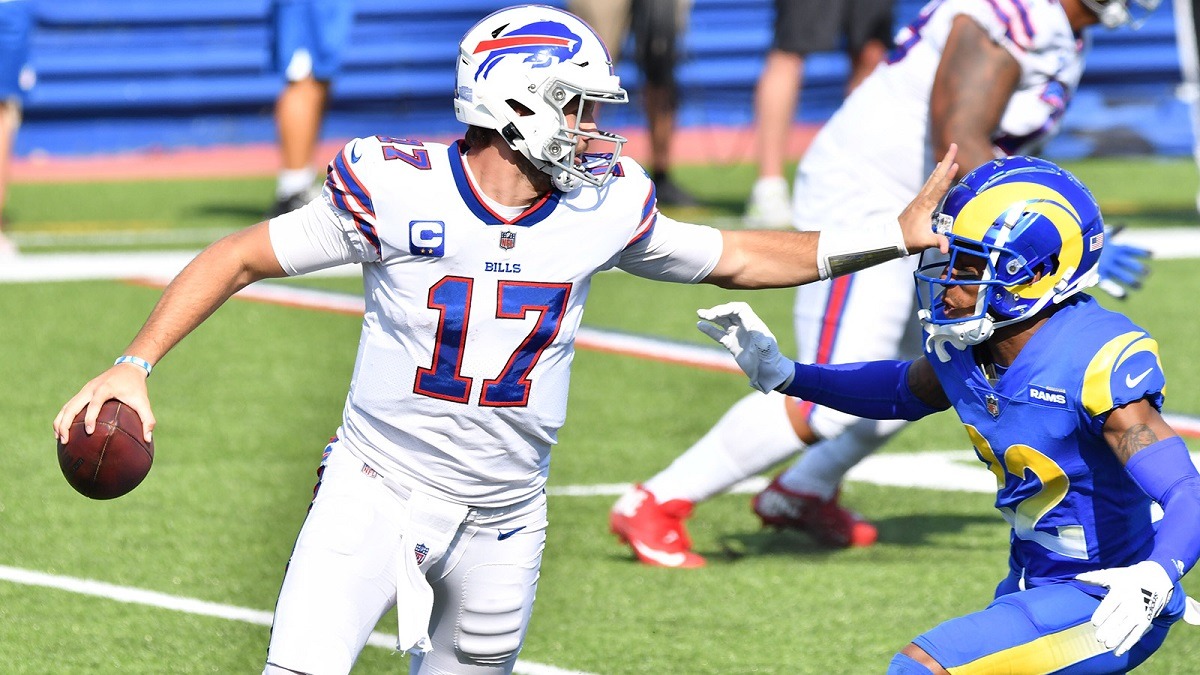 Aaron Rodgers and the high-scoring Green Bay Packers host the Atlanta Falcons, who blew second-half leads in the last two weeks to remain winless.
Six other teams seek their first W of the season including the Philadelphia Eagles and Cincinnati Bengals who tied last week. The Minnesota Vikings, New York Giants, Houston Texans, and Atlanta Falcons are hell-bent on avoiding the 0-4 hole.
A couple of 1-2 teams with deep playoff aspirations are in action include the New Orleans Saints and Dallas Cowboys.
Due to a coronavirus outbreak within the Tennessee Titans, the NFL postponed the Pittsburgh Steelers vs. Titans game until late October. For now, the NFL said both teams take their bye in Week 4. That means only 15 games are on the slate this week, including only three afternoon or late games.
Vikings got screwed by the Titans and were not allowed to practice this week as a precaution due to the Titans' outbreak.
Here's a quick four-minute rundown of Week 4…
Prowling for 4-0
Indianapolis Colts (2-1) at Chicago Bears (3-0)… The Colts barely broke a sweat last week when they destroyed the LOL Jets. The Bears seem bet-worthy all of a sudden after Nick Foles takes over from Mitch Trubisky. LINE: Chicago +3
Seattle Seahawks (3-0) at Miami Dolphins (1-2)… Russell Wilson's MVP march (14 TD) continues against FitzMagic and the Fish. LINE: Seattle -6.5
New England Patriots (2-1) at Kansas City Chiefs (3-0)... Fun Week 4 matchup between Patrick Mahomes and Cam Newton, when the Super Bowl champs go up against the top rushing attack in the NFL. The Pats average 178 yards per game on the ground. Only two players scored more rushing TDs than Newton (4). LINE: KC -7 … [EDITORS NOTE: This KC/NE game has been postponed after Cam Newton tested positive for COVID-19.]

Buffalo Bills (3-0) at Las Vegas Raiders (2-1)… Bills Mafia invades Vegas. What can possibly go wrong? Josh Allen, the NFL's second-best passer, leads a Buffalo Bills offense that's ranked #3 in points (31.0). LINE: Buffalo Bills -3
DC Home Dogs
Baltimore Ravens (2-1) at Washington (1-2)… After losing a home game to the Kansas City Chiefs, the Ravens look to get back on track against their regional rival. Lamar Jackson had an off MNF game with spotty 15-for-28 night for 97 yards and just one total touchdown. You have a gut feeling he's going to light up Washington like the Redcoats in the War of 1812. LINE: Baltimore -14
Bad Cat Teams
Jacksonville Jaguars (1-2) at Cincinnati Bengals (0-2-1)… Will rookie Joe Burrow finally win his first game as a pro QB? The Gardner Minshew Experience reaches the Queen City. Hide your daughters and lock the medicine cabinet. LINE: Cincy -2.5
New Orleans Saints (1-2) at Detroit Lions (1-2)… The Saints and Lions have the same record. But the comparison ends there. The Saints lost a shootout on MNF against the Packers last week. It's up to Brees and Kamara to even their record against the Detroit Kittens. LINE: New Orleans -4
Arizona Cardinals (2-1) at Carolina Panthers (1-2)… Kyler Murray and the high-flying Cardinals take on Teddy Bridgewater. Murray tossed five picks and only four touchdowns. Murray rushed for four scores, but those five picks are a bit worrisome, then again, he jukes like a Heisman Trophy-winning running back. LINE: Arizona -3
Kyler Murray jukes out the defender for the TD 🔥

— NFL Stats (@NFL_Stats) September 27, 2020
Huge Difference Between 3-1 and 2-2
Cleveland Browns (2-1) at Dallas Cowboys (1-2)… Nick Chubb is on a roll with three consecutive games with 100-plus yards and two touchdowns. The last time that happened to the Browns was almost 60 years ago with the legendary Jim Brown. Dak Prescott leads the NFL in passing yardage. The Cowboys lead the league in most total yardage, yet they're only 1-2 because they have the fourth worst defense (32.8 ppg) in the league behind the Vikings, Falcons, and LOL Jets. When will Zeke Elliot finally pass the century mark? The Seahawks held him to just 34 yards last week. LINE: Cleveland +4.5
LA Chargers (1-2) at Tampa Bay Bucs (2-1)… LA rookie Justin Herbert was only 2-years old when the Patriots drafted Tom Brady in 2000. Now, Herbert gets to start against the Old Man by the Sea. It's been 70 years since the NFL saw an age discrepancy of 21 years between opposing QBs. LINE: TB -7
NY Giants (0-3) at LA Rams (2-1)… The banged-up, low-scoring Giants head to Hollywood to face the revamped LA Rams, who looks a lot more like the Super Bowl squad from 2018 than last year's dud. Danny Dimes and the Giants are dead last in the NFL in scoring averaging 12.7 ppg. LINE: LA Rams -13
¡Pase de Jared Goff a @CooperKupp para touchdown!

— Rams en Español (@VamosRams) September 27, 2020
Poo Emoji Game of the Week
Minnesota Vikings (0-3) at Houston Texans (0-3)… Someone has to win this stinker, right? In the Degen Game of the Week, I would have picked the Vikings (ranked #2 worst defense allowing 34 ppg) if the Vikes didn't get screwed by the Titan's COVID scare. Without any time to practice for this one, the Texans (ranked #4 worst offense with 19.0 ppg) get the nod by default. LINE: Houston -4
National TV Games
Philadelphia Eagles (0-2-1) at San Francisco 49ers (2-1)… The banged-up Niners are super happy to be back home at Levi Stadium, where they no longer have to play on the shoddy turf that the Giants/Jets pass off as a field at MetLife Stadium. The Eagles have the fifth worst offense in the league averaging 19.7 points per game during the NFL's highest-scoring season in history. LINE: SF -7
Atlanta Falcons (0-3) at Green Bay Packers (3-0)… What happens when the worst defense in the NFL meets the top offense in the league in Week 4? The Packers are on a mission to win the Super Bowl. Their defense is suspect, but their offense is in peak form after only three weeks. Heading into Week 4, the Packers are ranked #1 in scoring (40.7 ppg), ranked #2 in rushing (171.7 yards per game), and #6 in the NFL in passing (288.3 yards per game). The Falcons blew another 4Q lead last week to sink to 0-3. Dan Quinn's job is in jeopardy. LINE: Green Bay -7.5