The good news for Cincinnati's rookie quarterback Joe Burrow is that he's featured in this week's NFL Week 3 highlights. The bad news — this is probably not the kind of highlight he was looking for. The No. 1 overall pick in the 2020 draft got up close and personal with Philadelphia defensive lineman Malik Jackson, and came out of the experience a little worse for wear.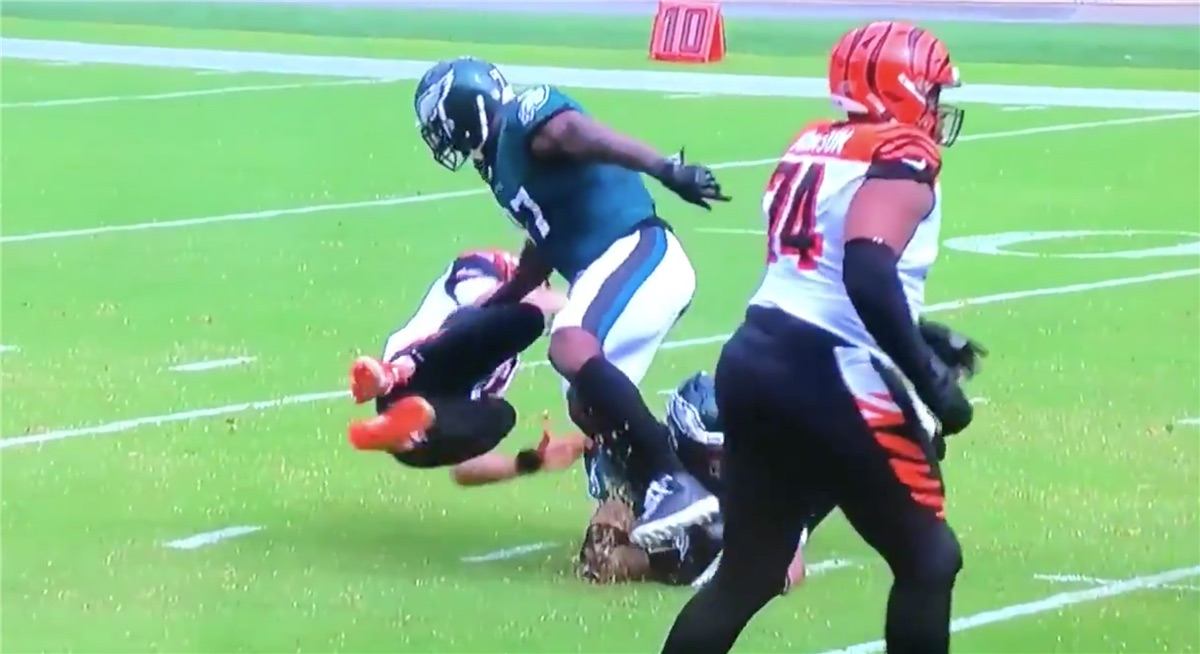 The play happened in the second quarter when Burrow dropped back to pass, but the pocket quickly collapsed. The former Heisman Trophy winner scrambled, but couldn't escape Eagles' defenders.
Big League Hit

— Bovada (@BovadaOfficial) September 27, 2020
That's when Jackson decided to welcome Burrow to the NFL by leveling the young quarterback. Burrow was on the ground in pain for a bit, and sat out a play while backup Ryan Finley took a snap.
Fortunately, Burrow wasn't seriously injured. He caught his breath and figured out what planet he was on before returning to the game. The Bengals and Eagles played to a 23-23 tie.
Escape Lesson
Maybe Burrow should give Las Vegas Raider fullback Alec Ingold a call on how to avoid contact. The 6-1, 240-pound blocking back caught a swing pass from quarterback Derek Carr and saw J.C. Jackson was waiting for him.
ALEC INGOLD GOT UP 😱 @AI_XLV @Raiders pic.twitter.com/0W4QOhCgFL

— The Checkdown (@thecheckdown) September 27, 2020
No problem for Ingold. He hurdled over Jackson, avoiding the hit, and managing a nice 11-yard gain. The Raiders still fell to New England, 36-20.
Dual Position Player?
Cleveland Browns wide receiver Odell Beckham Jr. is known for catching the ball, but on Sunday against Washington, he stepped in as a cornerback. Browns quarterback Baker Mayfield threw up a duck and it looked like Washington safety Troy Apke was going to have an interception.
😂 😂 Odell Beckham Jr. celebrates after breaking up would-be Baker Mayfield interception. pic.twitter.com/skIxRN9uFX

— Sportsnaut (@Sportsnaut) September 27, 2020
That was when Beckham sprang into action. He swatted the ball out of Apke's hands, breaking up a sure turnover. The finger wag at the end was a nice touch.
Going Somewhere?
Two other Cleveland defensive gems were actually provided by somebody who normally plays on that side of the ball. Defensive end Myles Garrett got up close and personal with Washington quarterback Dwayne Haskins a couple of times.
The first was when Garrett grabbed onto Haskins' jersey and wasn't letting go.
Myles Garrett was NOT gonna let go 😂 @MylesLGarrett @Browns pic.twitter.com/Q3HxCJHulJ

— The Checkdown (@thecheckdown) September 27, 2020
The second time was a brilliant strip-sack and fumble recovery on Haskins. Garrett showed why he's an All-Pro, stripping the ball and recovering the fumble.
.@MylesLGarrett will just TAKE that 🔥

📺: @NFLonFOX pic.twitter.com/XM2iFXaW7X

— Cleveland Browns (@Browns) September 27, 2020
Entire Town of South Park Heads on Down to Denver
The presence of cardboard cutout fans have made for a lot of fun seat-fillers in reduced-capacity crowds. Denver hosted Tampa Bay on Sunday, and like many NFL teams, had limited fans inside the stadium (5,700, according to ESPN). They found a creative way to fill the seats, however.
The #Broncos have won the no fans contest.pic.twitter.com/0EBDvPXZxS

— JAZZ Sportsbook (Official) (@SportsbookJazz) September 27, 2020
Cardboard cutouts of the entire cast from the animated Comedy Central show "South Park" filled the empty seats. The characters were even wore masks as part of the proper social distancing protocol. The Broncos lost 28-10, but fortunately no one killed Kenny in the process.
No TD, but Fine Coming
Nothing will drive an NFL head coach crazier than a showboating player. When those antics cost the team a touchdown, you can expect the player will be taking out his checkbook.
Seattle wide receiver D.K. Metcalf caught a pass from Russell Wilson and was headed to the end zone for a sure score. That was until he decided to coast.
Russell Wilson throws another GORGEOUS deep ball, DK Metcalf hauls it in. And then this happens.

That's a touchback. Heads up play by rookie DB Trevon Diggs.

— NFL Update (@MySportsUpdate) September 27, 2020
Dallas cornerback Trevon Diggs ran Metcalf down and swatted the ball out of his hands before he crossed the line. The play resulted in a touchback for the Cowboys. Fortunately for the Seahawks, the gaffe didn't cost them the game. They still won 38-31.