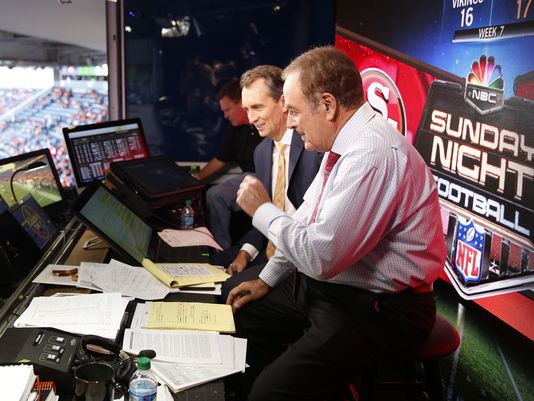 NFL television ratings in 2016 are 10 percent lower through the first four weeks of the season compared to a year ago. That's startling news to networks that have invested heavily in obtaining broadcast rights to NFL games.
The NFL is the most-watched professional sport in America, and channels like NBC, CBS, FOX, and ESPN pay billions to air the contests. But this year, enthusiasm among sports fans is down, and that has media analysts worried.
"We're scratching our heads," ad-buying executive Andy Donchin told the Wall Street Journal. "We cannot pinpoint any specific reason . . . It is probably being caused by a confluence of events."
Observers seem to agree with Donchin that it's not one single cause leading to the ratings plunge. But there are plenty of potential culprits.
Nielsen Sports recently opined that legalizing sports betting would lead to higher NFL broadcast ratings. According to the analytics company, adults who place financial wagers watch 19 more games on average than the non-betting football fan.
Presidential Protests
Three predominant issues are being cited for the viewership fumble.
The heated presidential election between Donald Trump and Hillary Clinton is thought to be overshadowing the kickoff of the NFL season.
The first debate between the two candidates drew in 84 million viewers, the largest television audience in presidential debates history. The September 26 primetime affair went up against ESPN's "Monday Night Football" clash between the Atlanta Falcons and New Orleans Saints.
Another potential detractor to the NFL ratings is the recent national anthem protests led by San Francisco backup quarterback Colin Kaepernick. A recent poll conducted by Rasmussen Reports found that 32 percent of NFL fans say they're less likely to watch NFL games at the moment due to player-led protests.
Finally, a third element might be the fact that several marquee players haven't been on the field. New England Patriots quarterback Tom Brady returns for the first time this weekend after serving a four-game suspension for his involvement in "Deflategate."
Dallas Cowboys quarterback Tony Romo and Minnesota Vikings running back Adrian Peterson are also sidelined with injuries. And last year's Super Bowl winning quarterback Peyton Manning, one of the NFL's most popular players, retired.
Vegas Raiders Economic Study
The reduced ratings could impact the potential move of the Oakland Raiders to Las Vegas.
A new economic analysis released this week says Nevada stands to receive $35 million in new tax revenue from hosting an NFL franchise in Sin City. The study commissioned by the Southern Nevada Tourism Infrastructure Committee concluded that Las Vegas would see over 450,000 incremental visitors should a $1.9 billion domed stadium be built near the Strip.
Backed by billionaire Sheldon Adelson and Raiders owner Mark Davis, the project stands likely to receive $750 million in public funding generated through hotel occupancy taxes.
Nevada Governor Brian Sandoval (R) is expected to soon call a special legislative session to discuss the stadium project. Clark County Commissioner Chris Giunchigliani has already made up her mind, telling the Las Vegas Sun recently, "Stadiums never develop the economic benefit for the public that they talked about."