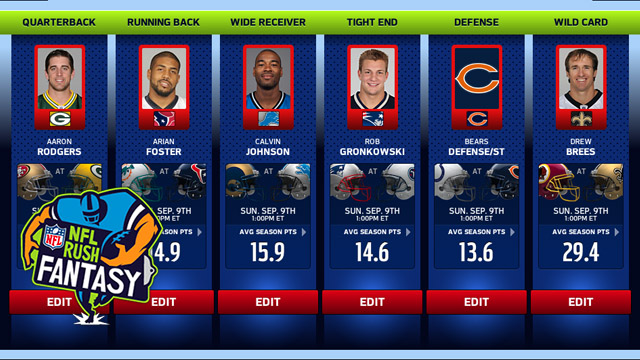 The NFL Rush Fantasy website made no secret about its mission of marketing to children during the 2015-2016 football season. Open to US residents between the ages of six and 12 who have obtained parental consent, NFL Rush provides participants with the chance of winning "a great weekly prize of an XBOX One and a copy of Madden NFL 16 or even the Grand Prize of a $5,000 scholarship and a trip to the 2016 Pro Bowl."
"Many will participate, few will win," the daily fantasy sports (DFS) site declares.
Kids interested must provide their parent or legal guardian's email address. Once the guardian approves the registration, the six to 12-year-old generates a daily fantasy football roster by selecting a quarterback, running back, wide receiver, tight end, wild card, and defensive and special teams choice.
Though DFS has become a contentious legal matter since DraftKings and FanDuel began bombarding commercial breaks over a year ago, the NFL's online platform and now-defunct in-classroom companion program targeting children has largely gone unnoticed since NFL Rush launched in 2007. That's likely to change after the Campaign for a Commercial-Free Childhood (CCFC) and National Council on Problem Gambling (NCPG) issued a letter to the NFL this week.
"This type of marketing has no place on a website or app for kids, and it's particularly egregious that the league enlists teachers and schools in its efforts to get children hooked on fantasy sports," CCFC Executive Director Josh Golin said.
Buying and Selling Children
The NFL argues that its fantasy sports client is an educational tool that teaches children math and critical thinking. The CCFC and NCPG contend the league's true motives are to attract additional youth to the sport as parents and health officials continue to scrutinize over the game's safety.
Earlier this year, a study performed by the Public Religion Research Institute found that 31 percent of American parents "would not allow a young son to play competitive football," an 11 percent increase from just 2015.
Though at the moment participation remains strong in peewee football, the NFL is likely concerned with the future of its sport as trepidations of concussions continue to make headlines.
NFL Rush seems to be trying to sell children on the idea that its fantasy sports platform is an educational way to add excitement to the game. It also introduces them to daily fantasy sports, a topic that merges skill-based competition with gambling.
"The NFL is indoctrinating children into engaging in fantasy sports with a financial stake in the outcome," Golin asserts. "It is inappropriate and disturbing that the NFL has operated and aggressively marketed fantasy football to children as young as six years old."
NFL Ends Classroom Option
In a response to an inquiry made by the Associated Press, NFL Spokesman Brian McCarthy said the school fantasy sports program was discontinued after the 2014 season, though the web-based DFS league for kids is ongoing.
"We've been laser-focused for the last five years trying to connect kids to the NFL," NFL executive Peter O'Reilly said in 2012.
Worried parents should be aware that the NFL Rush Fantasy registration process requires children to provide their guardian's email for age and consent verification. Of course, that's not exactly the hardest step to bypass for the creative young rascal.
DFS is the nationwide subject of a debate in determining if adults should have the legal right to participate. In the meantime, the NFL apparently sees no wrong in offering the games to children.