The last time Kyle Shanahan was involved in a Super Bowl, it turned into a nightmare. Now, the San Francisco 49ers head coach has a chance to erase that memory and replace it with something more pleasant. Shanahan was the offensive coordinator for the Atlanta Falcons when they met the New England Patriots in Super Bowl 51.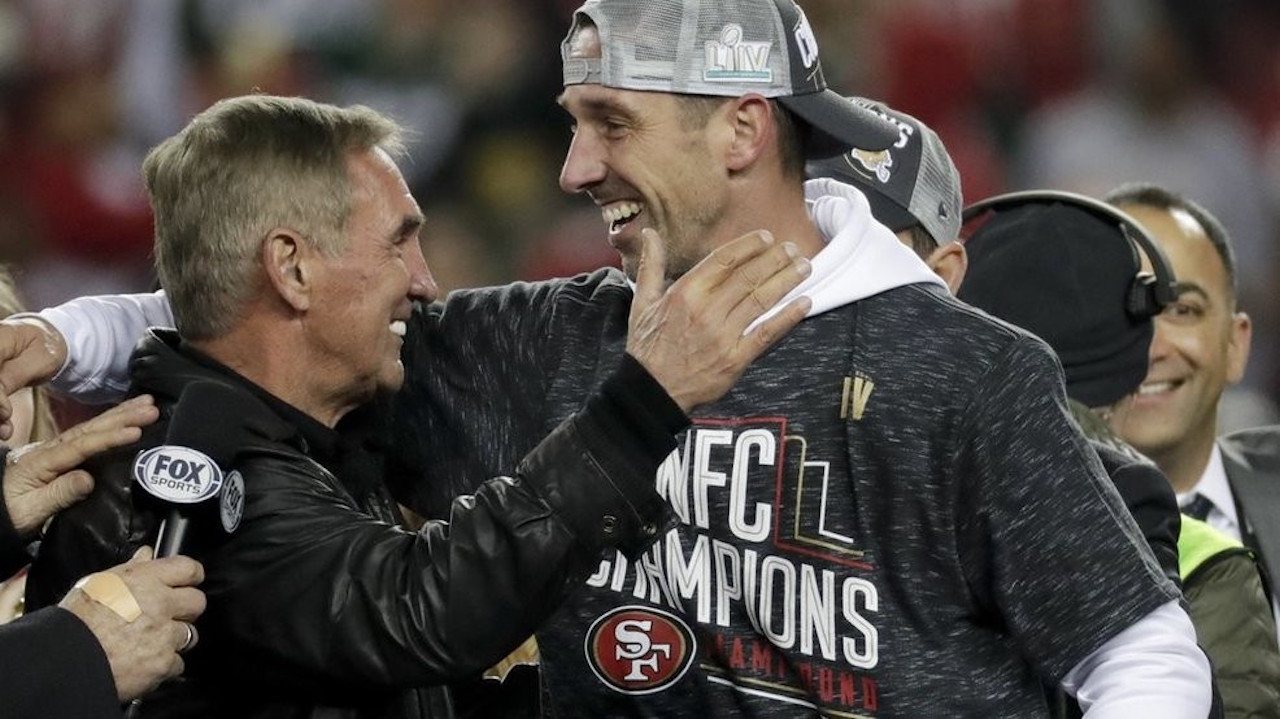 The Falcons led the Patriots 28-3 at the beginning of the fourth quarter, and then suffered an historic collapse. The Patriots scored the next 25 points to force overtime, and then won in the extra frame, 34-28. It was the largest comeback in Super Bowl history. Shanahan reflected on that moment on Monday with reporters.
"The days after were real tough," Shanahan said. "Losing a Super Bowl is extremely tough for everybody, especially when you lose one when you have a 28-3 lead going into the fourth. The way it came down on me personally, I didn't react to that, I think, the way people would expect because there were definitely parts in that Super Bowl that I would love to have back and stuff."
A Second Chance in Super Bowl 54
A day after the Super Bowl loss in 2017, Shanahan was named the head coach of the 49ers. There was a fair amount of criticism, however, as fans and some media believed his performance in Super Bowl 51 didn't warrant him getting the job. Shanahan says he was was probably his own toughest critic.
"I was very hard on myself, but the whole narrative of if I would've just ran it, we would've won. I know that wasn't the case, I know what went into that game and all the stuff that happened, so that stuff didn't bother me," Shanahan said. "You've got to deal with that and listen to other people, but it was nice to be able to move on and move out here, and just keep working. I'm glad I'm going to get the chance to go back."
Shanahan goes into Super Bowl 54 again as an underdog. The game opened at 1.5 points in favor of Kansas City, but has since dropped to one point. He used the lessons learned in Super Bowl 51 in last Sunday's NFC Championship victory over Green Bay, and won't forget them in Super Bowl 54.
"I promise you when we're way up in the fourth quarter on Green Bay, I know what 28 minus three is," Shanahan said. "I know a 25-point lead in the fourth quarter isn't enough."
Andy Reid's "Epic" Celebration
When the Kansas City Chiefs won the AFC Championship on Sunday, defeating Tennessee, 35-24, it should have been cause for head coach Andy Reid to celebrate. It was, after all, one of the biggest victories of his career, and got him back to the Super Bowl for the second time.
So how did Reid celebrate the victory?
"I had a cheeseburger and went to bed," Reid told reporters on Monday.
In his defense, Reid has a lot of work to do if he is going to win his first championship. He told reporters that San Francisco will be a tough team to defeat.
"I know they're a good, solid football team," Reid said. "They play hard and aggressive. You saw that last night playing against a good Green Bay team. They do a variety of things on both sides of the ball. They can run it, they can pass it on the offensive side. On defense, they've got a variety of things that they throw at you. Solid on special teams, so, it's all and all a good football team. It's well coached. Very well coached."